A New Generation Discovers the Music of Elvis Presley
More important than the souvenirs, merchandise, and commemoratives is the music of Elvis Presley, which has been overshadowed by the more peculiar aspects of the phenomenon generated since his death. Before he died in 1977, Elvis sold 250 million records worldwide. Immediately after his death, record stores across the country quickly sold out of Elvis' records.
RCA's pressing plants operated 24 hours a day to fill the new orders for Elvis' records that began to pour in. For a while, the record company subcontracted other pressing plants to keep up with the demand. By September, RCA still had not caught up with all the orders. RCA's offices and pressing plants outside the U.S. found themselves in the same position. Pressing plants operated day and night. One factory in Hamburg, West Germany, produced only Elvis records in an attempt to meet the demands. By October, sales in the U.S. were so high that several of Elvis' albums were on the charts again.
RCA continued to release albums of Elvis' music at the rate of two or three per year. As was the case while he was alive, some of the albums were well-received, others were criticized for their inferior quality. The marketing strategy behind the albums varied as much as their quality.
Some albums, such as Guitar Man, attempted to take advantage of contemporary recording techniques to "improve" Elvis' sound. Other albums, such as He Walks Beside Me -- Favorite Songs of Faith and Inspiration, contained previously released material repackaged for yet another time. Still other albums seemed to be the result of RCA searching the vaults for any recording of Elvis' voice. Elvis -- Greatest Hits Vol. 4, for example, contained previously released cuts in addition to never-before-released "live" material from Las Vegas, Hawaii, and Nashville.
In 1983, a record producer from RCA found master tapes and records stored at Graceland, some of which contained unreleased live performances and offstage conversations with Elvis. Two years later, RCA released much of the musical material on a six-album set that celebrated Elvis' 50th birthday.
RCA has been criticized by purists for tinkering with the recordings of their most famous artist. Over the years the company has released several Elvis Presley albums of older material that was cleaned up for modern audiences. I Was the One makes use of modern instruments that were overdubbed to accompany his vocals. Other albums consisted of original mono recordings with "rechanneled stereo." Rock 'n' roll historians claim any attempt to "improve" or "clean up" Elvis' early recordings does not illuminate his contributions to popular music; instead, it distorts them.
A new approach to marketing and releasing Elvis Presley's music began after RCA was sold in 1986 to the German publishing group Bertlesmann Music Group (BMG). BMG formed an international restoration committee two years later to research and restore the Presley catalog of recordings. Representatives from America, England, Germany, Denmark, and Asia comprised the committee, which was ultimately responsible for the high quality of subsequent compilations of Elvis' music.
The BMG committee also researched the actual sales figures for the records and albums that Elvis sold. The Recording Industry Association of America (RIAA) is the official organization to which record companies report sales and request gold and platinum records for their artists. However, the RIAA was not formed until 1958, three years after Elvis had already sold millions of records.
Although RCA awarded Elvis various in-house gold records for his pre-1958 hits, they never asked the RIAA for retroactive certification of these records. Also, RCA rarely requested additional certification when Elvis' records went gold or platinum more than once.
The BMG committee used Colonel Tom Parker's files to accurately research how many records Elvis sold and which ones deserved gold, platinum, or multiplatinum status. After completing their research, they estimated that Elvis Presley had sold over a billion records worldwide. By August 1992, the committee had updated the status of Elvis' albums and singles. As a result, he was awarded 110 additional gold, platinum, and multiplatinum albums and singles by the RIAA -- the largest presentation of gold and platinum records in history.
Among the best of the BMG-RCA productions in recent years is the Masters Series, which represents Ernst Jorgensen's and Roger Semon's efforts to not only release Elvis Presley's music commercially but also reframe it historically. Their work has gone a long way toward refocusing attention on his musical triumphs rather than on the personal tragedies of his life or the bizarre aspects of the post-death era.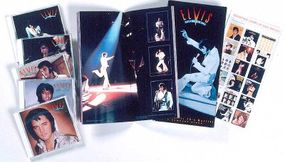 Released between 1992 and 1996, the series consists of Elvis: The King of Rock 'n' Roll -- The Complete 50s Masters, Elvis: From Nashville to Memphis -- The Complete 60s Masters I, and Elvis: Walk a Mile in My Shoes -- The Complete 70s Masters. Together these three sets of CDs are a faithful audio documentation of Elvis' music from the beginning to the end.
The tracks have been digitally remastered from old Sun and RCA recordings, but they maintain the integrity of the originals. Vocal exchanges and banter between Elvis and his musicians capture the camaraderie and the spontaneity of the sessions. An archival and musical achievement, the Masters Series also includes complete session credits and lengthy liner notes by music historians Peter Guralnick and Dave Marsh.
Separately, each set suggests something about Elvis' career that defies a commonly held perception. By following the evolution of Elvis' work from 1954 to 1958, The Complete 50s Masters proves that Elvis did not "steal" the sound of black rhythm-and-blues artists and call it his own. Instead, the tracks reveal a blending of influences that coalesced into a commercial sound that inched ever closer toward a mainstream style.
The Complete 60s Masters I shows that Elvis did not entirely abandon his roots in country, gospel, and rhythm-and-blues after he achieved his pop style -- an accusation hurled most often by rock music critics. The smooth, mainstream pop stylings of the movie sound­tracks did dominate the period, but his recordings of the blues tunes "Reconsider Baby" and "Such a Night" and his gospel work later in the decade are declarations of his Southern heritage.
The Complete 70s Masters reveals that Elvis did not grow lazy and rest on his laurels after his comeback to stage performances.
A more concise treatment of Elvis' career can be found in Elvis Presley Platinum: A Life in Music, that charts the evolution of his style in a four-CD box set. Platinum contains 100 tracks, 77 of which were previously unreleased. The unreleased material consists mostly of alternate takes of Presley classics or practice runs of various songs. However, it also included the newly discovered 1954 demo of Elvis singing "I'll Never Stand in Your Way."
This type of chronological treatment of his music forces listeners to reevaluate the familiar and find a context for the unreleased material. In doing so, a new light is shed on Elvis' music and a full appreciation is gained for the impact of his career. This rings true not only for young audiences, rock 'n' roll listeners, and Presley critics but also for Elvis fans, who remained faithful through the dark years of badly packaged re-releases.
Key to the Elvis phenomenon is the loyalty of his fans. His death left a void that fans have filled with conventions, rituals, fan clubs, and other activities. Their intense devotion results from a complex combination of circum­stances, beginning with Elvis' early career on the country-western circuit.
Country music followers are among the most loyal of popular music fans. Many people who love country music remain devoted to a particular performer for decades, and they often inspire their children to become fans as well. Many of Elvis' most devoted fans became interested in him when he was regarded as a country singer, and they remained loyal to him after he became a national rock 'n' roll star.
Elvis always tried to give his fans what they wanted to see and hear. In the 1950s, his audience came to see his notorious performing style, hoping he would go further at each appearance than he'd ever gone before. Elvis was able to whip his audiences into a frenzy, an experience not understood by those who were not his fans. In the 1960s, his fans paid to see Elvis' musical films. In the 1970s, audiences expected Elvis to perform certain songs, wear his trademark jumpsuits, and strike specific poses -- standard parts of his act that he maintained for his fans until he died.
Elvis, the Colonel, and members of Elvis' family always treated the fans with the utmost consideration from the early days of his success until the very end, when Vernon Presley allowed fans to take flowers from his son's funeral. Elvis believed that his success was dependent on his fans, and he was always grateful for their loyalty and love. When he was young, he allowed them access to his personal life in a way that no other entertainer would dare.
Before Elvis moved to Graceland, fans were always hanging around the Presleys' home. At Graceland, fans often gathered at the gate, and Elvis would walk down or ride one of his horses there to sign autographs. Elvis' Uncle Vester was one of the guards at the gate house, and he sometimes stood and talked with fans for hours.
No matter how difficult the fans made Elvis' life by forcing him to live in seclusion, he never complained publicly, and he always had nice things to say to the press about his fans. Colonel Tom Parker gave premiums and special offers to Elvis' fan clubs and donated Elvis' personal belongings to be auctioned off for charity. Elvis once presented a car to the president of one of his fan clubs. When he was on tour during the 1950s, Elvis gave as many interviews to the reporters for high-school newspapers and fan-club newsletters as he did to the reporters who worked for big-city papers.
Though Elvis accumulated great wealth and success during his lifetime, he never forgot he was a Southern boy from humble beginnings. He chose not to reside permanently in Hollywood but preferred to live in Memphis, where he frequented local businesses and contributed generously to local charities.
Elvis never completely lost his Southern accent, and he always preferred down-home cooking and the company of other good ol' boys. Despite his money, position, and power, he never acted as though he was better than his fans. To fans, this meant that Elvis had always been one of them -- one of the people. "I guess you could say Elvis was what we'd like to be. He's one of us -- and yet he's our ideal," said an anonymous fan, as though she was speaking for all fans.
Elvis Presley fans have always been intensely devoted, and many have passed on that quality to other generations as a legacy. Elvis' fans are the most genuine testimony to his talent and impact on all of us. To learn more about how Elvis' fans keep his memory alive, see the next section.
For more fascinating information about Elvis Presley, see: