Elvis Presley and Blue Hawaii
On March 14, 1961, Elvis and assorted friends, assistants, and bodyguards flew to Los Angeles so he could begin production on his next film, Blue Hawaii. Upon his arrival, he spent a few fun-filled days with friends Juliet Prowse, Joan Blackman, and Pat Fackethal, a real-life stewardess selected to play a bit part as a stewardess in the film. Afterward, he buckled down to record the songs that would comprise the soundtrack. Elvis recorded the tunes for the modestly budgeted musical comedy in Hollywood as opposed to Nashville, where much of his nonsoundtrack music was produced.
While this was business as usual for Presley that year, in retrospect it marks a juncture in his career. His management team, made up of Colonel Parker, Elvis, Hal Wallis, and Abe Lastfogel, Elvis' William Morris agent, had already determined that movies should be the focus of his career, but Blue Hawaii would narrow that focus further. Because it was Elvis' highest-grossing film at the box office, it became the model for the type of musical comedy associated with him during the 1960s. As the decade progressed, all other Elvis recordings took a backseat to the music for the movies.
The soundtrack to Blue Hawaii may have been miles away from rock 'n' roll or rhythm-and-blues, but it gave Elvis the song with which he would close most of his 1970s concerts: "Can't Help Falling in Love." Recorded at Radio Recorders in Hollywood in 1961, Blue Hawaii featured 14 songs, more than any other Elvis soundtrack.
The material was not particularly creative, nor did it have the mix of sounds found on Elvis Is Back!, but it is a solid example of that blend of pop and rock that defined Elvis' movie music. Blue Hawaii -- the album and the movie -- was aimed at a far wider audience than his studio recordings. Elvis' management was interested in appealing to the mainstream audience and generating spectacular sales.
They were less concerned with the impact of his music or his role as a musical innovator. This and other soundtrack albums were meant to serve a different purpose and to appeal to different audiences. Unfortunately, as the 1960s wore on, the movie material declined in quality, reflecting poorly on all the soundtracks.
Most of the 14 songs on the album are pop-style tunes. Some of these were not written for the film but had been recorded and released previously, including "Moonlight Swim," "Blue Hawaii," and "Hawaiian Wedding Song." "Aloha Oe" was composed by Queen Liliuokalani of Hawaii in 1878. The title tune and the song "Aloha Oe" had been recorded in the 1930s by Bing Crosby during a craze for the allure of the tropical isles.
The songs composed for the film were not rock 'n' roll either, although "Rock-a-Hula Baby" is a playful pastiche of rock 'n' roll dance crazes. To capture a Hawaiian-style sound, special musicians were employed for the recording sessions. Percussionist Hal Blaine, whose expertise involved Hawaiian instruments, joined drummers D.J. Fontana and Bernie Mattinson. Steel guitar and ukelele players were also added.
Blue Hawaii became Elvis' biggest-selling movie soundtrack. It topped the Billboard albums chart two months after its October 1961 release. It was the No. 1 album in the country for 20 weeks, which set a record for a rock performer or group that lasted until 1977 when Fleetwood Mac's Rumors broke it. Blue Hawaii remained on the albums chart for 79 weeks and was awarded double platinum status by the RIAA in March 1992.
After the soundtrack was recorded, Elvis and his entourage flew to Honolulu for a month's worth of location shooting. Hawaiian fans were as enthusiastic as those on the mainland, persistently trying to get into Elvis' hotel to see their idol. A few pretended to be mail messengers with special delivery packages that only Elvis could sign for; others managed to climb the fire escape.
Fans gathered on the beach by his hotel and scratched messages in the sand that Elvis could see from his window. Finally, a 24-hour guard was posted outside Elvis' room, and Elvis curtailed his off-set activities. Elvis' personal time in Hawaii was anything but the fun-filled, action-packed adventure portrayed in the film.
The exotic locale was a key element in the promotion of Blue Hawaii and in its success. The scenery provided more than just beautiful cinematography. As a tropical paradise, Hawaii was the perfect setting for romance, and it represented an escape from the mundane everyday world of most viewers. Even the title reinforced the locale, reminding audiences of the beautiful paradise that had become America's 50th state amid much fanfare in 1960.
The entertainment industry had taken advantage of the public interest in Hawaii's admittance to the union with the release of Blue Hawaii and Gidget Goes Hawaiian on the big screen in 1961 and the TV series Hawaiian Eye on the small screen in 1959.
The romance and escape that went with these settings became an essential ingredient in the formula for Elvis' later movies. He returned to Hawaii to make Girls! Girls! Girls! and Paradise, Hawaiian Style and went to Florida to make Follow That Dream; Girl Happy; Easy Come, Easy Go; and Clambake. The movies Fun in Acapulco, It Happened at the World's Fair, and Viva Las Vegas provide action in obvious places. The films Harum Scarum and Double Trouble offer fabulous adventures in distant countries.
Any viewer familiar with Elvis' movies recognizes the prevalence of unique and exotic locations, but not all realize the extent to which these settings affect the whole film. For example, Elvis' characters were independent spirits who worked as race-car drivers, pilots, tour guides, entertainers, or boat captains -- unusual occupations, to say the least. Yet they seem almost appropriate given the exotic settings. In a way, the settings determined the occupations of Elvis' characters, which indirectly helped define them as free souls who reject the conventional, nine-to-five lifestyle.
In addition, exotic and vacation settings convey the idea of slipping off to paradise for romantic escapades. For decades, travel brochures have used this very notion to entice tourists to distant lands. As soon as viewers recognized the setting of an Elvis film as exotic, unique, or a haven for fun-seeking vacationers, the stage was set for romance.
And romance was the main attraction in an Elvis Presley movie. The plot may center around a quest or an adventure, but it parallels the pursuit of a beautiful woman by Elvis' carefree hero. The story concludes when the goal is completed or the quest fulfilled, which is represented by the union of Elvis' character with his leading lady. The complete closure of the film in terms of fulfilling the goal and winning the girl is generally indicated by the final musical number in which the couple are united via song and/or dance.
Blue Hawaii firmly established this pattern. Here, Elvis played Chad Gates, an ambitious young man just out of the army who refuses to go into the family business. By the end of the film, after several misadventures, he has formed his own tour-guide service.
The fact that he is a success is indicated by his marriage to his girlfriend, Maile, because he refused to marry her until he had proven himself. "Hawaiian Wedding Song," which concludes Blue Hawaii, is part of their wedding ceremony and serves to announce their union. The fulfillment of Chad's dream and the winning of Maile are neatly tied together in this final number.
"Hawaiian Wedding Song" provides an excellent example of how Elvis' music changed from his pre-army movies to the Presley travelogues. Elvis does not sing this song in a stage setting; he sings to someone who shares the spotlight with him, and the song advances the story. Most of the production numbers in the film are presented in a similar fashion, which was the exact opposite of the musical numbers in his pre-army films.
Blue Hawaii established the formula for the presentation of the songs in Elvis' movies thereafter. In Elvis' post-army vehicles, the songs are integrated into the storyline, helping to advance the story or relate something about the characters to the viewers. In this type of musical, characters tend to burst into song at any moment -- on the beach, in a car, even on a horse. Elvis disliked this type of musical and was uncomfortable when his character sang in situations where people would not normally sing.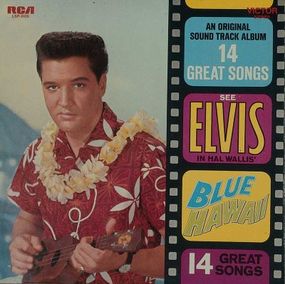 Because the musical numbers often tell part of the story, it is not unusual for them to include other characters. Most often, Elvis' characters sing to or dance with the leading ladies as a means of winning their love or to symbolize the couple's growing affection. Sometimes the film will feature Elvis singing to a child, a pet, or an elderly woman to help soften the vagabond nature of his characters. In Blue Hawaii, Chad gives Maile's grandmother a music box that plays "Can't Help Falling in Love," to which Chad sings along. The scene helps the audience understand that Chad is not the rash, immature young man that his parents believe him to be.
Elvis' performing style in Blue Hawaii and his later films differs a great deal from that of his 1950s films. Gone are the sensual hip movements, leg swivels, pelvic thrusts, and dramatic hand gestures that drove the ladies wild in Loving You. Elvis still moves while he sings, but his style is noticeably toned down. This seemed an appropriate change if Elvis was singing to another character.
The notorious performing style of his early career was not suitable for romantic situations or when singing to a child or grandmother. When he wasn't singing to someone else, or when he sang a tune with an upbeat tempo, a bevy of beautiful women often danced in the background. Thus, Elvis no longer needed to move provocatively because a chorus of women did it for him. After all, women dancing in a sexual or provocative way was a more conventional -- and therefore more acceptable -- sight in mainstream movies.
Elvis' toned-down style was less controversial and considered more suited to family entertainment. His musical comedy vehicles were designed to attract the family audience. Elvis, Colonel Tom Parker, Hal Wallis, and Abe Lastfogel wanted to turn Elvis into a mature leading man for the movies. His new singing style and smoother pop-oriented music helped accomplish that. A version of this image had been introduced in G.I. Blues, but it was perfected in Blue Hawaii, arguably the best of Elvis' musical comedies.
Blue Hawaii was well crafted and shrewdly manufactured to suit Elvis' new image. It was also wildly successful. While it turned Elvis Presley into a highly paid star, it limited the types of roles he could play, because it established the formula that his movies followed to the end of his Hollywood career. Much has been written about how Elvis' hopes of becoming a serious actor were foiled by the formula. His potential as an actor was a casualty of his success as a movie star. Because of the significance it holds in Elvis' career, Blue Hawaii is both revered and reviled.
With some notable exceptions, the Blue Hawaii formula defines the bulk of his movies, which Elvis disparagingly called "Presley travelogues." Film reviewers and Presley biographers refer to these movies as "vehicles." In Hollywood, a vehicle is a film constructed around a star's image. A star plays a character based on the star's own personality rather than portraying a complex, three-dimensional character. Vehicles showcase a performer's specialty, and in this regard, musical stars tend to benefit more than other actors from appearing in vehicles.
Vehicles have showcased many well-respected musical and comedy stars, including Fred Astaire, Ginger Rogers, and Bob Hope. In this context, Hal Wallis's decision to display the talents of Elvis Presley in a series of musical comedies was a logical one. To learn more about Elvis' continued success in these comedy vehicles, see the next section.
For more fascinating information about Elvis Presley, see: