Elvis Is Back
Elvis returned from the army to a music scene very different than the one he had left. Smooth-sounding teen angels, such as Bobby Vee, Bobby Rydell, Frankie Avalon, and Connie Francis caught the ears of young listeners, while the dance craze the Twist propelled them across the dance floor. Elvis and his manager, Colonel Tom Parker, embarked on a campaign to mold his image around current trends and away from the controversy that had followed him before the army. The rebellious persona was cast aside for a mature public image; in his music, the innovation of his Sun Studio roots was replaced by the calculation of mainstream ambitions.
While many have criticized this change, it did not represent a decline in the quality of Elvis' music. On the contrary, Elvis Is Back represents a peak in the singer's career, when his maturity and confidence led to a control and focus in his music. Like the pre-army Elvis recordings, this album offered an eclectic collection of musical genres, from a sentimental duet with Charlie Hodge called "I Will Be Home Again" to the gritty "Reconsider Baby" with a bluesy sax solo by Boots Randolph. Once again, Elvis' talent for unifying disparate styles of music resulted in an innovative and successful album, and it reached No. 2 on the charts.
Not all the songs that Elvis recorded in Nashville were included on the Elvis Is Back album. RCA held back for later release two of his highly acclaimed ballads: "It's Now or Never" and "Are You Lonesome Tonight?" The melancholy tune "Are You Lonesome Tonight?" was a clear departure from the kind of music that Elvis sang before he went into the army.
In the 1920s, Al Jolson had made this song popular, but Elvis was probably more familiar with a 1959 version of the song that was recorded by pop singer Jaye P. Morgan. She had borrowed her arrangement from a 1950 rendition by the Blue Baron Orchestra. It is believed that Colonel Parker urged Elvis to record "Are You Lonesome Tonight?" even though it was unusual for him to interfere with Elvis' choice of music. The song perfectly suited Elvis' new image as a mainstream pop singer.
Who could have guessed that "It's Now or Never," a reworked version of the 1901 Italian opera-style classic "O Sole Mio," would become the King of Rock 'n' Roll's biggest-selling single? But then, in 1956, when Elvis was skewered by most newspapers in the country for thrusting his hips to the bluesy beat of "Hound Dog," no one would have known that he would become a press favorite in just four years.
By quietly serving his country in the army from 1958 to 1960, Elvis had won the hearts and minds of the mainstream press and general public. "It's Now or Never" received airplay on conservative radio stations that previously wouldn't have touched a Presley record, thus exposing Elvis to a wider, adult audience.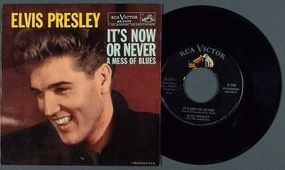 Yet Elvis did not record the song just to gain a broader audience. "O Sole Mio" was written by G. Capurro and Eduardo di Capua at the turn of the twentieth century, but it had been made popular much later by Mario Lanza. Elvis was a fan of Lanza and undoubtedly heard the opera singer's recording, but he had also heard the English version "There's No Tomorrow" by Tony Martin.
While still in the army, Elvis asked his music publisher, Freddie Bienstock of Hill and Range (part of RCA), to find someone to write new lyrics for the song. The only songwriters available at Hill and Range to do it were Aaron Schroeder and Wally Gold, who jumped at the chance because they knew the royalties on an Elvis Presley song would be enormous. They composed the lyrics in less than 30 minutes. A singer named David Hill (aka David Hess) recorded the demo with a cha-cha arrangement, and Elvis loved it. He was challenged by its operatic style and attracted to its drama.
"It's Now or Never" charted for 20 weeks, holding the No. 1 spot in the U.S.A. for five weeks. Worldwide sales of the tune, according to The Guinness Book of Recorded Sound, eventually exceeded 20 million copies.
On May 8, 1960, Elvis appeared on TV for the first time since his discharge from the army. He was a guest on The Frank Sinatra-Timex Special, also known as Welcome Home Elvis. Colonel Parker had made the deal with the show's producers months before Elvis was released from active duty. He had hoped that appearing with Frank Sinatra would introduce Elvis as a pop singer to a wide audience made up of adults and pop enthusiasts as well as teenagers and country-western fans.
Never one to take chances, the Colonel made sure Elvis would make a big splash by packing the studio audience with 400 members from one of Elvis' biggest fan clubs. The program received phenomenal ratings, giving ABC-TV a 41.5 share for that evening. Elvis was paid a staggering $125,000 for a total of six minutes on the air.
Sammy Davis, Jr., Peter Lawford, and Joey Bishop, members of Sinatra's famed "Rat Pack," also appeared on the television special. In addition, the cast included Sinatra's daughter Nancy, whom the gossip columns had recently linked with Elvis. Elvis sang his two latest hits, then later in the show he joined Sinatra for a short duet.
Dressed in a conservative but stylish tuxedo, the former teen idol sang Sinatra's "Witchcraft," while Sinatra crooned Elvis' "Love Me Tender." His choice of clothes, shorter hairstyle, and connections with the Rat Pack indicated that Elvis' career was taking a new direction. When Elvis and Sinatra sang each other's songs, it was as though Sinatra was passing on his position as pop idol to the next generation: The Voice, as Sinatra was known in the 1940s, was making way for the King.
In Ed Sullivan's syndicated newspaper column in the New York Daily News, May 1960, the crusty show business luminary spoke harshly of Elvis' appearance on the The Frank Sinatra-Timex Special. Lingering bitterness over his dealings with Colonel Parker crept into his account. Sullivan blasted Parker for allowing Elvis to sing only two songs in the special, stating, "Col. Tom, using the logic of a farmer, is a firm believer in not giving a hungry horse a bale of hay."
Sullivan seemed to forget that it was Sinatra's special, not Elvis', and there were four other guests to showcase as well. Some jabs at how Elvis looked rounded out the column as Sullivan noted that the young singer, "minus his sideburns, has substituted what the ladies probably would call a 'high hair-do.' His hair is so high in front that it looks like a ski jump."
Less than a year later, on March 25, 1961, Elvis performed live at the Bloch Arena at Pearl Harbor, Hawaii. The show was a fundraiser to build a memorial for the USS Arizona, the largest of the eight battleships that had been sunk on December 7, 1941, during the surprise Japanese air attack on Pearl Harbor. Ticket prices for Elvis' performance ranged from $3 to $10 a seat, with 100 ringside seats reserved for people who donated $100.
Elvis and Colonel Parker bought 50 of these special seats and donated them to patients from Tripler Hospital in Hawaii. Elvis' benefit raised more than $52,000 for the memorial fund. On March 30, the Hawaii House of Representatives passed Special Resolution 105 thanking Elvis and the Colonel.
The benefit for the Arizona memorial could be considered a good career move in that it helped Elvis become more acceptable to an adult audience, but his career was not the only reason Elvis agreed to do the concert. He had a sensitive, generous nature, and throughout his entire life, Elvis gave freely to charities and other worthy causes, whether he received publicity for it or not.
Five years after this benefit, while in Hawaii filming Paradise, Hawaiian Style, Elvis visited the completed memorial and placed a wreath there. Photographers and reporters rushed in to record the event, but Elvis sent them away. He did not want his visit to the memorial to become a publicity stunt.
After the success of Elvis Is Back and "It's Now or Never," Elvis and the Colonel decided it was time to revive Elvis' film career as well. See the next section to read about Elvis' return to Hollywood.
For more fascinating information about Elvis Presley, see: