Priscilla Presley, Elvis Presley's Wife
Elvis met Priscilla in 1959 while he was stationed in Germany during his stint in the army. Priscilla was only 14 when the pair was introduced.
Priscilla was photographed by the press at the airport when Elvis left for America, and some of those photos ended up in LIFE magazine. Beyond this, there was surprisingly little publicity about their relationship.
After Elvis was discharged from the Army, his only contact with Priscilla Beaulieu was over the phone and by mail. Two months shy of her 15th birthday, the blue-eyed brunette with the turned-up nose remained in Germany when Elvis departed for the United States. Within days there were reports that he was dating Nancy Sinatra.
It was three weeks before Priscilla next heard his voice, reassuring her that she was the only girl for him, and over the next two years she grew accustomed to the rumors and his denials, as well as the pain and frustration that came with loving the world's biggest heartthrob from a distance of several thousand miles.
In a press conference on the day he arrived back at Graceland, Elvis played down his relationship with "the girl he left behind." But in truth, though he was dating Anita Wood and several actresses, he seemed to have reserved a special place in his heart for "Cilla." For the time being, Elvis went along with the Colonel's belief that an all-consuming relationship would hurt his image and be bad for his career. Priscilla patiently waited for their reunion.
During their conversations, Elvis would discuss his career, even his relationship with Anita Wood, causing Priscilla to wonder where she fit in. However, he also insisted that he wanted her to visit Graceland. Cilla just had to hang on. And she did for nearly two years, even amid newspaper and magazine articles linking Elvis to beauties such as Juliet Prowse and Tuesday Weld.
Then, one day in March 1962, after several months without contact, Elvis called Priscilla out of the blue and invited her to join him in Los Angeles. Simultaneously stunned and overjoyed, she pointed out that, although her mother might be receptive to this idea, it would be nearly impossible to persuade her father, Captain Paul Beaulieu. It was a challenge Elvis seemed happy to accept.
While Priscilla prevailed upon her mother, Elvis spoke with the Captain several times and finally won him over by agreeing to a list of rules: the two-week-long vacation wouldn't take place until Priscilla was out of school for the summer; Elvis would send her a first-class round-trip ticket; the Beaulieus would be provided with a comprehensive itinerary of her daily activities in Los Angeles; she would be chaperoned everywhere; she'd write to her parents every day; and at night she'd stay with his friends, George and Shirley Barris. Which is what happened...for the most part.
Priscilla arrived in Los Angeles in June, and following a visit to Elvis' house on Bellagio Road, she did stay at the Barris home -- for one night. The next afternoon, Elvis informed her that he had planned a trip to Las Vegas, and shortly after midnight she was sitting next to him in his luxury motor home on the way to Nevada. She slyly circumvented the problem of her parents receiving letters each day by quickly pre-writing a week's worth and asking Elvis' butler to mail them from Los Angeles. Their next stop was the Sahara Hotel and Casino, where the King and his princess shared a suite.
During twelve blissful, fun-filled days and nights in Las Vegas, Elvis took Priscilla shopping, chose the clothes she should wear, and instructed her on how to style her hair and apply heavier makeup. Elvis liked his women to wear plenty of eyeliner and mascara, and Priscilla readily accepted his choices. Courtesy of a hairdresser at the hotel, her tresses were teased and twisted into a beehive style, her eyes were heavily made up, and the result was the apparent transformation of an innocent teen into a sophisticated siren.
After her return to Germany, Priscilla had something to look forward to during the next six months: Christmas at Graceland. Elvis had invited her, and once again she had to persuade her parents. However, that request was nothing compared to what the Beaulieus were confronted with once the Christmas trip was over and their darling daughter returned home: Elvis wanted her to finish school in Memphis.
Elvis called Captain Beaulieu and used all his powers of persuasion. If Cilla moved to Memphis, he promised, she wouldn't live with him at Graceland but with Vernon and his wife in their house nearby. She would be enrolled in the very best Catholic school, where he'd ensure that she would graduate. And she would be cared for and chaperoned wherever she went.
Not only did Elvis swear that he loved, needed, and respected Priscilla, but he also insisted that he couldn't live without her. The Beaulieus were left with two painful alternatives: let Priscilla go and risk her being devastated if things didn't work out, or veto the proposed plan and be responsible for destroying her happiness. In the end, Elvis got his way, and Priscilla moved to Memphis.
In October 1962, while he was in Hollywood filming Fun in Acapulco, Elvis played host to Priscilla and her dad, and won over the senior Beaulieu with his charm and hospitality. After a few days, father and daughter flew to Memphis, where Captain Beaulieu and Vernon Presley enrolled Priscilla in the all-girl Immaculate Conception Cathedral High School and moved her into the home that Vernon shared with his second wife, Dee.
Once her father had returned to Germany, however, Priscilla seemed uncomfortable living with her future in-laws, and soon she was spending more and more time with Elvis' grandmother at Graceland. Before long, for all intents and purposes she'd basically relocated there.
Vernon chauffeured Priscilla to and from school until she got her license and he agreed to let her drive Elvis' Lincoln Mark V. He also provided her with pocket money to spend on clothes, gas, and going to the movies, bowling alley, and Leonard's Drive-In with cousin Patsy (whose mother was Gladys's sister Clettes, and father was Vernon's brother Vester). Still, despite the company of Grandma Dodger, the maids, and the secretaries, Priscilla often seemed extremely lonely waiting for Elvis to return from filming.
One evening shortly before Christmas 1966, Elvis went down on one knee in the bedroom at Graceland and proposed to Cilla. Then he slipped a ring on her finger. Purchased from jeweler Harry Levitch, the ring featured a 31/2-carat diamond encircled by a row of smaller, detachable diamonds. Just over seven years after her first meeting with Elvis, Priscilla's early fantasies became reality.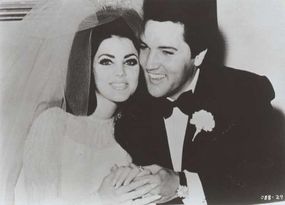 The wedding itself took place on Monday, May 1, 1967. Elvis filmed Clambake in Los Angeles while Colonel Parker made the wedding arrangements. The ceremony took place at the Aladdin Hotel in Las Vegas, in the small second-floor suite of the Colonel's friend, owner Milton Prell. The nuptials were presided over by Nevada Supreme Court Justice David Zenoff and took less than ten minutes. In true Colonel Parker style, a press conference was held immediately afterward, followed by a breakfast reception for 100 guests, including many members of the press.
The newlyweds spent their honeymoon in Palm Springs, and after a couple of days they returned to Memphis where, on May 29, they climbed back into their wedding attire and threw a reception at Graceland for all of their relatives, friends, and employees, as well as a few lucky fans. The only absentee was bodyguard Red West, who refused to attend because he hadn't been invited to the actual wedding ceremony.
Less than two months after the wedding, Elvis began work on Speedway, and on July 12 he made an announcement on the set that Priscilla was pregnant. Yet, it wasn't long before rumors began to swirl that Elvis was having an affair with his costar Nancy Sinatra.
Then, seven months into the pregnancy, he shocked Priscilla by suggesting that they have a trial separation. This idea was quickly dropped, but after their daughter, Lisa Marie, was born on February 1, 1968, the relationship cooled quickly. For a time, Priscilla tried to reignite the marriage, but after Elvis returned to the concert stage in the summer of 1969, his frequent lengthy absences put further strain on the already troubled relationship.
In early 1972, she and Elvis separated, and their divorce was finalized on October 9, 1973. They remained friends, and even held hands during their divorce proceedings.
Though he may have been a less-than-devoted husband, there's no doubt that Elvis was a doting father to Lisa Marie. Until the end of his life Elvis adored Lisa Marie, spoiling her and showering her with jewels and gifts when she visited him, and rarely, if ever, disciplining her.
As in many other aspects of his life, Elvis' love for his daughter ran to excess. Once, he flew her aboard his private jet so she could play in the snow. For her birthday, he rented the amusement park Libertyland for Lisa Marie and her friends. He bought her a golf cart and a pony, which he let her ride through the front door of Graceland.
In her autobiography, Priscilla asserted that she and Elvis retained their mutual affinity and relished their joint role as parents. During one of their last phone conversations, Priscilla mused over the possibility that one day it might be their time once again. "Yeah," Elvis joked, "when I'm seventy and you're sixty. We'll both be so old, we'll look really silly, racing around in golf carts."
After his successful engagements at the International Hotel in Las Vegas, Elvis took his act on the road and toured for much of the next few years. See the next section to learn more about Elvis' life in the 1970s.
For more fascinating information about Elvis Presley, see: