The King
A typical Presley concert of the 1970s was more like a series of rituals and ceremonies than a performance by a mere entertainer. Elvis made his grand entrance to Richard Strauss's Also sprach Zarathustra, popularly known as the "Theme from 2001," charging into the spotlight as though propelled by some supernatural force. He incorporated karate kicks and tai chi arabesques into his act as well as other dramatic postures.
Elvis also mocked his 1950s sex-symbol image by exaggerating the pelvic thrusts and sexual posturings of his old performing style, while making jokes about the "old days." A peculiar part of his act was wiping the sweat from his brow with his scarf or a towel then throwing it into the audience. This gesture became so popular that dozens of white towels were kept in the wings for Elvis to throw to fans at frequent intervals.
Although Elvis' enormous popularity forced him to live a remote life secluded from the public, his act onstage gave the illusion of intimacy. His rapport with his audiences was based on treating them like old friends or an extended family.
Much interaction occurred between Elvis and the audience members, such as the exchange of "gifts." Elvis threw towels and flowers into the audience; fans returned the gesture by throwing underwear, hotel keys, teddy bears, bouquets, and other mementos.
In fact, each time Elvis played Las Vegas, the hotel stocked fresh undergarments in the restrooms because of the women tossing their underwear onto the stage while he was performing. Elvis kissed, hugged, and held hands with many of the women in the audience. They lined up just below the stage, like a receiving line for royalty, waiting to be blessed by the King's touch. Audience members expected Elvis to sing specific songs and perform familiar moves, and he always fulfilled their expectations.
This type of interaction can be traced back to Elvis' early career, when audiences became hysterical at his gyrations and performing style. Even then, Elvis exhibited an uncanny instinct for knowing what the fans wanted to see and hear. He teased them with a few hip and leg movements, they responded, and then he cut loose, singling out specific members of the audience to interact with. This phenomenon was reciprocal in nature, forming a strong bond between performer and audience. If Elvis' fans were unusually loyal and demonstrative throughout his career, this interactive aspect of his act -- from the beginning of his career to the end -- was partially responsible.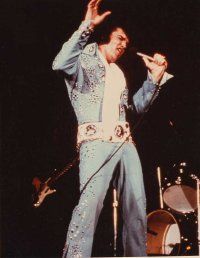 If there is one symbol that has come to represent this period of Elvis' career, it is the bejeweled jumpsuit. As Elvis launched each new tour or Las Vegas appearance, his jumpsuits became more elaborate. Sometimes accompanied by a waist-length or floor-length cape, these costumes were decorated with real gems, jewels, and semiprecious stones. With the addition of chains and studs, the outfits could weigh as much as 30 pounds.
Later costumes were emblazoned with certain symbols that held some significance to Elvis, including eagles, karate emblems, tigers, or sundials. Fans refer to these costumes by name, such as the Mexican Sundial, the King of Spades, the Rainbow Swirl, the American Eagle, the Red Flower, the Gypsy, and the Dragon. They can identify specific tours and appearances by the costumes Elvis wore.
Elvis' repertoire of songs varied after the early 1970s, but his style of music and the format of his act did not change. Fans like to find parallels between Elvis' personal life and the songs he chose to sing at certain points in his career. Around 1972, when Elvis and Priscilla were experiencing marital problems, he included "Always on My Mind" and "You Gave Me a Mountain," two songs about the trials and tribulations of life and love.
The following year, Elvis included "My Way" in his act. Paul Anka wrote this powerful song's lyrics, which are about a man reflecting back on his life as death draws near, with Frank Sinatra in mind. Yet, the song became a personal anthem for Elvis, one that seemed to explain his eccentric lifestyle and larger-than-life image. However, a single of this song by Elvis was not released until June 1977.
In 1971, country songwriter Mickey Newbury put together a unique arrangement of three 19th-century songs that he recorded and released as "An American Trilogy." Elvis heard the record and immediately incorporated the medley into his act. This piece has become so associated with Elvis Presley that it is difficult to imagine anyone else performing it with the same showstopping fervor that Elvis put into it. A combination of "Dixie," "The Battle Hymn of the Republic," and the spiritual "All My Trials," the songs reflect Elvis' patriotism, his religious convictions, and his deep affection for his native South.
A Vegas-style comedian always opened Elvis' concerts, even when he was on the road. Rock music aficionados were appalled by the old-fashioned routines and stale jokes of these stand-up comics, particularly because this era saw the rise of a new, more hip generation of comedians with socially relevant material.
But, even when he was on the cutting edge of rock 'n' roll in 1956 and 1957, Elvis always toured with an oddball assortment of vaudeville-flavored acts dug up by the Colonel. Therefore, it seems only natural that the Colonel would hire this type of opening act when Elvis returned to live performances in the 1970s. Elvis and the Colonel were accustomed to this kind of show business act, and the humor went over well in Vegas. Sammy Shore opened for Elvis in the early 1970s, and Jackie Kahane did the honors after 1972.
Kahane's responsibilities included announcing, "Ladies and gentlemen, Elvis has left the building," at the end of each performance. Elvis rarely performed an encore, although many times the audience remained behind after the final number, hoping Elvis would respond to the thunderous applause and return for one last song. To avoid any problems with overzealous fans, Elvis always ran backstage immediately after the last song, often while the band was still playing, and dashed into a car waiting at the stage door. Kahane's announcement let the audience know it was truly time to leave.
Despite the predictability of Elvis' live performances during the 1970s, there were still many highlights. On June 9-11, 1972, Elvis played Madison Square Garden in New York City. This was the first time he'd ever performed live in New York. All four shows sold out well in advance. A total of 80,000 people attended, including David Bowie, Bob Dylan, George Harrison, and John Lennon.
However, Elvis and his management team feared that the sophisticated New York critics wouldn't like his Las Vegas-style show. On opening night, Elvis was decked out in one of his bejeweled jumpsuits and a gold-lined cape. He wore a gigantic belt emblazoned with "The World Champion Entertainer," in case the critics didn't know who they were dealing with.
Throughout the show, particularly while singing his old songs, Elvis maintained an ironic distance from his audience. Sometimes he couldn't resist joking about his former image. At the beginning of "Hound Dog," for example, Elvis dropped dramatically down to one knee, and then said, "Oh, excuse me," and switched to the other knee.
During the New York engagement, Elvis appeared to be in top physical condition. His voice was strong and clear, and he sang a variety of old and new songs with drama and flair. Most of the New York critics were enthusiastic. RCA recorded all four shows at the Garden for an album titled Elvis as Recorded at Madison Square Garden. They mixed the songs, pressed the records, and had the albums in stores in less than two weeks.
In addition to concert recordings, two documentaries -- Elvis on Tour and Elvis: That's the Way It Is -- followed the action as the entertainer toured. See the next section to learn more about these documentaries about the King.
For more fascinating information about Elvis Presley, see: