Though always impeccably polite, Elvis Presley never shied away from being frank with the press. His refreshing honesty and sincere appreciation for his fame and fans gave him a connection with everyone who heard or read his quotes. Below are a few classic Elvis Presley quotes that capture the spirit and humor of the legendary star.
"Why buy a cow when you can get milk through the fence?"
when asked if he would marry, "Teeners' Hero," Time, May 14, 1956
"The colored folks been singing it and playing it just like I'm doin' now, man, for more years than I know. They played it like that in the shanties and juke joints and nobody paid it no mind 'til I goose it up. I got it from them. Down in Tupelo, Mississippi, I used to hear old Arthur Crudup bang his box the way I do now, and I said if I ever got to the place I could feel all old Arthur felt, I'd be a music man like nobody ever saw."
Charlotte Observer, June 26, 1956
"I lose myself in my singing. Maybe it's my early training singing gospel hymns. I'm limp as a rag, worn out when a show's over."
Tacoma New Tribune, September 2, 1957
"My fans want my shirt. They can have my shirt. They put it on my back."
"A Predicament Called Presley," Illustrated, September 7, 1957
Wally George: "When will you write more songs?"
Elvis: "That's all a hoax. I can't even read music."
George: "What about your guitar?"
Elvis: "Can't play it -- use it as a brace."
George: "What do you think of rock 'n' roll?"
Elvis: "It's the greatest ever, mainly because it's all I can do."
"Off the Record," Los Angeles Times, November 2, 1957
"She was the most wonderful mother anyone could ever have. She was always so kind and good."
"Services To Be Held Today for Elvis Presley's Mother," Memphis Press-Scimitar, August 15, 1958
"Is it another of those highness deals?"
upon preparing to meet a group of Scandanavian princesses, Life, May 1960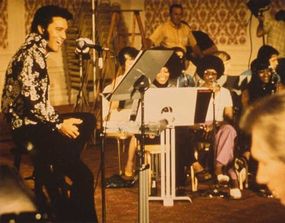 "I don't regard money or position as important. But I can never forget the longing to be someone. I guess if you are poor, you always think bigger and want more than those who have everything when they are born."
"Forever Elvis," Time, May 7, 1965
"... the trouble is, when a fellow is by himself and starts thinking, the sad things are always stronger in his memory than the happy things."
"Elvis," Tropic, April 28, 1968
"I get tired of playing a guy who gets into a fight, then starts singing to the guy he's just beat up."
commenting on his movie career, "Return of the Pelvis," Newsweek, August 11, 1969
"I learned very early in life that, `without a song, the day would never end; without a song, a man ain't got a friend; without a song, the road would never bend -- without a song.' So I keep singing a song...."
accepting the Jaycees' Outstanding Young Man of America Award, 1971
"My daddy knew a lot of guitar players, and most of them didn't work, so he said, `You should make your mind up to either be a guitar player or an electrician, but I never saw a guitar player that was worth a damn."'
from the documentary Elvis on Tour, 1972
Q: "Elvis, are you satisfied with your image?"
Elvis: "Well, sir, it's very hard to live up to an image."
press conference prior to Madison Square Garden concert, June 9, 1972
"Since I was two years old, all I knew was gospel music. That music became such a part of my life it was as natural as dancing. A way to escape from the problems. And my way of release."
reprinted in Elvis in His 0wn Words, 1977
"[Clothes] say things about you that you can't, sometimes."
reprinted in The World According to Elvis, 1992
"Don't criticize what you don't understand, son, you never walked in that man's shoes."
reprinted in The World According to Elvis, 1992