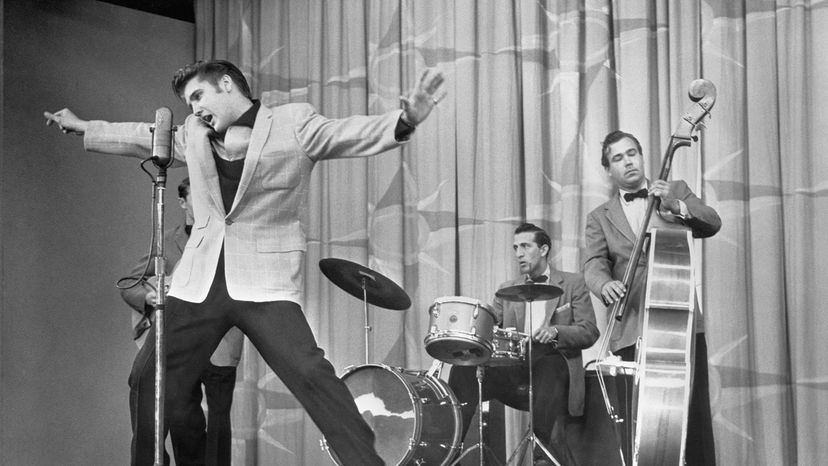 You don't become "The King of Rock 'n' Roll" without your share of No. 1 songs. Here are 30 of Elvis Presley's chart-topping songs.
1. "Heartbreak Hotel" (1956)
Released on Jan. 27, 1956, this heart-wrenching tune was inspired by a suicide note printed in The Miami Herald. The tune didn't catch the public's attention until Elvis started appearing on television in the months following its release.
2. "Don't Be Cruel" (1956)
This was the first song that Elvis self-produced. And what a job he did! Not only did he rack up his second No. 1 in three months; he also created a whole new style for himself — one characterized by a free, casual sound.
3. "Hound Dog" (1956)
This song was a blues classic long before anyone had heard of Elvis Presley. But it was the King's July 1956 TV appearances, in which he crooned to a real pup, that propelled it to the top of the pop charts. The machine-gun-like drumming of D. J. Fontana perfectly complemented Elvis' edgy vocals.
4. "Love Me Tender" (1956)
This song's tune came from a Civil War ballad called "Aura Lee." The lyrics were written for Elvis' first movie, also called "Love Me Tender." The movie — a depiction of the notorious Reno Brothers Gang — was forgettable; the song was anything but!
5. "Too Much" (1957)
Released Jan. 4, 1957, "Too Much" brought to the forefront the talents of Elvis' supporting players, especially guitarist Scotty Moore. And, of course, the King sounds great, too!
6. "All Shook Up" (1957)
You can't help but dance to this great tune. Released in March 1957, it epitomizes the rock 'n' roll sound that energized teens all over the world. Listen for the sound of Elvis slapping his guitar.
7. "(Let Me Be Your) Teddy Bear" (1957)
Teddy bear sales went through the roof with this June 1957 hit. The song's popularity also helped get people into theaters to see Elvis' second movie, "Loving You."
8. "Jailhouse Rock" (1957)
"Jailhouse Rock" marked Elvis' third foray into film and gave him another No. 1 song. Even if the song hadn't been a hit, the movie's dance sequence alone would have made it memorable.
9. "Don't" (1958)
This ballad, written by Jerry Leiber and Mike Stoller, brilliantly conveyed the teen angst felt by the majority of Elvis' fan base. Elvis put his heart and soul into the lyrics, connecting on a personal level with listeners, and it was one of his personal favorites.
10. "Hard Headed Woman" (1958)
Released June 10, 1958, this hit came out of the movie "King Creole," which would be the last movie for Elvis until 1960, after his discharge from the army.