Elvis Presley Returns to Hollywood
The 1961 concert in Hawaii marked Elvis Presley's last live performance until 1969, and he made no television appearances after the Sinatra special until December 1968. Throughout most of the 1960s, if Elvis' fans wanted to see him, they had to see him on the silver screen.
In May 1960, Elvis had returned to Hollywood to begin shooting G.I. Blues. The movie's storyline is about a singer serving in the army in Germany. Producer Hal Wallis borrowed details from Elvis' own life to flesh out the script just as he had done in the two previous films he made with Elvis. In G.I. Blues, Elvis' character is not only stationed in Germany, but he's also a member of a tank division just as Elvis had been.
Like the movies Elvis made before going into the army, G.I. Blues is based on the events of his own life, but it is a musical comedy instead of a musical drama. G.I. Blues was aimed at a family audience, and Elvis' controversial performing style had been toned down. Even though most of the songs are fast-paced, they don't have the same hard-driving sound, sexual connotation, or emotional delivery of Elvis' prior soundtrack recordings.
Elvis' screen image was deliberately softened for G.I. Blues. In one scene, he sings a Bavarian-sounding folk tune during a children's puppet show, while in another, he baby-sits an adorable infant. The movie's ads perfectly sum up these changes: "See and Hear the New Elvis: The Idol of the Teenagers is the Idol of the Family."
G.I. Blues was enormously successful, ranking fourteenth in box-office receipts for 1960. The soundtrack album reached No. 1 quickly, remaining on the charts longer than any other Elvis Presley album. Movie critics applauded the new Elvis. They approved of his new image and predicted he would find plenty of new fans among older women. Elvis didn't share the critics' enthusiasm for G.I. Blues. He felt that there were too many musical numbers and believed some of them made no sense within the context of the plot. He was concerned that the quality of many of these songs was not as good as the music for his earlier movies.
Elvis was eager to move on to more demanding and serious roles. The western Flaming Star gave him the chance to prove himself as an actor. The movie brought together some of Hollywood's most notable actors and creative personnel. In this tense drama, Elvis was able to hold his own with veteran performers John McIntire and Dolores Del Rio. Newcomer Barbara Eden, who later starred in the TV series I Dream of Jeannie, was also featured in the film.
Director Don Siegel, who later won critical acclaim for his work on the original Dirty Harry, fashioned a strong statement on racial prejudice out of the script, which had been based on a popular novel by Clair Huffaker. Nunnally Johnson, a longtime Hollywood producer and screenwriter, cowrote the script with Huffaker. Established composer Cyril Mockridge produced the background music.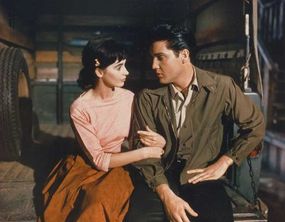 Elvis got one more shot at serious acting when he was signed to star in the drama Wild in the Country. The film, directed by Philip Dunne, was from a script by playwright Clifford Odets. It features Elvis as Glenn Tyler, a young hothead from the rural South who tries to straighten out his life after serving time in a juvenile hall. The original script for this movie had no original songs, but after Flaming Star's poor showing at the box office, they added six musical numbers to Wild in the Country. Only four of them made the final cut.
In addition to the title tune that is sung over the opening credits, Elvis sings a song to each of the three women in the movie. Even with the musical numbers, the film was deemed a disappointment by Elvis' fans. Like Flaming Star, the movie didn't lose money at the box office, but it wasn't a smash success either.
Both Elvis and costar Tuesday Weld were voted the Damp Raincoat Award as the most disappointing performers of 1961 by Teen magazine. While awards such as this can hardly ruin anyone's career, they indicated to Elvis and the Colonel that this type of film was not what Elvis' most devoted fans wanted to see. Elvis did not accept another serious role until the end of his film career.
The standard interpretation of Elvis' career in the movies is to view this juncture as the beginning of the end, because he seemed to give up his dream of becoming a serious actor. However, after Wild in the Country, Elvis made 24 movies, all of which were financial and popular successes. Therefore, it seems appropriate to give Elvis' film career a different spin: Elvis Presley did not become a serious actor, but he was an extremely successful movie star.
The first in this string of successful and popular movies was Blue Hawaii. To learn more about Elvis' role in Blue Hawaii, see the next section.
For more fascinating information about Elvis Presley, see:
Elvis Presley Pictures

Elvis Presley Albums