The Evolution of Elvis Presley's Sound
Some critics have claimed that the quality of Elvis' music began to deteriorate at RCA. They blame the decline on commercial calculation, the tightly structured schedule for recording at RCA (compared to the makeshift, down-home atmosphere at Sun), or Elvis' own desire to follow in the footsteps of Dean Martin. Elvis' music did undergo some changes once he moved to RCA, but the word "decline" is too harsh to use to describe the modification of his sound. Elvis' music did not decline at RCA, but it did move away from rockabilly to more mainstream rock 'n' roll. By the 1960s, it would mellow into a bona fide pop sound.
Part of the modification of his music was the result of deals Elvis and the Colonel made with music publisher Hill and Range, which was affiliated with RCA. After the deal was finalized, Hill and Range set up two new music publishing companies: Elvis Presley Music and Gladys Music. These companies were responsible for obtaining the rights to all the songs Elvis recorded.
This setup was financially advantageous for Elvis because he received not only his performer's royalty every time he recorded a song but also a publishing royalty. Hill and Range received half the income generated by Elvis Presley Music and Gladys Music. The songwriters who published their songs through the two smaller companies gave up a large percentage of their royalties to music publishers for the opportunity to write songs for Elvis.
They were also required to give Elvis a cowriting credit, even though he never wrote a song or any part of a song in his entire career. But the songwriters didn't complain, because even with reduced royalties, they made a lot of money. It soon became apparent that every song Elvis recorded sold millions of copies.
Obviously, it was best for all parties financially if Elvis recorded only those songs published by his own companies, although contractually he was not prevented from recording other songs. Ultimately, the Hill and Range deal limited Elvis because the material it obtained for Elvis Presley Music and Gladys Music sometimes came from songwriting hacks who had been employed by Hill and Range for years. Any writer with an exclusive agreement for another publisher was restricted from having his work recorded by Elvis. Consequently, Elvis was sometimes saddled with lackluster material from mediocre writers.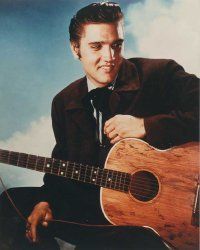 Throughout the rest of 1956, as Elvis recorded more material at RCA, he moved further away from the pure rockabilly of Sun Records and closer to a fully integrated rock 'n' roll style. By July 1956, when he stepped back into the RCA studios, Elvis seemed to be seeking a bigger, more explosive sound. It was in this session that he recorded two of his signature singles -- "Hound Dog" and "Don't Be Cruel."
Jerry Leiber and Mike Stoller wrote "Hound Dog" in 1952 for blues singer Willie Mae "Big Mama" Thornton at the request of Johnny Otis, a hustling bandleader, producer, composer, and R&B deejay. Otis invited the team to watch Thornton rehearse in his garage-turned-studio.
After watching the mighty singer belt out a few numbers, Leiber and Stoller composed "Hound Dog" -- a song about a gigolo -- in about ten minutes. Thornton growled the saucy lyrics to a hard-driving blues beat, and "Hound Dog" sold over a half million copies, climbed to No. 1 on the R&B charts, and became a top-selling record in the R&B market during 1953.
Several performers covered "Hound Dog," including country artists Tommy Duncan, Betsy Gay, Jack Turner, and Billy Starr, and lounge act Freddie Bell and the Bellboys. Bell enlivened the tempo and tampered with the lyrics in a humorous way, adding the line, "You ain't never caught a rabbit, and you ain't no friend of mine." Elvis caught the Bellboys' act in April 1956 when he was booked into the New Frontier Hotel in Las Vegas. Although Elvis flopped in Vegas, he brought back a little souvenir -- Bell's comedic version of "Hound Dog."
A male singer belting out the opening line to "Hound Dog" seems odd because the song was clearly written for a female voice, and Elvis' decision to add "Hound Dog" to his repertoire has been interpreted variously by rock music historians. Some insist that Elvis must have been familiar with the Thornton version because he was an R&B enthusiast, and they speculate that he recorded Bell's version because he recognized its humor.
Detractors suggest that he appropriated the blues tune without realizing its roots. It seems likely, however, that Elvis did know of Thornton's record. Although Elvis' recorded version was a rock 'n' roll interpretation patterned after Bell's, his rendition on the Berle show owes something to the growling, bump-and-grind vernacular of Thornton's bluesy "Hound Dog."
Pressured by producer Steve Sholes to record the tune, Elvis finally captured "Hound Dog" after about 30 takes in RCA's New York studios. Backed by "Don't Be Cruel," the record became the biggest two-sided hit in history. It climbed to No. 1 and held that position for 11 weeks, longer than any other single release of the rock 'n' roll era. It also reached No. 1 on the country-western and rhythm-and-blues charts.
"Don't Be Cruel" was the flip side of "Hound Dog." A relatively new tune, "Don't Be Cruel" had not been recorded by any singer prior to Elvis. As the song was not associated with any singer's specific style, Elvis could make it entirely his own. The recording's easygoing but fast-paced rhythm, light tone, and harmonious backup vocals by the Jordanaires indicate how far Elvis had drifted from the sounds of pure R&B and country music.
"Don't Be Cruel" was written by rhythm-and-blues singer-songwriter Otis Blackwell. He had sold the song to a music publisher, Shalimar Music, for $25 on Christmas Eve 1955. Elvis' parent publisher, Hill and Range, had acquired the song, and the demo was one from a stack the hot new singer listened to during an RCA recording session in July 1956.
When Elvis wanted to record the song, Blackwell was told that he would have to cut a deal and share the writer's credit with him, though Elvis did not contribute anything to writing the song. Blackwell was uneasy about the deal, but he realized he stood to make a great deal of money from royalties -- even at half-interest -- if Elvis recorded the song. This would not be the last time Elvis received a writing credit on a song he did not originally compose.
During the recording session, Elvis rehearsed "Don't Be Cruel" a couple of times with his regular backup musicians, a piano player hired by RCA, and the Jordanaires. Then the group worked on the song, finessing it as they went through almost 30 takes. All the musicians contributed something in their own way. D.J. Fontana used Elvis' leather-covered guitar as a makeshift drum to capture a snare effect by laying it across his lap and hitting the back with a mallet.
Their efforts resulted in one of Elvis' most beloved songs and one of his personal favorites. Total sales for any Presley single are often difficult to calculate, but by March 1992, the "Hound Dog"/"Don't Be Cruel" single had been awarded triple platinum status by the Recording Industry Association of America (RIAA).
But it was more than just a new promotional strategy and some minor developments in his music that transformed Elvis Presley into a rock 'n' roll singer. A vital part of this change occurred because of the image of Elvis the media constructed at that time, particularly after his controversial appearances on television.
Perhaps the most notorious appearances Elvis made on television were his three times as a guest on The Ed Sullivan Show. See the next section to learn more about these explosive appearances.
For more fascinating information about Elvis Presley, see: