Elvis Presley's Continued Big Screen Success
Elvis Presley was not the only pop-rock star to appear in a series of lightweight musicals during the 1960s. Everyone from Frankie Avalon to Herman's Hermits bopped through their own musical vehicles, which were marketed to youthful audiences. Some of these teen musicals featured pop-flavored songs that sounded more like some Hollywood executive's idea of what rock music should be, while others included the music of well-known rock 'n' roll bands of the era.
The most famous teen flicks included the series of beach movies produced by American International Pictures starring Frankie Avalon and Annette Funicello. The first, Beach Party, was released in 1963 and was so successful it launched four others with the same cast -- Muscle Beach Party, Bikini Beach, Beach Blanket Bingo, and How to Stuff a Wild Bikini.
In each film, Funicello played DeeDee, who spent most of the time trying to keep Frankie, played by Avalon, in check. Frankie and Annette's youthful shenanigans were supported by a gang of stock players: dancer Candy Johnson, whose deadly wiggle literally knocked men for a loop; John Ashley, who was often Frankie's rival for DeeDee's affections; and Jody McCrae, a surf bum named Deadhead who had taken one too many spills.
Although their low-budget origins are apparent, the films captured the pleasures of youthful pastimes and the spirit of surfing music, which was so popular during the early 1960s. Several bands known for the "surfin' sound" -- Dick Dale and the Del-Tones, the Hondells, the Pyramids, and the Kingsmen -- made guest appearances in the beach party movies. In addition, such well-known film actors from past generations as Robert Cummings, Buster Keaton, Dorothy Malone, Mickey Rooney, and Keenan Wynn rounded out the casts, lending this series an aura of legitimacy that was lacking in other teen flicks.
When the beach began to look too familiar, the party moved to the ski slopes. A whole new subgenre was born after producer Gene Corman at American International decided to use a ski resort for the setting of Ski Party.
Frankie Avalon courted Deborah Walley this time out, while Dwayne Hickman was paired with Yvonne Craig. Leslie Gore and her pop-flavored songs fit right into the fluffy storyline, but James Brown's highly charged soul numbers burned through the screen when he boogalooed into the scene with his Famous Flames.
Still other musicals made use of a college setting in an effort to keep this youth-oriented genre alive, including Get Yourself a College Girl, with Nancy Sinatra, Mary Ann Mobley, and Chad Everett, and C'mon Let's Live a Little, with Bobby Vee and Jackie DeShannon.
Some of the English rock groups that were part of the British Invasion were also packaged into movie vehicles. Peter Noone and Herman's Hermits made a splash with their feature musical, Hold On, while the Dave Clark Five made a dismal effort titled Having a Wild Weekend. The Beatles' two feature films, A Hard Day's Night and Help!, belong to this musical genre as well, but the creative direction by Richard Lester lifts them above the exploitative level of the typical teen flick.
Most of the movies that starred pop-rock singers were meant strictly for teen audiences, but Elvis' musical comedies were family fare. The casts included children as well as older characters who are accepted as wise representatives of past generations. Despite these differences, Elvis' movies fit quite well into the teen musical genre.
Many of Elvis' costars, for example, were featured in the beach and ski movies, including Shelley Fabares, Nancy Sinatra, Yvonne Craig, Deborah Walley, Joby Baker, Dwayne Hickman, and Mary Ann Mobley. Producers and directors from other teen musicals also worked on Elvis' films. Sam Katzman, the "King of the Quickies," who produced Get Yourself a College Girl, had been in the youth exploitation market since he made some of the first rock 'n' roll vehicles during the 1950s. He was responsible for two of Elvis' films, Kissin' Cousins and Harum Scarum.­
The settings and plots of Elvis' films paralleled those of other youth-related musicals. When Spring Break in Fort Lauderdale and other resort areas became a popular subject, as in Where the Boys Are and Palm Springs Weekend, Elvis starred in his own Fort Lauderdale adventure, Girl Happy. When the mod scene in England and Europe was all the rage, Elvis appeared in Double Trouble, featuring the swinging discotheques of London and Amsterdam as a backdrop. The considerable number of beach-related films that Elvis made, including Blue Hawaii, Clambake, and Paradise, Hawaiian Style, was undoubtedly influenced by the popularity of the beach party movies.
Placed within the context of the teen musical, Elvis' movies make perfect sense, even standing out because of their high-quality production values. A critic for Variety praised Elvis' movies for this reason in a review of Easy Come, Easy Go: "Anyone who has seen similar films recognizes the superior quality of Presley's films: the story makes sense; the songs are better and are better motivated; cast and direction are stronger; production values are first-rate."
The teen musical genre, including Elvis' musical vehicles, is a testament to the popularity of that easy-going, pop-rock music of the mid-1960s and to those teen idols who were part of that scene. Never meant to be serious filmmaking, all of these films are best taken as lighthearted Americana.
Although biographers and film critics continue to condemn Elvis' Hollywood career, his films have always been interesting viewing for fans, who know some of the behind-the-scenes anecdotes and tall tales.
While in Hollywood, Elvis developed a reputation for dating his costars while a movie was in production. Rumors about Elvis' relationships with actresses were repeated in fan magazines, gossip columns, and the entertainment press. Much of what was said was obviously manufactured for its publicity value, but some of the rumors were undoubtedly true or came close to being true. To his credit, Colonel Parker usually kept information about Elvis' personal life out of the press.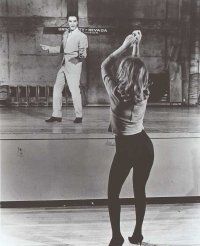 Elvis did not have an exclusive contract with Hal Wallis. He also worked for MGM, United Artists, and Allied Artists. The producers from these other studios followed the musical comedy formula that Wallis had developed, occasionally even improving on it.
Viva Las Vegas, produced by MGM and released in 1964, features Elvis as a race-car driver who takes a job as a waiter at the Flamingo Hotel to earn money to enter the Las Vegas Grand Prix. Ann-Margret plays a swimming instructor who is romanced by Elvis' character and by another dashing race-car driver played by Cesare Danova. The movie was shot in and around Las Vegas, using such locations as the Flamingo and Tropicana hotels and the drag strip at Henderson, Nevada.
The inclusion of Ann-Margret made this Presley travelogue a cut above most. Ann-Margret was known at the time as "the female Elvis Presley" for her sensual, rock 'n' roll dancing style. Fans were excited about the potential screen explosion promised by the pairing of Elvis with his female counterpart, and they weren't disappointed. The musical numbers in Viva Las Vegas are sparked by an electricity not found in other Elvis movies. The on-screen chemistry between Elvis and Ann-Margret reflected their highly publicized off-screen romance.
Of all his relationships with his costars, Elvis' romance with Ann-Margret was probably the most serious. During the production of Viva Las Vegas, Elvis and the redheaded starlet set the publicity mill grinding when they began showing up together at restaurants and clubs around Las Vegas. They shared a mutual love for motorcycles and occasionally rode together, but they were warned to be careful because an accident involving either one of them would have delayed production on the movie.
Other actresses whom Elvis dated during his career in Hollywood included Joan Blackman while working on Kid Galahad, Yvonne Craig while shooting It Happened at the World's Fair, Deborah Walley during the production of Spinout, and Mary Ann Mobley while working on Girl Happy.
Some actresses stand out for not dating Elvis during film production. Donna Douglas, costar of Frankie and Johnny, was a religious and spiritual person who impressed Elvis because she was so well read. He admired her intellect, and he was inspired by her example to read more, particularly books on religion and philosophy. Elvis tried desperately to get costar Shelley Fabares to go out with him during the production of Girl Happy, but she was heavily involved with record producer Lou Adler and later married him. In lieu of a romantic relationship, Elvis and Fabares became friends. She costarred with him in two other movies, Spinout and Clambake. Elvis later claimed that she was his favorite costar.
After a long string of successful movies, Elvis began to make low-budget movies in quick succession, and the practice took a toll on his status as a movie star. See the next section to read about what happened when Elvis' movie career began to falter.
For more fascinating information about Elvis Presley, see: