Elvis Presley and Love Me Tender
The next step in Elvis Presley's career would take him to new heights as a film star, beginning with his first movie appearance in Love Me Tender.
The first time that independent movie producer Hal Wallis saw Elvis perform, he was convinced Elvis was going to become a major star. A veteran of the movie business for 25 years, Wallis had a stellar reputation. He had worked as an executive producer at Warner Bros. for several years before forming Hal Wallis Productions in 1944.
In early 1956, Wallis happened to catch Elvis' act on one of the Stage Show episodes. The electrifying effect Elvis had on the women in the studio audience spelled movie magic to the keen-eyed producer. Wasting no time, he called Colonel Parker the next morning to set up a screen test for the controversial young singer. Parker was cool, playing Wallis like the experienced dealmaker he was, before casually replying that Elvis was planning to be on the coast soon and perhaps a meeting could be arranged.
On April 1, 1956, Elvis took a screen test with respected character actor Frank Faylen. They performed a scene from N. Richard Nash's play, The Rainmaker, which was soon to be made into a major movie. Although it happened on April Fools' Day, Elvis' screen test was taken quite seriously. His screen presence was powerful enough for Wallis to arrange a three-picture deal. If starmaker Hal Wallis had confidence in Elvis as an actor, then Hollywood was willing to accept that the young singer was well on his way to motion picture stardom.
Elvis had always loved the movies. When he was in high school, he had worked as an usher at Loew's State Theater in Memphis. Later in his life, when his superstar status prevented him from going out in public, Elvis often rented an entire theater just to be able to watch one movie in peace. From the beginning of his career, Elvis had aspired to be a movie actor. When his sudden notoriety opened the door for this to happen, he was eager to do whatever it took to make a career in the movies. "Singers come and go," Elvis said, "but if you're a good actor, you can last a long time."
Hal Wallis was working exclusively for Paramount Pictures at the time, but the studio had no suitable script for Elvis when he signed with Wallis. So Elvis was loaned to Twentieth Century-Fox for a Civil War drama called The Reno Brothers. His part in the movie was a secondary role, and both Robert Wagner and Jeffrey Hunter had originally been considered for the part. It was the first and last film in which Elvis appeared that was not specifically designed as a vehicle for him.
The movie's theme song was taken from a Civil War ballad called "Aura Lee" and reworked as "Love Me Tender." Elvis released the song as a single, which became immensely popular and gained wide exposure after he sang it on The Ed Sullivan Show. Because the tune was such a hit, the name of the movie was changed to Love Me Tender before it opened in New York on November 16, 1956.
The storyline follows the fortunes of a farm family after the Civil War. Elvis plays the youngest son, Clint Reno, who marries his eldest brother's girl. Everyone presumes that the brother has been killed in the war, but he returns unexpectedly. The family is torn apart by the consequences of the marriage, and in the end, Clint is shot and killed.
The producers of Love Me Tender worried that Elvis' fans would have a negative reaction to the movie's ending. Elvis' real-life mother, Gladys, was said to be shocked by his on-screen death. No one knew if people would stay away from theaters once word got out that Elvis' character was going to die in the last few frames.
In the movie's original ending, Mother Reno, played by Mildred Dunnock, rings the bell for dinner as the remaining Reno brothers come to supper. The pain and sadness on their faces indicate that Clint has gone to the Great Beyond. The end credits immediately follow this poignant but downbeat scene.
After the shooting of Love Me Tender was completed, Elvis was called back to make another ending for the movie. In this version, his character survives. However, the ending that was actually used in the final version of the film represents a compromise between the two. Clint Reno is killed, but Elvis' face is superimposed over the final scene as he sings "Love Me Tender." This version rings true to the original script, but fans are left with a more positive image of their idol.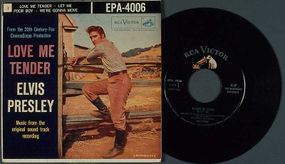 Love Me Tender has only four musical numbers, but the song "Love Me Tender" was such a big hit for Elvis that no one seemed to notice how few songs were in the movie. Some people have claimed that Hal Wallis hinted that Elvis' faithful backup musicians, Scotty Moore, Bill Black, and D.J. Fontana, were not welcome in Hollywood. Supposedly, he thought the trio was too unsophisticated to participate in a Hollywood recording session.
A group called the Ken Darby Trio backed up Elvis in the soundtrack recording sessions, but this was not Wallis's decision. He had nothing to do with the production of Love Me Tender because it was released by Twentieth Century-Fox. The story about the musicians is either untrue or it is about another Hollywood producer. In fact, Moore, Black, and Fontana appear in later movies that Elvis made for Wallis.
Elvis got along well with his costars, and he often deferred to their greater experience in making movies. Richard Egan, who played elder brother Vance Reno, said about Elvis: "That boy could charm the birds from the trees. He was so eager and humble, we went out of our way to help him." Years later, during Elvis' 1972 engagement in Las Vegas, Egan stood up after the final number and began an ovation for his former costar.
Throughout the production of Love Me Tender, Elvis nursed a crush on costar Debra Paget, beginning a career-long habit of falling for his female costars. In this case, however, his attentions went unnoticed because Paget was not interested. A couple of years older than Elvis, Paget was dedicated to her career at this point. Her mother, who was often on the set, had big plans for Debra, none of which involved Elvis.
Elvis' first screen performance got brutal reviews, which was no surprise considering the criticism by the popular press before he turned to acting. A reviewer for TIME magazine compared Elvis' performance at various times in the movie to a sausage, a Disney cartoon figure, and a corpse. A review in Variety was more to the point: "Appraising Presley as an actor, he ain't. Not that it makes any difference." But the critics' sarcasm fell on deaf ears. When a huge promotional cutout of Elvis as Clint Reno was unveiled atop a New York City theater, thousands of fans showed up to see Elvis' image larger than life.
Though Love Me Tender was a departure from Elvis' normal image, his next movie, Loving You, brought him right back to his rock 'n' roll roots. See the next section to learn more about Elvis Presley's second movie, Loving You.
For more fascinating information about Elvis Presley, see: