Marilyn Monroe's Victory over Twentieth Century Fox
While Marilyn focused on improving her craft in New York, executives at Twentieth Century Fox were battling with her lawyers and Milton Greene over her contract.
After the extremely successful debut of The Seven Year Itch in June 1955, Fox pulled out all the stops in its efforts to re-sign Marilyn. With the critical and popular acclaim of the film, the studio realized that its biggest asset was Marilyn Monroe, the star who had generated the most box-office revenue for Fox in the past two years.
In September, Variety reported that Fox was finally willing to meet Marilyn's unprecedented demands, which included story and director approval. Further, because Marilyn realized the importance of her physical appearance to the roles she played, she demanded and won cinematographer approval.
In addition, her salary was boosted to $100,000 per film, and she was allowed to make films with independent producers and with other studios. Marilyn signed her fourth and final contract with Twentieth Century-Fox on December 31, 1955.
Though Marilyn's contractual difficulties with Fox during the mid-1950s have been widely documented, few accounts have adequately explained the magnitude of her victory and its ramifications to the film industry.
Her new contract allowed her a measure of creative control that was considered revolutionary for an actor at that time. Her contract stipulated that she would appear in only top-notch productions, or "A-films." Her right to director and cinematographer approval set a precedent for other stars to follow.
Marilyn understood the value of working with directors who had not only talent but personal vision. She also understood the difference between a film that was genuinely suited to her and one that merely exploited her good looks or marquee value.
It was the difference between Niagara, in which her character's sexuality was the motivation for the action of the film, and There's No Business Like Show Business, in which she was cast merely to add some spice to a hack musical.
Marilyn rightly realized that a succession of superficial films by assembly-line directors, in which she would play one sexy blonde after another, might cheapen her value as a star.
Some may find Fox's change of heart toward Marilyn hypocritical considering the bad publicity the studio had generated about her just a few months before. Did the executives at Fox not realize the extent of her popularity until The Seven Year Itch, or did they arrogantly assume she would return to the fold at some point?
Actually, the situation was more complex than it might seem on the surface, and involves much more than Marilyn's dispute with Fox.
Hollywood underwent a number of significant changes during the 1950s, changes that would permanently alter the film industry. The studio system -- designed to crank out formulaic films quickly and cheaply and to give film studios almost absolute power over contract players and other creative people -- began to decline during that era.
Reasons for this decline include growing audience sophistication, the increasing popularity of television, and stars' unwillingness to sign contracts that limited their artistic and financial options. As the studio system withered, so did the enormous power that executives wielded over actors and directors.
Prominent directors and established actors, fed up with the studios' profit-motivated decisions regarding their careers, began setting up their own production companies to make films with artistic merit and to give themselves more equitable profit shares. Films using stage-trained directors and actors began to garner significant critical attention and box-office success.
The major studios clung desperately to outdated production methods in an effort to retain their dominance over the industry. It was those outdated methods -- a dependence on quickly produced, low-budget B-films; a shortsighted tendency to assign big-name stars to minor films to boost the box-office potential -- that Marilyn was fighting against. It was those outdated methods that could trap her in a succession of thankless roles in mediocre films.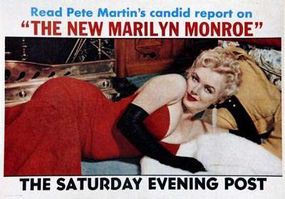 As the film companies began to lose money because of the changes in the studio system and because of the competition from television, they grasped at solutions they would not have considered just a few years earlier. After the financial success of The Seven Year Itch, Fox needed the bankability of Marilyn Monroe and was willing to deal to get it.
Marilyn's victory not only became a landmark case but also established Marilyn Monroe as a force to be reckoned with. Suddenly, the press began to take Marilyn Monroe Productions seriously.
In January of 1956, a year after some reporters had laughingly dubbed her "Bernhardt in a bikini," the Los Angeles Mirror News printed the following statement: "Marilyn Monroe, victorious in her year-long sitdown strike against 20th [sic] Century-Fox, will return to the studio next month with a reported $8,000,000.00 deal. Veterans of the movie scene said it was one of the greatest single triumphs ever won by an actress."
Bus Stop was Marilyn's first film under her new contract. Learn about her role in this film on the next page.