Marilyn Monroe in 'Niagara'
Producer Charles Brackett wanted to do a film against the dynamic backdrop of Niagara Falls and summoned writers Walter Reisch and Richard Breen to work up a suitable script based on his ideas. As devised by these veteran screenwriters, the plot was perfect to display not only Marilyn's talents as a dramatic actress but also her image as a blonde bombshell.
Shot on location in the late spring and summer of 1952, Niagara was directed by Henry Hathaway, a competent craftsman who had built a secure reputation in Hollywood.
Marilyn starred as a cunning adulteress named Rose Loomis, a character much harsher than those she had played in her earlier films.
Niagara revolves around Rose's plot to murder her neurotic husband, George, who suffers painful memories of his war experiences. Rose uses her young lover, played by Richard Allan, to carry out her plan.
Joseph Cotten costarred as George, who -- like Rose -- is an unsympathetic yet oddly likable character. Jean Peters and Casey Adams rounded out the cast as a honeymooning couple caught up in the intrigue of Rose's plan.
Rose Loomis exhibits none of the naiveté that was a key element of Marilyn's image; the character uses her sexual attractiveness and her bold good looks to manipulate her husband and lover into doing what she wants.
Rose's effect on men is symbolized by the famous sequence in which Marilyn was photographed from behind briskly walking in her undulating, hip-swaying fashion.
Actually, the picture features three walking sequences; the one that received the most attention is often referred to as "the longest walk in cinema history" -- 116 feet of film of Marilyn in a black skirt and red sweater walking away from the camera into the distance. In a daring shot for the era, the camera eye remains firmly focused on Marilyn's swaying posterior.
Then there is the famous red dress, a clinging, low-cut dazzler that Marilyn wore when she crooned the song "Kiss." When the character played by Casey Adams spies Rose's entrance in this dress, he remarks to his wife, "Get out the fire hose!" Millions of moviegoers shared that sentiment.
Interestingly, though the filmmakers undoubtedly realized the box-office potential for Niagara because of the publicity surrounding Marilyn's wardrobe and lingering views of her undulating body, the film did not exploit Marilyn as much as it showcased her.
The walking sequences and the sexy outfits were essential to the film's plot because they demonstrated Rose's effect on men -- her power to persuade them into actions they might not otherwise consider.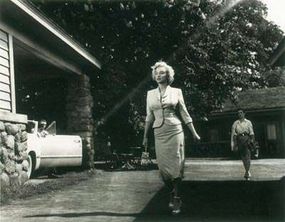 Niagara is filled with clever touches that enhance the story and capture the dynamic quality of Rose Loomis. The character represents pure sexuality. If water is a literary symbol for woman, then to place Rose against the roaring backdrop of Niagara Falls is to imply that she is "all woman." It is no coincidence that both Rose's husband and lover die by going over the Falls.
The association between Rose and the Falls was made complete by one of the poster ads for the film, which depicts a larger-than-life Marilyn lying atop the Falls with the water flowing over her scantily clad body.
As much a natural wonder as the Falls themselves, Rose consistently wears clothes that are variations of black and red -- two colors associated with women who are alluring, cunning, and powerful.
Clever set design contrasts Rose's open sexuality and lust for life with George's worrisome, neurotic behavior: Rose is associated with wide open spaces while George hides himself in closed, cramped quarters.
The role of Rose Loomis was tailored to take advantage of the sexual nature of Marilyn's image yet gave her a valuable opportunity to stretch her rapidly developing acting skills.
Despite the melodramatic plot, Niagara was a tightly woven combination of excellent casting, taut direction, and clever production design. Touting the film's strong points in most reviews, the critics deemed the film a success and singled out Marilyn for her performance.
Often, however, reviewers complimented her in a backhanded way, acknowledging her powerful presence yet maintaining that "Miss Monroe is not the perfect actress at this point," or that she "is not an actress, heaven knows."
This type of remark would characterize critical reaction to Marilyn's work throughout her career. Reviewers were unable to understand that her use of her physical attributes to express aspects of a character was as much an acting skill as the ability to convincingly deliver dialogue.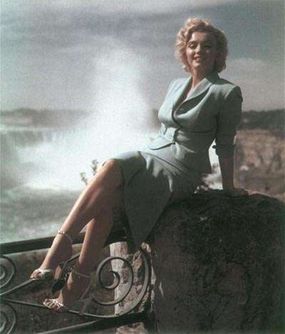 Critics may have had their doubts about Marilyn, but the public made her a full-fledged star after the release of Niagara in January 1953. The film grossed over six million dollars that year, a tidy sum for the era.
After many years of struggle, Marilyn had at last attained her goal. But at that time, as always, she understood perfectly who was responsible for her success. Marilyn commented, "... I want to say that the people -- if I am a star -- the people made me a star; no studio, no person, but the people did."
In the next section, you'll learn about the courting of Marilyn by baseball legend Joe DiMaggio.