Marilyn Monroe in 'River of No Return'
Marilyn was featured in three consecutive box-office hits in 1953, a streak of good fortune that made her the hottest screen star of that year. Reviews of these films often singled her out for acclaim or attention, and she continued to receive vast quantities of fan mail each week.
Her romance with American baseball hero Joe DiMaggio kept her name in the news on a regular basis. Thus, it remains a mystery to biographers and fans why Twentieth Century-Fox did not take advantage of Marilyn's celebrity to showcase her image and talents in a quality production.
Instead, the studio assigned her to River of No Return, an action-oriented western that made wiser use of its CinemaScope format than it did of Marilyn's talent and image. This lack of foresight lends credence to Marilyn's contention that studio head Darryl F. Zanuck had little interest in her career as a serious actress.
River of No Return was directed on location in Canada by Otto Preminger. Marilyn starred as Kay Weston, a struggling saloon singer earning a meager wage in a backwoods mining camp.
Together with rugged homesteader Robert Mitchum and his young son, played by Tommy Rettig, she embarks on a journey by raft down the legendary River of No Return -- a trip made perilous by the presence of Indians, thieves, and white-water rapids.
The production of the film was pretty perilous, too, thanks to hard-nosed Otto Preminger, who fought with Marilyn and Natasha Lytess during most of the shoot. Marilyn's dependence on Natasha's coaching infuriated Preminger, who objected to someone else "directing" the star of his film.
The Austrian-born actor-director actually banned Lytess from the set at one point, supposedly for upsetting little Tommy Rettig so badly that he could not remember his lines. Marilyn responded by phoning Zanuck to request that Lytess be reinstated on the condition that she promise not to speak to cast members other than Marilyn; Zanuck sided with Marilyn and telegraphed Preminger to let the repentant coach back on the set.
Other problems plagued the production of the film as well, including cost overruns when the shoot fell behind schedule. Robert Mitchum tagged the film "Picture of No Return," alluding to its potential as a box-office disaster.
Preminger's insistence that the cast perform many of their own stunts resulted in several accidents. In one incident, Marilyn and Mitchum were riding the raft when it became stuck on the rocks in the middle of the river. Just as the raft was about to turn over, a couple of stuntmen reached the two stars by lifeboat, averting disaster.
Some time later, Marilyn injured her left ankle, though the severity of the injury is debated among those who knew her. Doctors did put a plaster cast on her leg, but actress Shelley Winters -- a friend of Marilyn's who was working on another film nearby -- claims in her autobiography that Marilyn faked the severity of the sprain so that Preminger would treat her more sympathetically.
DiMaggio rushed to the set with his own doctor after hearing of the injury and spent several days with Marilyn while she recuperated. The couple continued to dodge questions from reporters about wedding plans, though it was obvious that the two celebrities were romantically involved.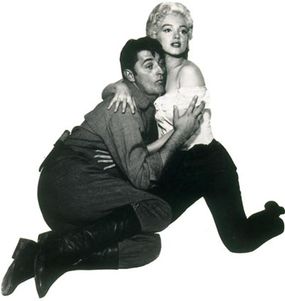 Whether Preminger was moved by Marilyn's injury or by the need to complete the film, he did treat her with more respect for the rest of the shoot. Between Joe's presence on the set and the change in Preminger's attitude, she managed to finish the film without further incident.
Though River of No Return was not the unmitigated disaster humorously predicted by Mitchum, the film was not a box-office sensation and received only lukewarm reviews.
Marilyn herself was much harsher in her opinion of the film than any critic had been, referring to River as "a Z cowboy movie in which the acting finishes third to the scenery and CinemaScope."
In 1954, Marilyn finally married Joe DiMaggio. Find out about the proposal and wedding on the next page.