Marilyn Monroe in 'There's No Business Like Show Business'
Back in the States, Joe and Marilyn took up residence at his home in San Francisco, where the DiMaggio family owned and operated a restaurant on Fisherman's Wharf. City residents allowed their famous native son and his new bride to have their privacy, but tourists continually disrupted their homelife.
An award from Photoplay magazine as Best Actress for her performances in Gentlemen Prefer Blondes and How to Marry a Millionaire prompted Marilyn's return to Hollywood, as did the starting date for her next film.
Twentieth Century-Fox persuaded Marilyn to appear in the star-studded but hopelessly dated musical There's No Business Like Show Business by promising her the leading role in the film version of The Seven Year Itch.
Marilyn agreed, but her part in Show Business was secondary compared to the star turns of Ethel Merman and Dan Dailey. The remainder of the cast included dancers Donald O'Connor and Mitzi Gaynor as well as sob-singer Johnnie Ray.
Instead of showcasing the individual talents of each of the performers, this wildly uneven musical merely emphasized their differences. Merman's brassy singing style overwhelmed those of her fellow cast members, while Ray, known for the tune "Cry" and similarly fevered pop records, appeared stiff and artificial throughout.
And beside the manic tap routines of O'Connor and Gaynor, Marilyn's soft singing voice and sensual mannerisms seemed inappropriately languid.
The film's liveliest production number was a torrid version of "Heat Wave" performed by Marilyn and a bevy of male dancers. Considered controversial at the time, the number featured Marilyn in a flamenco skirt slit all the way up the front.
The bumps and grinds that were part of the choreography revealed the black leotard-bottom underneath her costume, and outraged some observers who were not accustomed to this sort of unblushing display. Reviewers added to the controversy by singling out the number as vulgar or crude.
Bosley Crowther of The New York Times stated that Marilyn's "wriggling and squirming . . . are embarrassing to behold." Time magazine intoned that Marilyn "bumps and grinds as expressively as the law will allow."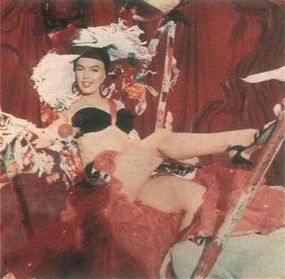 Whatever the reasons for assigning Marilyn to There's No Business Like Show Business, Fox executives miscalculated once again in regard to her talents and image. Marilyn eventually became adamant -- almost stubborn -- about certain details or bits of dialogue in her films, a habit that was probably caused by years of being pushed around and ill-used by the studio.
Marilyn's personal life took a downward turn when she divorced Joe DiMaggio after just a few months of marriage. Learn more in the next section.