Marilyn Monroe and Joe DiMaggio Divorce
As soon as the movie There's No Business Like Show Business wrapped, Marilyn was ushered immediately, without a rest, to the set of The Seven Year Itch. Production began in Hollywood in August of 1954 and continued in New York the following month.
Husband Joe DiMaggio did not accompany Marilyn on her trip east. After just a few months as husband and wife, Joe and Marilyn were experiencing problems.
She had collapsed three times during the production of Show Business, supposedly because of the tension at home, and he had visited her on the set only once.
Most accounts of her life reveal that the marital discord resulted from Marilyn's career. DiMaggio became increasingly annoyed with the phoniness and artificiality of the movie industry and was further angered by the studio's repeated efforts to imprison Marilyn in blonde bombshell roles.
Despite the fact that The Seven Year Itch was based on a successful play by renowned playwright George Axelrod, DiMaggio saw Marilyn's part only as another in a series of sexy, dumb blonde roles.
DiMaggio eventually joined his wife in New York, but their relationship moved from disharmony to disaster after the shooting of one of Marilyn's most legendary scenes, the moment in which she stands above a subway grate to feel the rush of air that passes whenever a train rushes beneath her.
The shot of Marilyn's white dress billowing up to reveal her shapely legs is so identified with her image that it has become a virtual icon, at once celebrating her sexuality and encapsulating her legend.
The scene was shot at 52nd Street and Lexington in New York City in the middle of the night. Despite the late hour, thousands of fans showed up to catch a glimpse of Marilyn Monroe.
So many flashbulbs went off each time director Billy Wilder tried to shoot a take that he made a deal with the amateur photographers and the press: If they would allow him to shoot the scene, he would ask Marilyn to pose for them.
During the proceedings, DiMaggio walked onto the set, dismayed at the sight of his wife on exhibit for more than 2,000 strangers. His oft-quoted remark, "What the hell's going on here?" reflects his disdain not only for the public display of Marilyn's physical charms but also for her profession, which required it. Shortly after this highly publicized event, Marilyn and Joe filed for divorce.
Just as their courtship, marriage, and honeymoon had been played out on the front pages, so the announcement of their divorce would generate a barrage of publicity and media attention.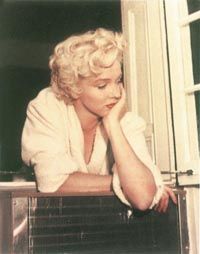 In early October, after the cast and crew returned to Hollywood, the distraught actress called director Billy Wilder and Fox publicist Harry Brand to tell them that she and Joe were divorcing.
Brand released the information to the news services, and reporters descended on the DiMaggios' Beverly Hills residence en masse, staking out the house for more than two days.
On October 6, Marilyn was scheduled to hold a news conference but was too upset to say very much. As she and famed Hollywood lawyer Jerry Giesler walked out of the front door, reporters and photographers lunged forward, hurling embarrassing questions at her.
Joe Hyams, then a correspondent for the New York Herald Tribune, was still appalled by the memory of the spectacle years later.
He said he could still see "as clearly as I had seen it then, her tear-stained face as she came out of the front door, the half-a-hundred newsmen crowded in on her like animals at the kill. Only little Sidney Skolsky tried to protect her. Something about the scene and my profession of journalism sickened me."
With her personal life in the dumps, Marilyn focuses on her part in The Seven Year Itch. Learn about her role in the next section.