Marilyn Monroe Productions
"I feel wonderful. I'm incorporated." -- MARILYN MONROE, 1955
In December 1954, shortly after the completion of The Seven Year Itch, Marilyn formed Marilyn Monroe Productions, Inc., with photographer Milton Greene.
Marilyn had met Greene the previous year on the Fox lot when he had traveled to Hollywood  to photograph her for Look magazine. The photographer and the former model hit it off instantly, and when they met again at a party a few days later, the two began discussing a possible partnership.
Throughout 1954, Greene conferred periodically with Marilyn about his partnership proposal. During the production of The Seven Year Itch, negotiations began in earnest, and the company was formed a few weeks later.
Marilyn Monroe Productions was established with 101 shares of stock; Marilyn controlled 51 shares, while Greene retained the remaining 50. Marilyn's function was to star in the films selected by the company, while Greene was to conduct all of the business and pay the bills.
Greene; his wife, Amy; his attorneys; and his accountant were all New Yorkers, an apparent reflection of the disdain Marilyn felt at this time for Hollywood and its industry personnel.
Marilyn fled Hollywood for New York after the partnership came together, leaving Twentieth Century-Fox and Darryl F. Zanuck behind. Once again, she refused to appear in a minor musical that Fox had assigned her. And once again, Fox tried to threaten Marilyn by touting Sheree North as her replacement.
The studio proceeded to make the film, titled How to Be Very, Very Popular, with North in Marilyn's role and Betty Grable as her costar. Fox, eager to prove that the film could be successful without Marilyn Monroe, virtually flaunted the production in her face.
Nunnally Johnson, who had penned How to Marry a Millionaire, wrote the script, while one of Marilyn's favorite cameramen, Milton Krasner, was assigned to be the film's cinematographer. Charles Coburn and Tommy Noonan, two of her costars from Gentlemen Prefer Blondes, were brought in to round out the cast.
But if Fox was convinced it could make a successful Marilyn Monroe film without the genuine article in the starring role, the studio was sadly mistaken. How to Be Very, Very Popular proved very, very unpopular at the box office and garnered only poor to mixed reviews. It remains notable mainly for a wildly exuberant dance number performed by North, and because it was the final film of Betty Grable.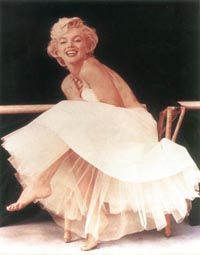 Marilyn refused other offers by Fox at this time, in particular the part of showgirl Evelyn Nesbit in The Girl in the Red Velvet Swing -- a role that eventually went to Joan Collins. Marilyn disavowed her contract with Fox, leaving the legalities of her actions to her lawyers.
After the defection of its biggest star, Fox released the following statement: "No one can handle her. No one can give her advice. She has always decided everything for herself. We're getting 200 letters a day demanding we get rid of her, but we have $2,000,000 tied up in this picture [The Seven Year Itch], and we're trying to protect that."
By generating bad publicity about her, Fox was making sure that if it couldn't have Marilyn Monroe, then no other studio would want her.
Hollywood columnists delighted in such mudslinging and printed a number of statements released through the Fox publicity department, including one that must have hit a raw nerve with Marilyn. Hedda Hopper printed this statement, supposedly from an "unnamed" Fox stockholder: "It's disgusting. She's had four or five years' training -- enough to produce ten competent actresses -- and she still can't act."
Marilyn moved in with the Greenes in their Weston, Connecticut, home, far away from the machinations of Twentieth Century-Fox. In January 1955, at the height of the bad publicity generated by Fox surrounding her defection, Marilyn held a press conference in New York to formally announce the formation of Marilyn Monroe Productions, Inc., and her plans to "broaden her scope."
She complained about the dumb blonde roles she had been assigned at Fox and, after some prompting by reporters, announced she would like to tackle something as challenging as Dostoevsky's The Brothers Karamazov.
The press seized on that comment to ridicule her ambitions, snidely inquiring which of the brothers she wanted to play. She patiently replied that she would like to play Grushenka, the leading female character.
Marilyn's remarks about The Brothers Karamazov would be widely misquoted in print over the next few months, with the result (probably deliberate) of making Marilyn look quite foolish. Reporters questioned whether she could spell "Grushenka," let alone play the role.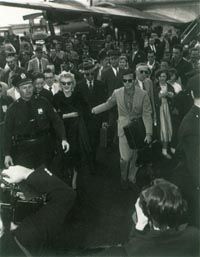 Over the years, the press had emphasized the sexual aspect of Marilyn's image to such a degree that they would not allow her to escape her identity as a sex symbol. When she tried, they ridiculed her.
The weeks spent at the Greenes' home proved restful for Marilyn. She could not appear in a film until her contract with Fox was negotiated to her satisfaction or officially terminated.
In the meantime, she read, studied, and enjoyed the outdoors. She became close friends with Milton's wife, Amy; this warm relationship was one of the few that Marilyn enjoyed with a woman her own age.
Amy Greene -- a former fashion model -- helped Marilyn select a new wardrobe, one more suitable to her new, more mature image, and Marilyn babysat for the Greenes' son, Josh.
Since Marilyn was generating no income of her own, Milton Greene paid all of her expenses, including the rent on the Manhattan apartment Marilyn eventually occupied. Greene was dedicated to Marilyn Monroe Productions, even to the point of mortgaging his home to subsidize Marilyn's stay in New York.
On April 8, 1955, Marilyn appeared on Person to Person, a popular television interview program hosted by noted broadcast journalist Edward R. Murrow. Murrow enjoyed a sterling reputation as a newsman, and being selected for Person to Person was both an honor and an ordeal for Marilyn.
Murrow asked his questions from the CBS studios, but the program originated live from the guests' homes. Marilyn's interview was conducted out of the Greenes' home, with both Milton and Amy appearing on camera with the glamorous star.
Marilyn was petrified by the thought of appearing on live television, but Amy Greene discreetly guided her through the interview. Among other things, Murrow inquired about Marilyn's move to the East Coast, her new production company, and her desire to act in dramatic roles. The program treated her defection from Twentieth Century-Fox as a positive decision, rather than as the impulsive act of a spoiled star.
In the next section, find out about Marilyn's romance with playwright Arthur Miller, who she met while living in New York.