Marilyn Monroe in 'Gentlemen Prefer Blondes'
Increased press coverage of Marilyn brought headaches, but it also contributed to an improvement in her status at Twentieth Century-Fox throughout the production of Niagara.
On June 1, 1952, Fox gave Marilyn a surprise birthday present -- the news that she would star as Lorelei Lee in the film version of Gentlemen Prefer Blondes. A smash success on the Broadway stage, Gentlemen Prefer Blondes had been running for over two years with Carol Channing starring as the vivacious Lorelei.
Hollywood clamored for several months to secure the film rights to the hit musical. Columbia negotiated for the property as a vehicle for their blonde comedy star, Judy Holliday, while Fox originally wanted it for Betty Grable.
Grable campaigned heavily for the part, realizing the importance of the role to her faltering career. The actress with the million-dollar legs had been Fox's top box-office draw during Marilyn's unsuccessful tenure at the studio in the late 1940s -- an era when many a blonde starlet was molded in Grable's image.
Ironically, by 1952, Marilyn's star was fast eclipsing Grable's.
Gentlemen Prefer Blondes began production in November 1952. Reportedly, costar Jane Russell received between $100,000 and $200,000 for her appearance, while Marilyn was under contract for $1,500 per week.
She earned about $18,000 for her work in the picture, while Grable might have cost Fox as much as $150,000. Aware that she was being taken advantage of, Marilyn insisted on her own dressing room. As she told the Fox executives, "I am the blonde, and it is Gentlemen Prefer Blondes."
Marilyn and Jane Russell developed a strong, friendly relationship during the shooting of the film, much to the disappointment of the popular press, which was eager to report a feud between the two sex symbols. But Gentlemen Prefer Blondes did have some genuine problems.
It was during the production of this film that Marilyn's tendency to show up late to the set greatly intensified. Her makeup man, Whitey Snyder, realized that Marilyn was actually terrified to appear in front of the cameras and had to work up her nerve to begin the day's shooting.
Though she often arrived at the studio an hour before Russell, Marilyn could not bring herself to go out onto the set. Director Howard Hawks -- not known for tolerating the frailties of actors -- became upset at Marilyn's tardiness, which brought a great deal of tension to the production.
Snyder confided his suspicions about Marilyn to Jane Russell, who made it a point to stop by Marilyn's dressing room every morning and walk with the frightened young star onto the set. Russell not only understood Marilyn's insecurities but also the harsh, insensitive nature of the film industry; the savvy actress seemed to sense that Marilyn was unable to withstand the cruelties of the business.
Though Marilyn may have incurred Hawks's wrath with her tardiness, he could not fault her for lack of dedication. Marilyn impressed many among the cast and crew with her willingness to work hard. She continued to rehearse long after others had tired, and she requested retakes of scenes she felt were not up to par.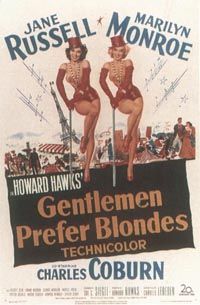 Marilyn realized that she had been given a choice role in a highly publicized film -- a part that other, more respected stars had coveted. She knew that this was her chance for critical acclaim, her chance to garner some respect in the industry.
Marilyn would eventually become notorious for causing difficulties during the production of her films, yet she managed to work with some of Hollywood's legendary directors in her brief career -- actually working with some of them twice.
Howard Hawks, for example, had directed Marilyn before, in Monkey Business. Hawks always maintained that "A great personality illuminates the screen," feeling that a successful end product made any on-set difficulties irrelevant.
During his lengthy career, the veteran director galvanized movie screens with strong films highlighted by excellent performances from John Wayne, Cary Grant, Humphrey Bogart, Katharine Hepburn, John Barrymore, Carole Lombard, and Lauren Bacall. The Hawks name is most often linked with that level of larger-than-life screen actor -- a class of performer that most surely includes Marilyn Monroe.
Gentlemen Prefer Blondes represents a curious combination of some of Hawks's key themes and characteristics common to his movies. Best known for action films, Hawks tended to stress masculine values.
His storylines often focus on a pair of tough male professionals, who seem to be opposite in type. Rather than a source of friction, however, their opposition is presented as complementary.
In Blondes, Marilyn and Jane Russell have assumed the usually male roles of opposite yet complementary types: Lorelei is blonde while Jane's character, Dorothy, is brunette; Lorelei wants to marry for money, while Dorothy intends to marry for love; Lorelei is presented as the epitome of the dumb blonde while Dorothy is clever and resourceful.
Despite their extreme differences, the two characters not only perform together on the stage but also join forces to resolve problems in the area of romance. By focusing on the point of view of Lorelei and Dorothy as they survey the male population for suitable husbands or companions, Blondes seems to parody those films in which predatory male characters continually eye women as objects of desire.
Nowhere is this more evident than in the production number "Ain't There Anyone Here for Love," in which Dorothy scrutinizes the scantily clad men of the U.S. Olympic team as they flex their muscles in front of her.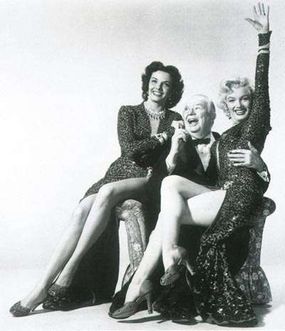 The film's domination by the two female characters is reinforced by the absence of any strong, dashing leading men.
The odd assortment of male figures who flock around Dorothy and Lorelei include a henpecked elderly millionaire, played by jowly Charles Coburn; a little boy with a roving eye, played by young George Winslow; a dull-looking private detective, played by character actor Elliott Reid; and the weak-willed son of a socially prominent family, played by bespectacled Tommy Noonan.
From the film's opening moments to its final shot, Marilyn and Jane Russell simply blow their male counterparts off the screen.
Despite the picture's novel interpretation of the battle of the sexes, Gentlemen Prefer Blondes has been attacked by contemporary critics for such obviously masculine touches as the set decor in the "Diamonds Are a Girl's Best Friend" number, in which female bodies are lashed to chandeliers as part of their support structure.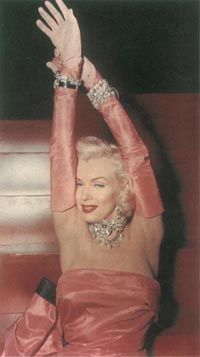 Elsewhere, such dated lines as "I can be smart when it's important, but most men don't like it," made even Marilyn cringe when she read them at the time.
Lively and good-humored, Gentlemen Prefer Blondes is widely acknowledged as one of Marilyn's best films. It is a credit to the professionalism of both Marilyn and Howard Hawks that none of the friction between them interfered with the results on the screen.
Marilyn's hard work paid off in the form of several well-executed, dynamic production numbers in which both she and Jane Russell -- neither of whom were renowned for their singing and dancing abilities -- sparkled.
Marilyn's show-stopping "Diamonds Are a Girl's Best Friend" would become her signature song, highlighting her beauty and grace and also capturing the youthful actress at a high point in her career. In retrospect, the number signifies that moment in time when Marilyn was in control of her life and her destiny -- a moment as fleeting as it was joyful.
Reviews of Gentlemen Prefer Blondes were generally favorable, though many critics still focused on Marilyn's physical attributes rather than on her performance. Those few who did discuss her talents debated among themselves exactly how well she could sing or dance.
According to Time magazine, Darryl F. Zanuck anticipated accusations that the pleasing singing voice of Lorelei Lee was not Marilyn's, so he signed an affidavit affirming that the voice on the soundtrack was indeed hers.
A shower of awards for Marilyn would follow Blondes, including a star on the Hollywood Walk of Fame. Learn more about this exciting time on the next page.