Marilyn Monroe's Dramatic Desires
Not getting the types of movie roles she desired, Marilyn went to the William Morris Agency for support and advice. Those at William Morris who had known Johnny Hyde were cool toward her, perhaps even blaming her for his death. No one there had any interest in helping her with her career.
She called her former agent, Harry Lipton, for advice, and he suggested that she see Hugh French at the Famous Artists Agency. French agreed to become her agent, though he and Marilyn would never have the close personal relationship that she and Johnny Hyde had. Their association was always strictly professional.
When Marilyn's contract was up in May 1951, French helped negotiate the renewal, extending her term at Fox from six months to seven years.
Despite French's efforts on his new client's behalf, it was probably Marilyn's sensational appearance at the Fox exhibitors' party in the spring of 1951 that helped land her a seven-year contract.
In attendance that evening were such famous movie stars as Susan Hayward, Tyrone Power, Gregory Peck, June Haver, and Jeanne Crain. Marilyn not only upstaged these Hollywood luminaries but also secured a seat at the table of Fox president Spyros Skouras.
Arriving late and somewhat out of breath, Marilyn made a true Hollywood entrance, stealing attention from more prominent stars. The exhibitors (the owners and operators of movie theaters across America) promptly turned their attention to Marilyn, clamoring to know which movies she was scheduled to star in.
A reporter for Collier's magazine captured the effect of her entrance: "Amid a slowly gathering hush, she stood there, a blond apparition in a strapless cocktail gown, a little breathless as if she were Cinderella, just stepped from the pumpkin coach."
After attaining a seven-year commitment from Fox, Marilyn's film roles did get better. Though still not cast in starring roles, she received juicier supporting parts in films by more notable directors.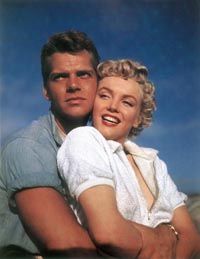 To improve her skills in the hopes of upgrading her roles, Marilyn enrolled in an acting course with Michael Chekhov, a Russian character actor who had studied under the legendary Stanislavsky.
Chekhov had been recommended to Marilyn by actor Jack Palance. Like Marilyn, Palance had feared he was being typecast in the industry and had sought out a teacher who could improve his overall acting skills.
Marilyn arranged to study with Chekhov in the fall of 1951. Her tenure as Chekhov's pupil provides an early example of her inclination toward Method acting, in which the actor attempts to personally experience or live out
the emotional content of his role.
This interest would culminate in her tutelage under Lee Strasberg at the Actors Studio during the mid-1950s.
In addition to her classes with Chekhov, Marilyn continued to work under the guidance of Natasha Lytess. Beginning with Clash by Night, Lytess coached Marilyn on the set of her films, much to the chagrin of her directors and costars.
Fox had loaned Marilyn to RKO Pictures for Clash by Night (an act of largess that Fox executives would not repeat after Marilyn became a star). Based on a play by Clifford Odets, Clash by Night represented a considerable improvement over the pictures Marilyn had been assigned at Fox.
Directed by Fritz Lang, the film was a moody melodrama about a woman who tries to settle down with an honest, hard-working fisherman but is attracted to the excitement offered by a more aggressive younger man. Barbara Stanwyck was selected for the starring role, with Paul Douglas, Robert Ryan, and Keith Andes rounding out the cast.
Marilyn portrayed Peggy, a worker in a fish cannery who is engaged to the character played by Andes. A working-class girl in a gritty, slice-of-life setting, Peggy was far less glamorous than the characters Marilyn had been playing.
The character also had a no-nonsense independence of spirit that Marilyn had never before had a chance to express on the screen. The young actress was essentially cast against type -- and effectively so -- for one of the few times in her career.
Fritz Lang, a noted director in the German silent cinema before making a name for himself in Hollywood, fought constantly with Marilyn and Lytess over the latter's presence throughout the shoot. He attempted to bar Lytess from his set, but Marilyn objected to Lang's order and complained to studio executives. Eventually, a compromise was reached but not before the incident caused bad feelings among Marilyn, Lang, and Lytess.
Costar Paul Douglas was another person who resented Marilyn's insistence on having her coach close by. The veteran actor also was irked by Marilyn's constant tardiness. Barbara Stanwyck, on the other hand, was generally tolerant of Marilyn's behavior, recognizing her insecurity among a cast of movie veterans.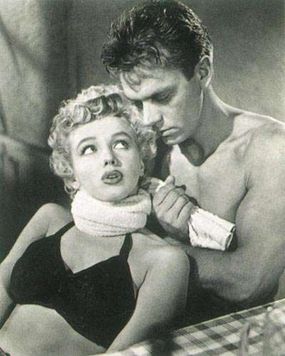 Though the production of the film was not a comfortable experience, Marilyn garnered good reviews for her role, and Clash by Night did a smashing business at the box office.
In the next section, find out what happened when news broke of Marilyn's nude calendar photo shoot.