Marilyn Monroe Signs with Columbia Pictures
Marilyn's developing talent was cultivated not just by her classes at the Actors Lab, but by a number of individuals with connections to the industry.
At a publicity function in the fall of 1947, she met actor John Carroll and his wife, Lucille Ryman, a talent scout at Metro-Goldwyn-Mayer. Marilyn signed a personal contract with the Carrolls in December of 1947, much to the chagrin of her agent.
In addition to helping her finance her acting classes, John Carroll gave her singing instructions. Her ties to the Carrolls were so close that at one point she moved in with them, an arrangement that did not last for long. Eventually, Marilyn moved back to the Studio Club, where former residents remember her lifting weights and jogging every morning to keep her figure.
In March of 1948, Marilyn signed a six-month contract with Columbia Pictures. Exactly how Marilyn landed her contract at Columbia is open to debate, though the consensus is that Joe Schenck interceded on her behalf.
Schenck supposedly talked directly to Columbia head Harry Cohn about Marilyn's contract, though there is no written memorandum or personal testimony by Marilyn to confirm this. An alternative account is that executives at Columbia had been checking around Hollywood about her, perhaps at the urgings of her agent, or even the Carrolls.
As soon as Marilyn signed her contract, she went to a Hollywood bookstore to open a charge account. Her roommate at the Studio Club remembers her purchasing a classic study of bone structure entitled De Humani Corporis Fabrica by Andreas Vesalius, as well as notable works of literature.
Even at this early juncture, Marilyn took great pains to educate herself, a practice her detractors claim was merely part of her publicity campaign. The facts show her pursuit of knowledge and culture to be sincere, however, as her early bookstore charge accounts and library cards help substantiate.
Marilyn's last tie to her life as Norma Jeane was broken shortly after she received her Columbia contract. Ana Lower died on March 14, 1948, long before Marilyn achieved stardom. Marilyn's relationship with Aunt Ana proved to be one of the longest and most satisfying of the actress's short life.
After Aunt Ana's death, Marilyn told Studio Club roommate Clarice Evans: "There's only one person in the world that I've ever really loved. That was Aunt Ana ... Aunt Ana was sure -- surer than I am now -- that I was right in my ambition to be an actress and that I'd be a success. But she'll never know whether she was right or wrong."
Marilyn's first film for Columbia proved to be her only film for that studio. She received second billing in Ladies of the Chorus, a low-budget musical featuring Marilyn as a burlesque star who falls in love with the son of a socially prominent family. In keeping with the magic of the movies, Marilyn was cast as star Adele Jergens's daughter, though Jergens was only nine years older than Marilyn!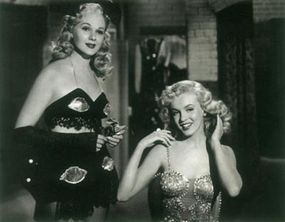 The script called for Marilyn to sing two songs in the film, a ballad entitled "Anyone Can Tell I Love You," and the enticing "Every Baby Needs a Da-Da-Daddy." For the first time in her screen career, she revealed a pleasant, competent singing voice.
Marilyn's part was considerably larger than those she had been assigned at Fox; on screen, she held her own against the considerably more experienced Jergens. Columbia executives hedged their bets by setting their new starlet up with singing and acting lessons.
Fred Karger, the musical director of Ladies of the Chorus, coached Marilyn to prepare her for her two production numbers. A man dedicated to his craft, Karger improved Marilyn's vocal and musical skills immensely.
During the course of their professional relationship, Marilyn began dating Karger, and the two became quite close. He brought her home to meet his family, which included his daughter by a previous marriage, his sister and her children, and his mother. Marilyn, who had felt alone since the death of Ana Lower, embraced Karger's family wholeheartedly, particularly his mother, Anne.
Mrs. Anne Karger, whom everyone called "Nana," was the widow of one of the founders of MGM. She had been a part of the grandeur of Hollywood in the 1920s, when she used to hold open house in a permanent suite at the Hollywood Hotel. There, such Hollywood luminaries as Rudolph Valentino, Jack Pickford, and Nazimova would gather for food and drink.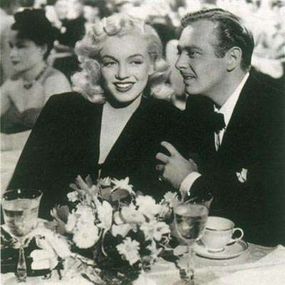 Nana Karger enjoyed the company of Marilyn Monroe, an up-and-coming actress of the new generation of Hollywood, and advised the young starlet in a motherly fashion. Marilyn's friendship with Nana would outlast her relationship with Fred, who never seemed to take the romance as seriously as she did.
Marilyn hoped to marry into the Karger family, but when it was apparent that Fred had no inclination in that direction, she stopped seeing him. Though heartbroken for several years over her lost love, Marilyn benefited not only from Karger's professional help in terms of her vocal skills but also from his advice on other matters. He suggested, for instance, that Marilyn visit an orthodontist to have her slightly protruding front teeth fixed, a minor adjustment that improved her already striking good looks.
Within a year of his breakup with Marilyn, Karger married actress Jane Wyman. Karger and Wyman would eventually divorce, and then remarry and divorce again.
Years later, after Marilyn's death, Karger called his first wife, Patti, in a desperately nervous state, telling her that Marilyn had appeared to him in a dream. He died on August 5, 1979 -- the anniversary of Marilyn's death.
While Fred Karger assisted Marilyn with her singing, Columbia's head drama coach, Natasha Lytess, was asked to help develop her acting skills. Lytess had been a member of a well-respected acting ensemble headed by famed theatrical director Max Reinhardt, and she had parlayed her experience into a job at Columbia Pictures.
A serious woman with a strict and demanding personality, Lytess became the first to recognize that Marilyn did possess true acting talent. The experienced coach was also impressed by the starlet's determination to improve, and by her willingness to work hard no matter how grueling the schedule.
Natasha Lytess served as Marilyn's personal acting teacher for seven years, even quitting her job at Columbia in 1950 to coach her most famous pupil on an exclusive basis.
Karger and Lytess's work paid off, because Marilyn received her first review notices with her performance in Ladies of the Chorus. Though a modest B-film shot in just 11 days, Ladies was by no means a failure. A review in the Motion Picture Herald reads, "One of the brightest spots is Miss Monroe's singing. She is pretty, and with her pleasing voice and style, shows promise."
In 1952, when Marilyn was beginning to make a name for herself, Columbia lifted her performance of "Every Baby Needs a Da-Da-Daddy" from Ladies of the Chorus and spliced it into a war film entitled Okinawa.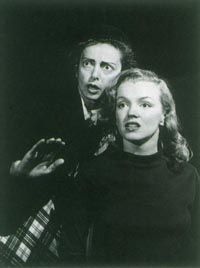 ­ Aside from Ladies of the Chorus, and her relationships with Fred Karger and Natasha Lytess, Marilyn's months at Columbia proved less than fruitful. The only other "appearance" Marilyn made in a Columbia production occurred when her photograph was used in the 1949 Gene Autry film Riders of the Whistling Pines.
Columbia was ruled by Harry Cohn, the most ruthless and headstrong of the legendary movie moguls who once ran Hollywood with an iron hand. Most of the moguls made occasional miscalculations regarding an actor's potential, but Cohn was prone to more than his share because of his volatile temper and vengeful personality.
According to Hollywood writer Garson Kanin in the book Tracy and Hepburn, Marilyn tested for the role of Billie Dawn in the classic Born Yesterday, but Cohn could not be bothered to walk the few feet from his desk to the screening room to watch the results. Consequently, Marilyn was not even considered for the part.
When Marilyn's contract expired in September of 1948, her option was not renewed. According to former Columbia employees, Cohn complained that Marilyn not only looked too heavy in Ladies of the Chorus but she also had no acting talent.
Marilyn, on the other hand, always claimed that Cohn had invited her to spend a weekend aboard his yacht. When she refused, he snapped at her, "This is your last chance, baby." Shortly thereafter, her contract came up and Cohn refused to renew it.
Whatever the circumstances, Cohn's bad decision would come back to haunt him in the form of continual criticism for not recognizing the star quality of Marilyn Monroe. Hollywood insiders claim that the irritable mogul tried to compensate for his blunder by grooming Kim Novak as his version of a blonde bombshell.
In the next section, find out how a bit part in a Marx Brothers movie leads to bigger and better things for Marilyn.