Marilyn Monroe in 'The Asphalt Jungle'
"In Hollywood a girl's virtue is much less important than her hairdo. You're judged by how you look, not by what you are. Hollywood's a place where they'll pay you a thousand dollars for a kiss, and fifty cents for your soul. I know, because I turned down the first offer enough and held out for the fifty cents." -- MARILYN MONROE
Johnny Hyde, an executive vice president at the prestigious William Morris Agency, met Marilyn Monroe for the first time at the Racquet Club in Palm Spring. Marilyn sensed that Hyde had more taste and refinement than most Hollywood types she had known, and she was impressed with his low-pressure style.
Hyde, who was 53 when he met Marilyn, had been working for the William Morris Agency for more than 30 years. He had represented actors Howard Keel, John Hodiak, Dale Evans, and Guy Madison, but his reputation had been earned through his guidance of such big-name stars as Rita Hayworth and Betty Hutton.
Marilyn and Hyde became friends almost immediately, and he began escorting the 22-year-old starlet around town to notable Hollywood establishments. Though Hyde suffered from heart disease, and his doctor
had warned him to slow down, he actually accelerated his work schedule in order to firmly establish Marilyn's career.
Despite his long-time marriage to Mozelle Cravens, Johnny Hyde quickly fell in love with his beautiful and vibrant client. He repeatedly proposed marriage to Marilyn, with the promise of leaving a small fortune to her upon his death. She refused. Marilyn realized that she did not love him with the same passion he felt for her, and she did not want to take financial advantage of the relationship.
Short in stature, Hyde was nonetheless a big man in Hollywood. Though Marilyn respected his opinions and his stellar reputation, she could not return his love.
Marilyn later said of Hyde, "He not only knew me, he knew Norma Jeane, too. He knew all the pain and all the desperate things in me. When he put his arms around me and said he loved me, I knew it was true. Nobody had ever loved me like that. I wished with all my heart I could love him back."
Hyde steered every facet of Marilyn's life relating to her career. He arranged for her to have cosmetic surgery, including the removal of two blemishes from her chin and a slight reshaping of her nose. He hired the best hairdressers to do her hair coloring on a regular basis, and he bought her suitable clothes for all occasions.
Most importantly, he arranged for her to audition for director John Huston's searing drama The Asphalt Jungle. Talent scout Lucille Ryman had heard about the role during the course of her job at MGM. Always keeping an eye open for a part for Marilyn, Ryman had sent the script to Hyde, who secured the audition almost immediately.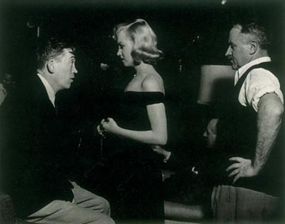 Marilyn worked hard to prepare for her reading with Huston. She and drama coach Natasha Lytess spent the better part of three days and nights going over her interpretation of the material.
Marilyn was to read for the part of Angela Phinlay, the mistress of a crooked lawyer who participates in the planning of a jewel robbery. Because "mistress" was not a word the censors generally approved of in that era, the script referred to Angela as the lawyer's "niece."
The audition was held on a sound stage on the MGM lot. Marilyn asked Huston if she could recline on the floor for her reading as part of her interpretation of the character, and he agreed.
Afterward, Marilyn requested to do it one more time. Though Huston allowed her another reading, it really wasn't necessary: He had decided to give her the role following her first attempt.
Aware of all the efforts Hyde had made on Marilyn's behalf, Huston remarked, "Marilyn didn't get the part because of Johnny. She got it because she was damned good."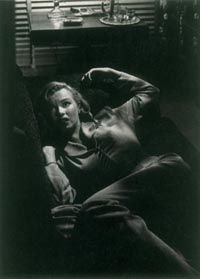 Marilyn crossed paths with John Huston more than once during her career. Huston first met her during her short-lived tenure at Columbia, when he had thought of testing her for a role in a film with John Garfield. The test was called off for reasons that are not clear.
Some speculate that testing an unknown actress for a single role in a specific film was
too expensive and that someone with more authority than Huston canceled the test. Others suggest that Marilyn was simply being set up for "the casting couch," and that Huston canceled the test himself when he found out.
Whatever the case, Huston remembered Marilyn when she auditioned for The Asphalt Jungle, and he is responsible for hiring her for her first significant film role. He would also direct her last completed film, The Misfits -- a fateful twist to her life story that could have been taken from the pages of a Hollywood script.
Marilyn's performance in Huston's film brought her critical acclaim and some favorable attention in Hollywood. A hard-bitten, gritty crime drama, The Asphalt Jungle was hailed for its taut direction and memorable performances by a worthy cast.
Huston had a reputation for selecting actors who could give potent performances, regardless of whether or not they were stars. The Asphalt Jungle featured no major box-office draws but several highly regarded actors, including Sterling Hayden, Louis Calhern, Sam Jaffe, and Jean Hagen. That Marilyn held her own in this cast is a testament to her hard work and talent.
It is also a testament to Huston's genius as a director, because it was Huston who first utilized Marilyn's image to its best advantage. He understood the complexity of that image -- something that escaped a number of less-talented directors Marilyn would encounter later.
The storylines of a significant number of Huston's films revolve around a group of men in pursuit of a quest that ultimately fails, often because a woman lures or distracts the men from their goal.
In The Asphalt Jungle, Marilyn's character, Angela Phinlay, isn't a bad girl; regardless, she causes the ruination of the lawyer played by Louis Calhern. His need to hold on to her as though she were a priceless possession, despite the expenses and personal risks involved, results in his downfall.
The erotic innocence of Marilyn's image helped her to flesh out Angela and make her real. The girl is never painted as conniving or calculating, yet the lawyer's obsession for her is no less believable.
Natasha Lytess was excited enough by her pupil's performance in The Asphalt Jungle to resign her job at Columbia and become Marilyn's personal acting coach. Hollywood insiders who had thought that Johnny Hyde's unwavering faith in Marilyn was unwarranted began to look at her in a different light. Still, no handsome offers from the major studios were forthcoming.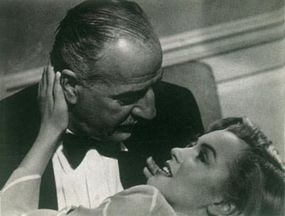 In another of those twists of fate that seem to characterize Marilyn's life, former husband Jim Dougherty, by that time a Los Angeles policeman, was assigned to keep the fans behind the barricades at Grauman's Egyptian Theater, where The Asphalt Jungle premiered.
Dougherty watched the celebrities as they got out of their limousines, hoping to catch a glimpse of Norma Jeane Dougherty. He did not know that Marilyn had been advised by Hyde not to attend the premiere. It was not really Norma Jeane that Jim Dougherty would have seen anyway.
In the next section, learn about the importance of another bit part for Marilyn -- Miss Caswell in the film All About Eve.