Marilyn Monroe Returns to Twentieth-Century Fox
Near the end of 1950, Marilyn returned to the sound stages of Twentieth Century-Fox for a second screen test. This time the test was done with sound, and Marilyn was given a scene to do with another actor. The scene involved a dispute between a gangster and his girlfriend, with established actor Richard Conte playing opposite Marilyn.
In an interview conducted shortly before his death in 1975, Conte recalled Marilyn as a serious actress whose acting style looked quite natural on screen. Their scene had involved a tense, emotional confrontation, and Conte remembered Marilyn's total concentration on her character.
Perhaps as a token of good luck, or as a reminder to Fox executives of her recent series of roles, Marilyn wore the same dress for her screen test as she had worn in The Fireball, Hometown Story, and in the last scene of All About Eve.
Zanuck viewed the test in December of 1950 and requested that Marilyn be put under a six-month contract immediately. When reminded that she had been under contract once before and dropped, he roared, "I don't care. Bring her back." Marilyn closed her second deal with Fox on December 10, 1950.
The Fox contract was probably the last piece of business Johnny Hyde helped negotiate for Marilyn. Just about the time she signed with the studio, Hyde entered Cedars of Lebanon Hospital after complaining of breathing difficulties.
Though released a few days later and sent to Palm Springs to recuperate, the end was near for the prominent agent. On December 17, Hyde suffered a serious heart attack and died the next day. Supposedly, his last intelligible words were about Marilyn.
The Hyde family, including Johnny's sons, ex-wife, and brother, were brutal in their treatment of Marilyn, whom they blamed for the breakup of their home. Through various channels, they let her know that she would not be welcome at the funeral.
Some of Hyde's closest associates urged her to go if she wanted to, and Marilyn decided to attend with a couple of his business friends. There she broke down completely, throwing herself on the casket and sobbing Johnny's name.
Marilyn was inconsolable at Hyde's death and grew increasingly despondent in the days after the funeral. Staying with Natasha Lytess during this painful period, she remained in her room most of the time.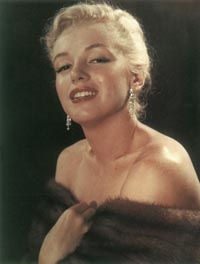 One day Lytess returned home to find a distressing note from Marilyn on her pillow: "I leave my car and fur stole to Natasha." Lytess discovered Marilyn in her bedroom, unconscious from swallowing a bottle of sleeping pills. Fortunately Lytess had arrived in time to avert disaster.
This was Marilyn's second, or possibly third, attempt at suicide, setting up an alarming pattern of disappointment, depression, and self-destruction that would haunt the actress in the years to follow.
Marilyn found some solace in her career, which had finally developed far enough to bring her a measure of financial security. Fox put her to work almost immediately in the comedy As Young as You Feel.
The picture was tailored to the talents of character actor Monty Woolley, but Zanuck asked the scriptwriter, Lamar Trotti, to flesh out Marilyn's character without changing the role. Marilyn portrayed Harriet, a secretary for a corporation that forces Woolley's character to retire at age 65 because of company policy.
As Young as You Feel garnered good reviews and a healthy box office at the time of its release. Bosley Crowther, a well-known reviewer for The New York Times, noted, "Quite as refreshing as the story is the manner in which it is played, with the whole cast working adroitly as a selfless and perfectly balanced team." Crowther singled out Marilyn's portrayal of Harriet as "superb."
In the early part of 1951, Marilyn's spirits were lifted by two incidents, both of which gained recognition for the young actress with the movie-going public. A color photo of her was featured in Life magazine, and she was asked to be a presenter at the Academy Awards ceremony.
Her inclusion as a presenter was probably based on her appearance in All About Eve -- one of the most prominent feature films of the previous year. Marilyn presented the Oscar for outstanding achievement in sound recording to Thomas T. Moulton for his work on All About Eve.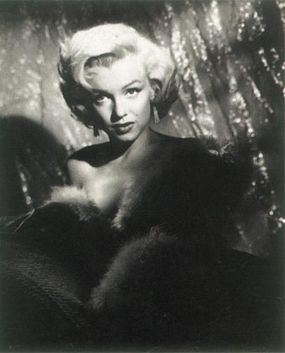 In addition to her film assignments, Marilyn was required once again to pose endlessly for publicity photos. Sometimes these photos were inspired by a specific stunt or event.
Once Marilyn was chastised by a female newspaper columnist for wearing a low-cut red dress to a party at the Beverly Hills Hotel. According to Marilyn, the columnist called her cheap and vulgar. Not stopping there, the writer then suggested that the actress would look better in a potato sack.
The studio publicity department capitalized on the story by shooting some stills of Marilyn in a form-fitting, burlap potato sack. The photos were published in newspapers throughout the country.
As a result, a potato farm in Idaho sent Marilyn a bag of potatoes. Marilyn recalled, "There was a potato shortage on then, and the boys in publicity stole them all. I never saw one. It just goes to show why I always ask, 'Can you trust a publicity man or can't you?' "
Regardless of whether the photos Marilyn posed for were directly related to her films or just for general release, she used her experience as a model to wonderful advantage. Marilyn's studio pinups attracted the attention of servicemen, film fans, and newspaper editors from around the world.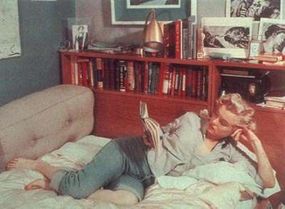 Requests for photos of Marilyn quickly exceeded those for any other Fox star. Darryl F. Zanuck suspected that someone who knew Marilyn was tampering with the mail tabulations on her behalf. When he realized that this was not the case, he began assigning her to any film he felt called for a gorgeous blonde.
Zanuck realized that publicity and the right roles would make Marilyn's image and personality not only useful but profitable. But many believe that Zanuck had no faith or interest in her as a serious actress; Marilyn herself had no illusions about Zanuck's opinion of her acting ability.
Consequently, what Zanuck considered "the right roles" were endless variations on the Miss Caswell character -- the buxom blonde who was both sexually attractive and amusingly naive. But contrary to the opinions of many Monroe biographers, not all of these films were "bad." A few, such as As Young as You Feel, received good reviews at the time of their release and performed adequately at the box office.
However, these films were not the big-budgeted productions that Hollywood and the public considered star material. In addition, Marilyn was cast in secondary roles that became virtually interchangeable from film to film.
Marilyn would continue to get cast in movies for Fox, including parts in minor comedies. Find out more about these roles on the next page.