Marilyn Monroe's Publicity Blitz
One of the reasons for the box office success of Clash by Night was undoubtedly due to the publicity blitz that occurred when wire-service reporter Aline Mosby discovered that Marilyn Monroe had posed nude for a calendar photo. Mosby found out about the calendar in February 1952, possibly through a clandestine tip from Clash producer Jerry Wald.
The following month, she interviewed Marilyn about the circumstances surrounding the photo session. At first, Fox executives were frantic over the discovery and urged Marilyn to deny everything. Others advised her to admit the truth, a decision Marilyn opted for because she saw no reason to be ashamed of what she had done.
In her interview with Mosby, Marilyn simply told the truth about why she had posed nude: "I was broke and needed the money." Though some reporters seemed shocked, the press was generally delighted with her candor and wit about the incident.
The publicity proved a boon for RKO's Clash by Night, which opened in limited release during the same month Mosby made the fateful discovery.
The release of Marilyn's calendar story to the press and public has become one of the most widely told tales of her career, and biographers seem almost compelled to embellish it. Because the story worked to Marilyn's advantage in terms of attracting sympathetic attention without damaging her career, some have claimed that Fox officials tipped Mosby off about the photos, or that Marilyn herself did it.
Whatever the specifics of the incident, exactly why Marilyn got away with such a potentially scandalous escapade is rarely touched upon.
Today, the decade of the 1950s is remembered as conservative and naive. That perception tells only part of the story. In truth, the era had an undercurrent of conflict and turmoil in which issues of sex, racial inequality, and other controversial topics began to be openly discussed.
A franker attitude toward sexuality, particularly as it related to women, was signaled by the release of the Kinsey report on female sexuality just a few months after the calendar story broke. Then, in December of 1953, the first issue of Playboy -- a magazine that would quickly become famous for its open attitude toward sex and nudity -- hit America's newsstands with a photo of Marilyn on the cover and a reproduction of one of her calendar photos as the centerfold.
Marilyn's image seemed to embody the contradictory viewpoints on sex that existed in that era. Overtly sensual, Marilyn was also demure, natural, and honest -- almost innocent -- about her sexuality. The calendar story captured all of these delightful contradictions perfectly.
Given this increasing fascination with sexual freedom in a society still labeled conservative, Marilyn's success over the next few years is no coincidence. That she found herself trapped by her image during this period should be no surprise.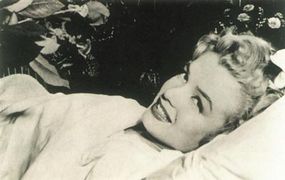 Marilyn was surrounded by a barrage of publicity for the rest of 1952. In May, she had her appendix removed. Preparing to operate, the doctor found a handwritten note attached to her stomach that read, "Please take only what you have to. And please, please, no major scars."
Marilyn received get-well greetings from thousands of fans, and publicity photos of her recuperation were released to the press.
Marilyn's operation wasn't the only thing that excited the public's interest in her at this time. Just prior to her hospitalization, a reporter had discovered that Marilyn's mother was confined to a state mental hospital. Marilyn had always allowed the press to believe that both of her parents were dead.
When the discovery was made, she again told the truth, explaining that she had never really known Gladys Baker and did not want to put the vulnerable woman in the spotlight. When her parentage became public knowledge, Marilyn removed Gladys from the state facility and moved her to Rockhaven, a private sanitarium in Verdugo, California.
The rising star with a rising income also acquired a business manager, Inez Melson, who was appointed conservator of Gladys's estate. Marilyn visited her mother at Rockhaven only occasionally, but she took financial responsibility for her care until her own death in 1962. At that time, her estate met this need.
Not all of the publicity surrounding Marilyn at this time was of a shocking nature, or a "hot scoop." In April 1952, Marilyn appeared on the cover of Life magazine for the first time.
The magazine had sent photographer Philippe Halsman to Hollywood with a list of young actresses to profile in the hopes of getting an eye-catching photo essay. Halsman suggested to the magazine that Marilyn be added to the list. He had photographed her for Life in 1949 for the "Eight Girls Try Out Mixed Emotions" article, and he knew her increasing popularity was due in part to the efforts of photographers.
Halsman decided to photograph Marilyn in her apartment in a variety of situations. While there, he noticed a bookcase filled with such books as The Story of Fabian Socialism and The Negro in American Literature. He also observed a few framed photographs, including one of 19th-century actress Eleonora Duse.
Thinking the books and photos an affectation, Halsman asked Marilyn about Duse. To his surprise, she revealed a depth of knowledge about the legendary actress. The photographer also noticed a pair of dumbbells lying on the floor. Marilyn said she used the weights to strengthen her torso and flatten her stomach.
Halsman's photos of Marilyn were sensational enough for Life's editors to center the whole story around her and to put her on the cover. The article intoned, "Every so often, more in hope than conviction, Hollywood announces the advent of a sensational new glamor girl, guaranteed to entice people from all lands to the box office. Usually the sensation fizzles. But today the most respected studio seers, in a crescendo of talk unparalleled since the debut of Rita Hayworth, are saying that the genuine article is here at last: a sturdy blonde named Marilyn Monroe."
Later that year, an article in Time magazine profiled Marilyn, the most talked-about starlet in Hollywood, and claimed that she was receiving over 5,000 letters a week from "smitten admirers." Soldiers stationed on the Aleutian Islands voted her "the girl most likely to thaw out Alaska," while a whole battalion in Korea volunteered to marry her.
Students in the 7th Divisional Medical Corps elected her "the girl they would most like to examine." The article also commented on the effect her popularity and publicity had had on the box-office tally of her latest films. Some exhibitors showing Clash by Night, for example, were luring more fans to their theaters by putting Marilyn's name at the top of the marquee, instead of star Barbara Stanwyck's.
The article also offered some of Marilyn's oft-repeated quotes: When asked if she really had nothing on in the famous calendar photos, Marilyn replied, "I had the radio on." When asked what she wore to bed, Marilyn said with a straight face, "Chanel No. 5."
Marilyn courted the members of the press, playing them as a skilled musician plays an instrument. The Time magazine article and similar ones -- combining anecdotes about Marilyn's popularity with her witty remarks -- reinforced her image as a hot blonde bombshell who was disarmingly guileless.
The publicity blitz that surrounded Marilyn in 1952 generated respectable box-office receipts for all of her films released that year. After Clash by Night, she appeared in secondary roles in a handful of films released by Fox, most of them comedies.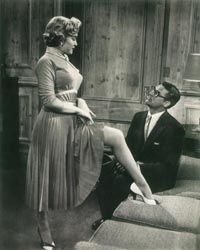 We're Not Married featured Marilyn and costar David Wayne as one of five couples who discover they were never legally married. The anthology film O. Henry's Full House contained adaptations of five separate stories by American writer O. Henry. In Marilyn's episode, entitled "The Cop and the Anthem," she portrays a young, sensitive streetwalker opposite the renowned Charles Laughton.
Marilyn compared the experience of working with Laughton to having an audience with God, though she and the mighty actor got along quite well. Despite the film's respectable literary source, it was not well received, primarily due to the uneven quality of the different episodes.
The best of this modest series of films is probably Monkey Business, a madcap screwball comedy directed by Howard Hawks. Marilyn is featured as Charles Coburn's secretary, Lois Laurel.
One of the picture's running gags is Lois's complete lack of secretarial skills, and that she has been hired only for her obvious physical attributes. Coburn repeatedly barks to Marilyn, "Find someone to type this!" Cary Grant and Ginger Rogers starred in Monkey Business, which was written by top-notch scriptwriters Ben Hecht, I.A.L. Diamond, and Charles Lederer.
Though none of these comedies were considered major releases, most of them feature big-name actors and the handiwork of well-respected directors and scriptwriters -- a step up from the quality of films Marilyn had appeared in just the year before.
Despite her continued disappointment over the caliber of her roles, Marilyn was more secure in the industry at this juncture than she had ever been in the past. There was a logical progression to her career after she landed her second Fox contract, though Marilyn was worried -- and rightly so -- about the sameness of her roles.
Marilyn would get a chance to break out of her usual character in the dramatic film Don't Bother to Knock, although the script and direction were lacking. Learn more about this role on the next page.