Marilyn Monroe in 'All About Eve'
Just before The Asphalt Jungle was released, Marilyn found work in two minor films distributed by MGM: a prizefight drama entitled Right Cross and Hometown Story, an industrial film financed by General Motors.
Marilyn was cast in the former as a model with the unlikely name of Dusky Ledoux. She uttered only a few trivial lines in her single scene, a brief dinner-date bit with star Dick Powell.
Hometown Story, which was never released commercially, featured Marilyn as Miss Martin, a secretary in a newspaper office. One of Hometown Story's few public showings was at the Loew's Metropolitan in Brooklyn in June 1950. After that, this hour-long propaganda film for American industry did not surface again until 1962, when it was released in Australia as a Monroe oddity.
Because of her success in The Asphalt Jungle and her brief appearances in Right Cross and Hometown Story, Marilyn was hoping for a contract from MGM, but none was offered.
In addition to these films, Marilyn took a bit part in a Mickey Rooney vehicle entitled The Fireball. Rooney's career was at a low ebb at this time, as the energetic actor struggled through a bleak period a few years before the first of his famous comebacks. The Fireball, a lightweight story of a roller-skating star, attracted very little notice and did nothing to further Marilyn's career.
Marilyn's other notable effort from this period was a television commercial for the Union Oil Company of California. In a provocative voice, Marilyn introduces her car, "Cynthia," and expresses her confidence in Union Oil's Royal Triton gasoline, the only gasoline good enough for Cynthia's "little tummy." The commercial was aired in California during the 1950-1951 television season.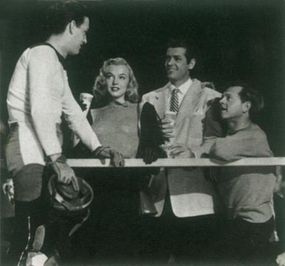 Marilyn actually worked a great deal in 1950 because of the efforts of Johnny Hyde, but both were striving for the security of a lucrative contract from a major studio. Hyde took an important step toward that goal by securing for Marilyn a role in Joseph Mankiewicz's enormously successful adaptation of All About Eve, a sharply cynical look at theater life.
Marilyn's role was slightly smaller than her part had been in The Asphalt Jungle, but Hyde convinced her of the wisdom of appearing in a small role in a film by a major director rather than in a larger role in a film directed by a minor talent.
Hyde proved to be correct, as Marilyn's part was pivotal to the narrative of All About Eve. Her character, Miss Caswell -- an empty-headed actress who, according to one character, graduated from "the Copacabana School of Dramatic Art" -- has no pretense about using her beauty and her body to get a break in the theater.
Miss Caswell provides a counterpoint to the more cunning Eve (Anne Baxter), who uses underhanded tricks to get to the top. After Eve is exposed for the cruel manipulator that she is, Miss Caswell's more obvious methods are seen as almost honest in comparison.
As she had done in The Asphalt Jungle, Marilyn made a strong impression amidst a powerfully talented cast: Baxter, Bette Davis, George Sanders, and Celeste Holm.
Darryl F. Zariuck of Twentieth Century-Fox was impressed enough with Marilyn's interpretation of Miss Caswell to offer her another screen test and the chance for another contract. Learn how the screen test went on the next page.