Marilyn Monroe's Minor Comedies
Love Nest was Marilyn's second feature under her new Fox contract. In this minor comedy about the day-to-day happenings in a small apartment building, Marilyn portrays a former WAC named Bobbie who disrupts the marriage of June Haver and William Lundigan.
The film is memorable not only for Marilyn's presence but also for the participation of prominent screenwriter I.A.L. Diamond, who later partnered with writer-director Billy Wilder, a man Marilyn would come to know well in the years ahead.
Television personality Jack Paar had a secondary role in Love Nest; he is one of the few of her costars from this period who has spoken unkindly of her. Paar has commented that he saw Marilyn carry around several books by Marcel Proust while on the set, but he claims that she never read one.
Paar has also said that her attempts to become well read were mere pretensions, remarking that "beneath the facade of Marilyn there was only a frightened waitress in a diner."
Paar's opinion -- although echoed by other people through the years -- lacks credibility. He apparently did not know that during the production of Love Nest, Marilyn was enrolled in the adult extension program at the University of California at Los Angeles.
While at UCLA, she took courses in literature and art appreciation. Marilyn was bright and intellectually ambitious. Her only "failing" in this regard was that she was untutored, a condition that she took pains to correct.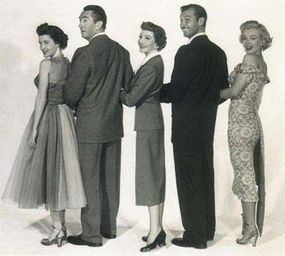 Let's Make It Legal, originally titled Don't Call Me Mother, was released shortly after Love Nest and featured Marilyn as a voluptuous golddigger who hunts for a wealthy husband at a luxury hotel.
Reviews of this film were not kind; Time magazine called Let's Make It Legal "one of 1951's worst comedies." The critics were less harsh regarding Marilyn's physical appearance, and any positive commentary regarding the film focused on her striking beauty or remarkable shape.
This reception did suggest a sort of progress, but Marilyn began to tire of these secondary roles in minor comedies -- parts that she was often handed as an afterthought. For details on Marilyn's dramatic endeavors, see the next section.