Marilyn Monroe's First Dramatic Role
Still pining for a dramatic role she could sink her teeth into, Marilyn got the opportunity she had been waiting for with the drama Don't Bother to Knock, which was released a few months before Monkey Business but made at roughly the same time.
Cast in the starring role as Nell, a psychotic babysitter who threatens to harm the innocent little girl left in her charge, Marilyn attempted to make use of her training and hard work to deliver a good performance -- and perhaps deliver herself from a succession of "dumb blonde" characters.
Richard Widmark costarred as a stranger whom Nell mistakes for her dead lover. Nell's confusion over past and present events pushes her over the edge and becomes the catalyst for her actions against the child.
Unfortunately, neither the scriptwriter nor the director provided Marilyn with much to work with in terms of understanding and developing the character of Nell. The script offered only the vaguest suggestion for the causes of Nell's mental imbalance and provided no credible account of the weaknesses in her personality that might have led to insanity.
Roy Ward Baker, a competent but not outstanding director, offered Marilyn no key with which she might have unlocked the mysteries behind Nell. According to some of her later directors, Marilyn often needed that sort of insight in order to come to grips with her characters' motivations, and to play a role convincingly. She received no help of that kind during the shooting of Don't Bother to Knock.
Consequently, most of the reviews of her performance were brutal. Bosley Crowther of The New York Times, who had recognized Marilyn's potential in earlier films, summed up the tone of many reviews when he wrote, "All the equipment that Miss Monroe has to handle the job are a childishly blank expression and a provokingly feeble, hollow voice."
Other reviewers mocked her attempt at a dramatic role. Archer Winsten of the New York Post quipped, "In Don't Bother to Knock at the Globe, they've thrown Marilyn Monroe into the deep dramatic waters, sink or swim, and while she doesn't really do either, you might say that she floats. With that figure, what else can she do. . . ."
Dispelling these negative perceptions of Marilyn's performance in the film is this testimony to her skills by costar Anne Bancroft: "It was a remarkable experience. Because it was one of those very few times in all my experiences in Hollywood when I felt that give and take that can only happen when you are working with good actors. There was just this scene of one woman seeing another woman who was helpless and in pain, and [Marilyn] was helpless and in pain. It was so real, I responded. I really reacted to her. She moved me so that tears came into my eyes."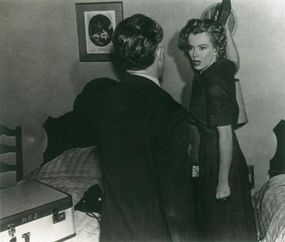 In addition to her dramatic role in Don't Bother to Knock, Marilyn starred in the "Statement in Full" episode of the NBC radio program Hollywood Star Playhouse in August 1952. She was cast as a scheming murderess, a character that foreshadowed her role as Rose Loomis in Niagara -- the film that would finally allow her to fulfill her hard-fought goal of being a genuine movie star. For more on this role, see the next section.