Super Bowl Parties: Don't Forget the Dip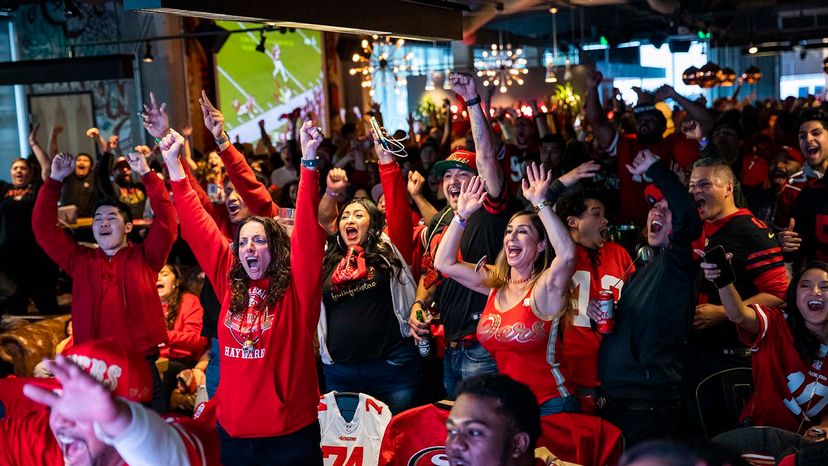 The teams and fans aren't the only ones who eagerly look forward to the game. Super Bowl Sunday is for hosting parties, and it's also a favorite day of restaurants, bars and food retailers. A long television program, plus a gathering of friends of family equals lots of food.
But the amount of food Americans eat during the game is staggering. Research released just before the 2020 Super Bowl suggested that the average football fan would eat about 10,821 calories and 180 grams of saturated fat during the game. That's four and half times the recommended daily calorie intake. The research came from LetsGetChecked, a direct-to-consumer health testing and insights company, which polled 1,000 Americans who planned to watch the 2020 game.
They also asked Americans what they planned to eat:
2.7 portions of hot wings

3.2 slices of pizza

2.1 portions of fries

3.4 bags of chips

1.9 portions of chilli

2.4 burgers

1.7 sliders

2 hot dogs

2.7 portions of nachos

3 pieces of fried chicken

1.8 ribs

1.7 sausages

1.6 slices of cake

1.8 brownies

1.8 bowls of ice cream

2.3 portions of salad

2.1 subs

1.7 bags of sweets

1.9 bars of chocolate
That's a ton of food for one day, which is why it should be no surprise that most football fans said they planned to overindulge on game day. The Snack Food Association put the total consumed at a more modest 2,400 calories in 2021, but that still made Super Bowl Sunday the day of the year with the highest calorie consumption, next to Thanksgiving.
Super Bowl FAQ
How much are Super Bowl tickets 2023?
Super Bowl tickets are perhaps the most sought-after tickets in sports. The average Super Bowl ticket sells for thousands of dollars, with tickets often resold, or scalped, for many times more than their face value.
Who won Super Bowl 52?
The Philadelphia Eagles won Super Bowl 52, aka Super Bowl LII.
Who won last year's Super Bowl?
The Los Angeles Rams won the last Super Bowl, Feb. 13, 2022, at SoFi Stadium in Inglewood, California. The Rams beat the Cincinnati Bengals 23-20.
What teams played in the 2020 Super Bowl?
The Kansas City Chiefs and the San Francisco 49ers played in the 2020 Super Bowl (Super Bowl LIV).
Who won Super Bowl 2020?
The Kansas City Chiefs won the 2020 Super Bowl.
Related Articles
More Great Links
Sources
Fairburn, Matthew. "Super Bowl 50: How much does Vince Lombardi Trophy weigh? How much is it worth?" Syracuse.com. Feb. 6, 2016. (Jan. 31, 2017) http://www.syracuse.com/superbowl/index.ssf/2016/02/super_bowl_50_how_much_does_vince_lombardi_trophy_weigh_how_much_is_it_worth.html

Kissell, Rick. "Super Bowl 50 Ratings: CBS Draws Third Largest Audience on Record." Variety. Feb. 8, 2016. (Jan. 31, 2017) http://variety.com/2016/tv/news/super-bowl-50-ratings-cbs-third-largest-audience-on-record-1201699814/

Korn, Morgan. "Super Bowl 50: What Americans Will Be Eating and Spending." ABC News. Feb. 3, 2016. (Jan. 31, 2017) http://abcnews.go.com/US/super-bowl-50-americans-eating-spending/story?id=36637859

Kuriloff, Aaron. "Super Bowl tickets resale prices fall from Steelers' 2006 title." Bloomberg. January 28, 2009. http://www.bloomberg.com/apps/news?pid=20601079&sid=a6GmuQvZ3a0A&refer=home

Lilleston, Randy. "Super Bowl audience sets record." USA Today. February 4, 2008. http://blogs.usatoday.com/ondeadline/2008/02/super-bowl-audi.html

Neporent, Liz. "Super Bowl Parties Hike Calorie Counts." ABC News. Jan. 27, 2015. (Jan. 31, 2017) http://abcnews.go.com/Health/super-bowl-parties-hike-calorie-counts/story?id=28512733

NFL. "Super Bowl Records." (Jan. 31, 2017) http://www.nfl.com/superbowl/records/superbowls

Patten, Dominic. "Touchdown! NBC's Super Bowl Scores Record-Smashing Viewership – Update." Deadline. Feb. 2, 2015. (Jan. 31, 2017) http://deadline.com/2015/02/super-bowl-ratings-patriots-seahawks-2015-superbowl-xlix-1201364688/

Price, Greg. "Super Bowl 2016: How Many Countries Will Watch Carolina Panthers vs. Denver Broncos?" International Business Times. Feb. 5, 2016. (Jan. 31, 2017) http://www.ibtimes.com/super-bowl-2016-how-many-countries-will-watch-carolina-panthers-vs-denver-broncos-2296360

Rapaport, Daniel. "Super Bowl commercials: How much does a spot cost in 2017?" Sports Illustrated. Jan. 16, 2017. (Jan. 31, 2017) http://www.si.com/nfl/2017/01/26/super-bowl-commercial-cost-2017

Stevenson, Seth. "Examining the NFL championship as advertising's biggest stage." Slate. January 31, 2008. http://www.washingtonpost.com/wp-dyn/content/discussion/2008/01/30/DI2008013002851.html?tid=informbox

SeatGeek. "Super Bowl 51." (Jan. 31, 2017) https://seatgeek.com/events/super-bowl