Marilyn Monroe in 'Let's Make Love'
Arthur Miller completed the screenplay for The Misfits in 1958, about the time Marilyn began working on Some Like It Hot. The Millers assumed that as soon as Marilyn wrapped production on the Wilder comedy, they could begin shooting The Misfits.
Miller had already lined up a powerful ensemble to work on the film: John Huston agreed to direct; Clark Gable, Eli Wallach, and Montgomery Clift were set to costar; and publishing executive Frank Taylor -- Miller's neighbor and friend -- was enlisted as producer.
Taylor, Miller, and Marilyn formed their own production company for the purposes of producing the film. All parties were eager to begin because Miller's dramatic and thoughtful script promised to showcase Marilyn's acting talents to their fullest extent.
Twentieth Century Fox quickly burst everybody's bubble with the news that Marilyn needed to fulfill her contractual obligation to the studio. Marilyn had promised Fox four films in seven years, but she had completed only one to date, Bus Stop.
Fox was pressuring her to do a film for the studio before embarking on another independent feature. Marilyn finally agreed to star in a frothy musical comedy entitled Let's Make Love, which apparently was the least objectionable of the scripts Fox had to offer.
Marilyn asked her husband to improve the script with an extensive rewrite, but even the Pulitzer Prize-winning author could add little to bolster the slight story.
Miller despised the idea of rewriting a trivial film script, particularly one he described as "not worth the paper it was typed on." Still, he tried to tailor Marilyn's role to her talents and image.
Gregory Peck, who was scheduled to costar, bowed out when he read Miller's rewrite, leaving the production without a leading man. Cary Grant, Charlton Heston, and Rock Hudson were asked to step in, but all turned down the Norman Krasna-Arthur Miller scenario.
Finally, French actor Yves Montand agreed take the role.
Montand and his wife, actress Simone Signoret, greatly admired Arthur Miller and shared certain political beliefs with him. The couple had even appeared in the French film version of Miller's The Crucible, which had been adapted by Jean-Paul Sartre.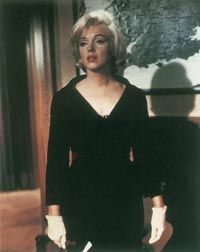 Marilyn had seen Montand in his one-man show on Broadway and was taken by his Gallic charm. The Millers were eager to befriend the Montands, and the four were often seen together when Let's Make Love first went into production in mid-February of 1960.
Miller noticed that Marilyn's moods began to shift quite rapidly during this period. Though she seemed to accept the tragedy of her most recent miscarriage, she was not altogether happy with married life. Often, her disappointment took the form of vindictiveness or obvious disrespect toward her husband.
She also began to alienate herself from many of her New York friends and acquaintances. On a more positive note, her drug intake decreased as she stopped sedating herself during the day -- at least on some days.
Still, according to some accounts, she was taking more drugs than her new California psychiatrist, Dr. Ralph Greenson, thought safe.
Soon after shooting of Let's Make Love got underway, both Miller and Signoret were called away from Los Angeles, leaving Marilyn and Montand alone.
Whether the two stars began their love affair at this time, or whether it had developed earlier, is unknown. Montand has always claimed that Marilyn was the aggressor; if so, he did little to discourage her.
Though Miller returned to Hollywood briefly, he did not stay, preferring to weather out his marital problems back east. If reports in the gossip columns are any indication, the two stars did little to hide their affair.
Marilyn's psychiatric care was part of Hollywood gossip at the time, so those columnists who were generally friendly with Marilyn took Montand to task for taking advantage of her.
On the set, Marilyn cooperated with director George Cukor and other cast members -- agreeable behavior that was in stark contrast to her conduct on her last two productions. It is likely that Marilyn was emulating Montand's professionalism, a quality she admired in him.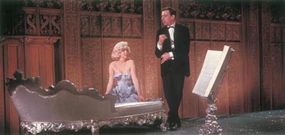 Montand took at least part of the credit for her improved attitude when he remarked, "She's got so she'll do whatever I ask her to do on the set. Everyone is amazed at her cooperation, and she's constantly looking to me for approval."
Much of the credit, however, must go to George Cukor, an "actor's director" who enjoyed a reputation for bringing out the best in his female stars; Katharine Hepburn was just one of the legendary figures who admired Cukor's sensitive treatment of female characters.
He avoided a reliance on visual technique and concentrated instead on the blocking (movement), characterization, and dialogue delivery of his stars. In effect, the actor was Cukor's basic mode of expression.
It is quite possible that Marilyn felt Cukor was more sympathetic to the character she was playing than other directors had been to her roles in the past. The veteran director was probably at least partially responsible for her cooperative attitude.
Unfortunately, though Marilyn did not impede the shooting schedule, two Hollywood strikes -- first by the Screen Actors Guild and then by the Screen Writers Guild -- held up production of Let's Make Love for over a month.
After the film was completed, Montand broke off his affair with Marilyn. Apparently, he had no intention of leaving Simone Signoret.
He stated publicly, "[Marilyn] has been so kind to me, but she is a simple girl without any guile. Perhaps I was too tender and thought that maybe she was as sophisticated as some of the other ladies I have known. ... Had Marilyn been more sophisticated, none of this ever would have happened. ... Perhaps she had a schoolgirl crush. If she did, I'm sorry. But, nothing will break up my marriage."
During the summer of 1960, when Marilyn was shooting The Misfits and Montand was back in Los Angeles, Marilyn tried to get in touch with her Frenchman but to no avail.
Finally, following the completion of her film, Marilyn met Montand at Idlewild Airport in New York. In the back seat of her limousine, the two bid each other farewell.
The affair itself did not destroy Marilyn's marriage with Miller. It was merely another step toward its gradual disintegration.
However, considering Marilyn's increasingly fragile state and growing tendency to disengage herself from everyday existence, the relationship with Montand was a destructive event in her life.
Despite the real-life sparks generated by the Monroe-Montand liaison, Let's Make Love is a distinctly unengaging musical comedy and remains Marilyn's weakest starring vehicle.
Montand played billionaire Jean-Marc Clement, a world-famous playboy whose eyebrows are raised when he learns of a theater troupe's plan to satirize him in a musical revue.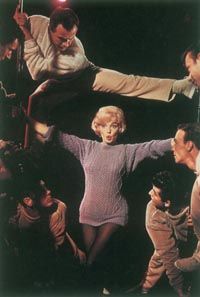 Intending to stop production, Clement appears at a casting call for the play, where he is immediately smitten by the character played by Marilyn, a singer-dancer named Amanda Dell. Not realizing Clement's true identity, the director hires the billionaire to play himself in the show.
Clement uses the opportunity to court Amanda, who continually expresses her distaste for irresponsible, playboy-type billionaires. Predictably, Amanda falls in love with Clement, whom she believes to be merely a starving actor.
The film's cast included Tony Randall and Wilfrid Hyde-White in supporting roles, and spotlighted Milton Berle, Gene Kelly, and Bing Crosby in cameo appearances as themselves.
These ingredients, though contrived, are far from hopeless. Unfortunately, the slight script makes use of Marilyn's image but not her talent.
Lacking believable characterization and subtlety of treatment, the film merely recycles famous Monroe bits from other movies and borrows elements of her life that fans would readily recognize.
Marilyn's character, Amanda, is a musical comedy actress, but she attends night school to better herself. Amanda is a proponent of Method acting, which is indicated when she instructs Clement to pretend he owns a limousine in order to get in the proper frame of mind to portray a rich man.
One of Amanda's musical numbers puts her in a white, flouncy, V-necked dress, which is blown upward during the course of the number -- an obvious reference to The Seven Year Itch. Together, these bits and pieces add up to very little.
Despite the flimsiness of Let's Make Love, Marilyn's sexuality and spark are evident in one of the film's musical numbers -- the scorching "My Heart Belongs to Daddy."
Aside from that highlight, only Milton Berle's routine with Montand, in which the veteran comic tries to teach the Frenchman about American comedy, stands out.
Though most Monroe biographers have deemed the film a critical and popular failure, first-run reviews of Let's Make Love are actually mixed. In addition, there is no indication that the film crashed at the box office, though it certainly was not the popular hit that Fox executives had counted on.
With Let's Make Love behind her, Marilyn could finally get to work on The Misfits. Find out about this movie on the next page.