Arthur Miller's Valentine to Marilyn Monroe
In July 1960, principal production finally began on The Misfits, which was Miller's valentine to Marilyn. Directed by John Huston, written by Arthur Miller, and starring Marilyn Monroe, Clark Gable, Montgomery Clift, and Eli Wallach, The Misfits promised to be a powerhouse film as well as Marilyn's chance to prove her acting abilities.
In retrospect, both statements are true. A haunting film with beautiful imagery, The Misfits is not only a provocative parable about the vanishing West but a splendid showcase for Marilyn, cast in the most serious and challenging role of her career.
At the time, however, the movie seemed doomed by Marilyn's personal struggles, which cast a pall over the production and threatened to overshadow the power of the film itself.
The Misfits is a sophisticated allegory about three men, alienated from society and the last of a dying breed, who belong to a West long since gone.
Nevada cowboys Gay Langland (Gable) and Perce Howland (Clift) are outsiders because of their rugged individualism; the airplane pilot Guido (Wallach) has been adrift since the death of his wife. Together, they capture beautiful wild mustangs, which they sell to a manufacturer of dog food.
Despite the presence of three strong male leads, the focus of the film is Marilyn's character, Roslyn Tabor. Roslyn's sensitivity and ethereal beauty draw each of the men to her.
Though supposedly friends, the men cannot relate to each other. They relate only to Roslyn, for she represents something each of them needs or desires. Each man bares his heart to her, and each has his own theory about what makes her special.
Roslyn herself feels isolated from society, at least temporarily, because she has come to Reno for a divorce. Reno, the divorce capital of the world, provides the perfect setting for a story of alienation.
Roslyn forces the men to confront their barren existences when she pleads with them not to kill the wild mustangs they have worked so hard to round up. But the three believe that their occupation gives them a freedom that is better than the slavery of working for "wages."
Paradoxically, it is this "freedom" that keeps them isolated from society and alienated from other human beings. Their steadfast adherence to their brand of independence is both their strength and their weakness.
Like the cowboys, the wild horses are the last of a vanishing breed -- a parallel that eludes the three men. By killing off the horses, the cowboys are destroying the last vestiges of the lifestyle they so desperately cling to. In killing the horses, they are essentially killing themselves.
In the end, Roslyn wins. The horses are set free, and she and Gay ride off together toward "that big star straight on," which will take them "right home." Despite the lack of any concrete solutions to the characters' personal dilemmas, the film's ending is a positive one.
Not surprisingly, The Misfits is closely identified with Miller and Monroe, yet a story involving a group of characters who embark on a doomed quest is typical of director John Huston's output, as well.
In Huston's films, the hero is often an obsessed professional who risks everything for the quest, just as Gay dedicates himself so passionately to capturing the wild mustangs.
Huston's female characters generally disrupt the quest, or otherwise tempt the hero into losing sight of his goals. So it is that Huston's women are generally destructive characters.
In The Misfits, however, Roslyn is a positive force, and her disruption of the cowboys' goal to sell mustangs for dog food becomes an affirmation of life.
The shoot of The Misfits was a tortuous one. Away from her psychiatrist and emotionally estranged from Miller, Marilyn increased her prescription-drug intake considerably, a situation made more dangerous by her drinking.
Her despair during the first few weeks of production darkened until it seemed as though she would be swallowed up completely. Miller had hoped that The Misfits would bring Marilyn back to him, but he quickly realized that "if there was a key to Marilyn's despair I did not possess it."
Marilyn grew increasingly bitter toward Miller, directing all of her hostility and frustration at him, though he did little to warrant such treatment.
Marilyn felt betrayed by her marriage, perhaps because it did not meet her high expectations for happiness. And once Marilyn felt betrayed, she exiled all involved parties from her life.
Looking for excuses to expel Miller, she lashed out at his screenplay for The Misfits, complaining, "He could have written me anything, and he comes up with this. If that's what he thinks of me, well, then, I'm not for him and he's not for me."
Near the end of August, Marilyn suffered a breakdown and was evacuated to Westside Hospital in Los Angeles. As the mercury in Nevada topped 100 degrees, her pale body was wrapped in a wet sheet and carried into a plane for the flight west.
Under the care of her psychiatrist and her internist, Marilyn stayed in the hospital ten days while production was shut down.
In apparent affirmation that Marilyn's precarious health was by then public knowledge, columnist Louella Parsons reported that the star was "a very sick girl, much sicker than at first believed."
Marilyn returned to the set the following week, though production would be halted periodically throughout September because of Marilyn's problems.
Aside from the tenuousness of Marilyn's mental and emotional state, the production labored beneath the shadows of other potential disasters.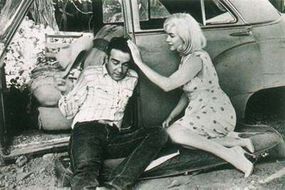 Montgomery Clift, a self-destructive soul who had disfigured his handsome looks by accidentally driving his car into a telephone pole in 1957, was as dependent on alcohol and drugs as Marilyn, prompting the sensitive actress to exclaim, "He's the only person I know who's in worse shape than I am."
His reputation was such that insurance companies would no longer underwrite Clift in a film. However, because of the efforts of Miller, Huston, and powerful Hollywood executive Lew Wasserman, insurance on the tragic actor finally came through.
Despite his dubious reputation and his excessive drinking on the set, Clift never missed a day of work and had learned his entire part before shooting began. Yet, at the time, his participation was a source of considerable anxiety.
Following The Misfits, Cliff would make only three more films before succumbing to coronary-artery disease in 1966.
Other on-set problems included Paula Strasberg's almost total monopoly of Marilyn. The two spent a great deal of time together on and off the set.
They exhaustively discussed lines, strategy, and characterization, usually while sequestered in Marilyn's air-conditioned limousine. At one point, Marilyn moved out of the hotel suite she shared with Miller and into Strasberg's.
Huston's style of direction, in which he trusted the actors' contribution to characterization, allowed Strasberg a great deal of leeway in terms of her influence on Marilyn. Yet, Huston did not respect Strasberg and would not let her interfere with his direction.
Clark Gable's participation in The Misfits must have seemed to Marilyn like a gift from the gods. Her adulation of Gable went all the way back to her childhood, when she had fantasized that the handsome actor was her father.
Her presumed real father, C. Stanley Gifford, is said to have resembled Gable -- at least as much as any mere mortal could. In 1947, Marilyn took singing and acting lessons from actor John Carroll, who was considered a Gable lookalike.
Finally, in 1954, at a party thrown in her honor, Marilyn was able to meet the King of Hollywood. They dined, danced, and cheerfully discussed making a film together someday. She was thrilled when Gable agreed in 1958 to take the lead role of Gay Langland in The Misfits.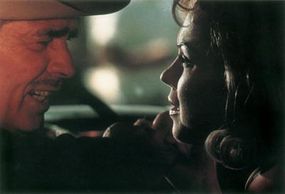 Just as Marilyn had always dreamed, Gable proved to be not just a consummate professional, but a strong, sensitive gentleman. As the grueling location shoot of The Misfits was made more unbearable by the long waits for Marilyn, Gable showed no anger or hostility toward the obviously ill actress.
On the set, Marilyn claimed, "The place was full of so-called men, but Clark was the one who brought a chair for me between the takes."
According to his agent, Charles Chasin, the legendary movie star realized that The Misfits was one of the best of his 70 films. Yet privately Gable admitted his frustration with Marilyn's behavior and hinted at his growing fatigue from his participation in the film.
Even nature seemed intent on complicating production of The Misfits -- Reno's summer temperatures often reached an excruciating 108 degrees. With several cast members in various states of deteriorating health, the climate itself became an enemy.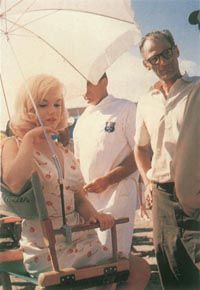 Despite these obstacles, and despite Marilyn's dependency on drugs and alcohol, Huston obtained a remarkable performance from his star.
Though some biographers accuse Marilyn of walking through the role in a state of suspended animation, their assessments are unfair ones, grounded in hindsight and based on the sensationalized anecdotes about her substance abuse.
In truth, Marilyn's performance is credible and forceful and owes much to her Method training, which allowed her to immerse herself totally in the role of Roslyn.
In addition, Miller's effective blending of the real-life Marilyn Monroe with the fictional Roslyn helped Marilyn's characterization,
as did Huston's directorial approach, in which the actors were given leeway to explore their characters.
Huston had had a long-standing respect for Marilyn, and retained it, despite the exasperation of directing The Misfits. He blamed her troubles on doctors who gave her too much medication, as well as on the studios that condoned it.
In a 1981 interview, Huston declared Marilyn to be a fine actress, "not an actress in the technical sense, but . . . she had that ability to go down within herself and pull up an emotion and give it."
But for all of Marilyn's efforts and the good work of the other people connected with the film, The Misfits opened to mixed reviews and poor box-office results --neither a fair nor fitting end to Marilyn's remarkable career.
After The Misfits shoot, Marilyn separates from Miller and becomes more and more depressed. Learn about her downward spiral in the next section.