Marilyn Monroe's Final Film
As 1962 began, Marilyn's psychiatrist Dr. Ralph Greenson suggested that she buy a house of her own -- something that he hoped would bring her some sense of security. Despite her fame and fortune, Marilyn had never owned a house by herself.
With the help of Eunice Murray, Marilyn found a home she liked in the Brentwood area of Los Angeles. The single-story, Mexican-style house was attractive but modest.
A tile with a coat of arms and a Latin inscription was planted just outside the front door. The inscription read, "Cursum Perficio," or, "I am finishing my journey." Marilyn had less than six months to live.
Marilyn's February 1962 purchase of her new home and her winning of a Golden Globe Award as the "world's film favorite" in March, would be the last two high points of her life.
According to some accounts, Greenson had been able to minimize Marilyn's drug intake for a short time, but she quickly began to slide back into old habits as disappointments mounted and the future seemed too painful to face.
In April, Marilyn returned to Twentieth Century-Fox to begin production on Something's Got to Give, an updated version of a 1940 comedy hit entitled My Favorite Wife. George Cukor was set to direct.
From the start, Marilyn disliked the Nunally Johnson-Walter Bernstein script, which was not yet finalized when shooting began. By 1962, the chief production executive at Fox was Peter Levathes, a onetime advertising executive known for his hostility toward actors.
Levathes had just come through some monumental problems during the production of Cleopatra and was faced with crippling cost overruns because of that film. To say there were tensions on the set of Something's Got to Give is a gross understatement.
Marilyn reported to work at Fox for hair, makeup, and costume tests, though neither Dr. Greenson nor Marilyn's internist felt she should undertake the production of a new film. She had contracted a virus that spring, which left her fatigued and weakened.
Realizing that Marilyn was ill, the studio executives, Cukor, and costar Dean Martin agreed to arrange the shooting schedule around her. Despite this consideration, Marilyn showed up for work only six days during the month of May.
Toward the end of May, Marilyn made a quick trip to New York. Peter Lawford had asked her to sing "Happy Birthday" at a massive birthday celebration for President Kennedy at Madison Square Garden.
Despite her virus and her film commitment, Marilyn heartily agreed to go. Arthur Miller's father, Isidore, escorted his former daughter-in-law to the party, where she sang her breathy and notoriously suggestive version of "Happy Birthday" to Kennedy.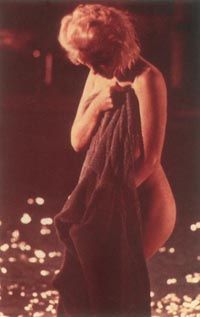 Marilyn's performance and Kennedy's subsequent quip ("I can now retire from politics after having 'Happy Birthday' sung to me in such a sweet, wholesome way.") are chilling in light of the later revelations about their affair, and what fate had in store for JFK.
The event is made more ironic by Lawford's opening remarks, in which he referred to the tardy actress as "the late Marilyn Monroe."
The Fox executives were livid with Marilyn for appearing at the Kennedy bash in New York. If she was too sick to show up for work, then she should have been too sick to fly across the country for a personal appearance.
The event signaled a turning point in Fox's treatment of Marilyn; henceforth, they would take a hard line.
Marilyn showed up for work more frequently over the next two weeks. In production at that time was a swimming pool sequence in which Marilyn was supposed to wear a flesh-colored bathing suit to suggest that she was swimming nude.
Possibly because of the titillating nature of the scene, several photographers had been invited to shoot publicity stills. The photographers got an added bonus that night because Marilyn immediately shucked her suit and paddled around au naturel.
Newsreel and still lensmen scampered to capture the famous "nude swim," during which a carefree Marilyn playfully teased the photographers with glimpses of her naked body.
Her true love -- the camera -- remained faithful to the end, and Marilyn did not disappoint.
On June 1, Marilyn turned 36 years old, and the cast and crew surprised her with a small birthday celebration on the set. It was also her last day of work. Out of 33 shooting days, Marilyn had showed up on the set only 12 times.
Often hours late when she did appear, she seldom got through more than one script page per day -- at least according to a studio statement released to the press. On June 8, 1962, production chief Peter Levathes fired Marilyn from Something's Got to Give.
Plans were made to replace Marilyn with Lee Remick, who said at the time, "I don't know whether to feel sorry for [Marilyn] or not. I feel she should have been replaced. The movie business is crumbling down around our ears because of that kind of behavior. Actors shouldn't be allowed to get away with that kind of thing."
Marilyn was devastated by her dismissal and considered it a personal rejection. Dean Martin, perhaps out of friendship or loyalty to Marilyn, refused to continue the film with Remick. (The picture was eventually reworked as a vehicle for Doris Day and James Garner, and released in 1963 as Move Over, Darling.)
Besides still photographs, all that remains of Something's Got to Give are snippets of Marilyn's wardrobe tests and a few scenes, including the swimming pool sequence.
In this footage, Marilyn looks more beautiful than ever before; lithe and trim, her hair a soft, pure platinum, she seems more a creature of light and air than one of flesh. The public saw this footage for the first time in Marilyn, a 1963 Fox compilation film hosted by Rock Hudson.
For details on Marilyn's alleged romances with Frank Sinatra and John F. Kennedy, see the next page.