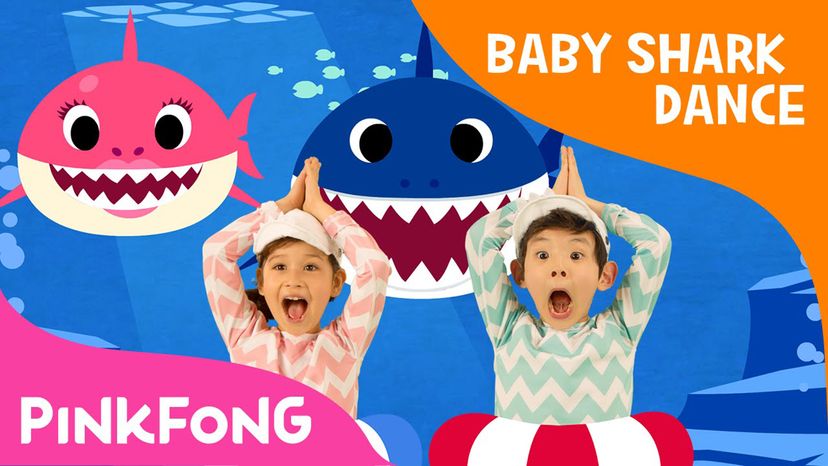 "Baby Shark," the super-catchy (some say, super-annoying) children's song became the most-watched YouTube video ever in early November 2020. Uploaded by South Korean company Pinkfong, it has been played more than 7.04 billion times, overtaking the previous record-holder "Despacito", the Latin pop song from Luis Fonsi, according to the BBC.
This comes more than a year after "Baby Shark" cracked Billboard's Top 40 in January 2019. The ubiquitous kid's song peaked at No. 32 on Billboard's Hot 100 Top 40 thanks in large part to its gaudy YouTube video, dance-along routine, and of course, the infectious "doo doo doo doo doo doo" line that intrudes on your brain space and never, ever leaves (sorry).
It's exceedingly rare for kid-targeted pop songs to crack the Billboard charts. But "Baby Shark" isn't the first kid's song to reach the hallowed stomping grounds of legends like Michael Jackson and Ariana Grande.
We consulted Gary Trust, senior director of charts at Billboard, in hopes of tracking down past kiddie songs that went full Whitney Houston. He says that although kid's songs are uncommon at Billboard, they do happen from time to time.
As evidence, behold Alvin and the Chipmunks, the imaginary rodent trio with chart success that would make Blind Melon and A-ha green with envy. In the late '50 and early '60s, The Chipmunks scored five Top 40 hits. "Alvin's Harmonica" screeched to No. 3 — and "The Chipmunk Song" clawed all the way to No. 1. It was so popular, in fact, that it held its position for four consecutive weeks, and is still the only Christmas song ever to take Billboard's top spot.
Of course, kid's movie songs sometimes push their way onto the charts. A recent inescapable example was 2014's "Let It Go," from the Disney movie "Frozen." Performed by Idina Menzel, the show tune peaked at No. 5 on the Hot 100 chart and became a cultural touchstone for both kids and adults all over the world.
In 1970, Jim Henson's Muppet Ernie sang a ditty titled "Rubber Duckie," a joyous ode to his favorite bathtub toy. The result? A hit that bounced all the way to No. 16 in late September of that year and resulted in a nomination for the Best Recording for Children Grammy in 1971 (however, it lost to "Sesame Street" by The Muppets).
Henson's 1979 "The Muppet Movie" resulted in another Top 40 hit, one called, "Rainbow Connection," which rose to No. 25 and hung around in the Top 40 for seven weeks. Performed by Kermit the Frog, the song was so popular that at the 52nd Academy Awards it garnered a nomination for Best Original Song and eventually resulted in Kermit singing an unforgettable duet with rock icon Debbie Harry.
"Mary Poppins," a musical film released in 1964, featured the I'm-only-going-to-type-this-once, "Supercalifragilisticexpialidocious," which was sung by Julie Andrews as she danced with an assortment of jolly animated characters. The song did well enough to hit No. 66 in 1965.
Kenny Loggins — yes, the Loggins of "Footloose" and "Top Gun" soundtrack fame — released a children's album titled, "Return to Pooh Corner," which sold half a million copies, earned a Grammy nomination and topped out at No. 25 on the 1994 Adult Contemporary chart.
And in 1992, a British electronic music group remixed the "Sesame Street" theme song to great effect — "Sesame's Treet" was a Top 100 hit and blew all the way to No. 2 in the United Kingdom.
Gary Trust says that it's "pretty unusual" for kid's songs to make any real impact on pop music charts. But he also says that with internet meme culture spreading viral videos, it's hard to say whether "Baby Shark" is just an isolated phenomenon or if it's a swimmingly strange start of a new pop music trend.