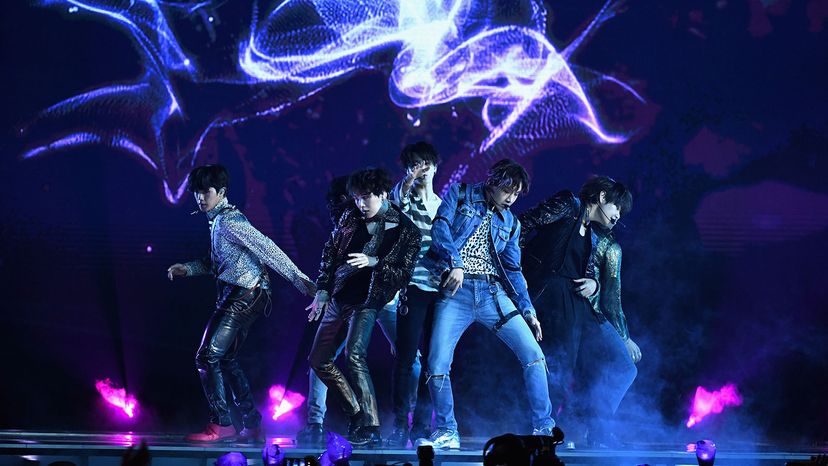 The winner of the online reader's poll for Time magazine's 2018 Person of the Year was not Michelle Obama, the Thai cave divers, Pope Francis, nor even planet Earth (the runner-up). Nope, all these were bested by BTS.
BTS is a South Korean K-pop boy band taking over the world. The seven-man group (also known as the Bangtan Boys) has shattered expectations this year, becoming the first ever K-pop group to claim the No. 1 spot on the U.S. Billboard 200 chart. (K-pop is style of music mixing hip-hop, pop and EDM that originated in South Korea.)
Take that, Backstreet Boys. The world has spoken and they want it that way.
BTS has been around since 2012 and quickly established a passionate fan base in Korea and throughout Asia. The full name of the group is Bangtan Sonyeondan, which when translated means "Bulletproof Boy Scouts" (a reference to resilience.) However, the boys re-worked that concept in 2017 and now say that it stands for "Beyond the Scene." Current members include Jungkook, RM, Jimin, V, Suga, J-Hope and Jin, all of whom are in their early to mid-20s.
The group's success has undoubtedly been propelled by their devoted fan base, known as ARMY (Adorable Representative M.C. for Youth). In addition to storming the Time poll, the group's fans helped them land the Guinness World Record for Most Twitter Engagements (retweets) for 2017 and 2018 (over 330,000). Notably, the group also bested social media juggernauts Demi Lovato and Justin Bieber to receive the Billboard Music Award for Top Social Artist in 2018, a significant (and repeat) achievement all its own at an awards program typically dominated by English-language artists. As of April 2019, they have an astounding 19 million Twitter followers. They also earned the honor of most-tweeted-about celebrity in 2017 and 2018. BTS member RM told Time that a lot of their success was due to the group taking advantage of social media before it became commonplace for musicians to do so.
The group is hardly just a bunch of pretty faces, however. With six studio albums in a span of only five years, plus concerts, talk show appearances and promotions, BTS channels impressive energy into their music. Hip-hop, dance and rap all figure prominently into their body of work, with some songs in Korean, some in Japanese, and some in English.
Their star seems to only be getting brighter. In 2019, BTS was nominated for a Billboard award for top duo/group, the first time Billboard has recognized them for their music (they were once again nominated for Billboard's top social artist award.) The awards will be handed out in May 2019.