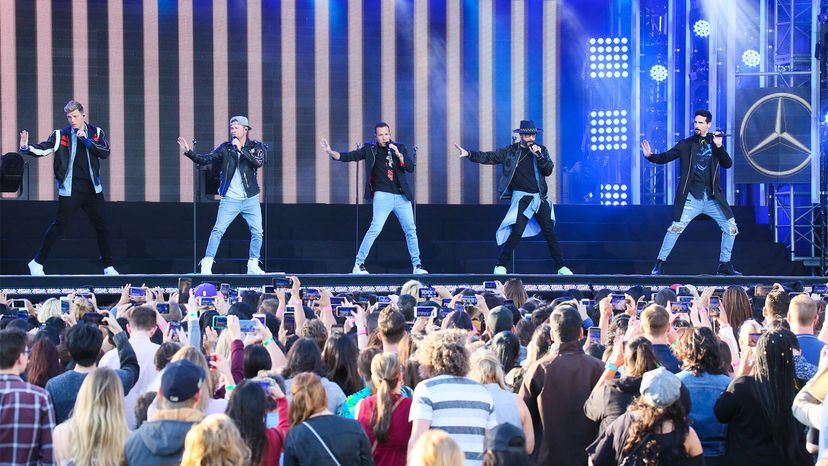 Still going strong: (L-R) Nick Carter, Brian Littrell, Howie Dorough, AJ McLean and Kevin Richardson of the Backstreet Boys perform on "Jimmy Kimmel Live" on April 9, 2019 in Los Angeles.
BG017/Bauer-Griffin/GC Images
You have to go back to the late-1990s and early 2000s to find the last time that boy bands and girl groups were both topping the pop music charts. Hitmakers like 'N Sync, Destiny's Child, TLC, Backstreet Boys and the Spice Girls were MTV staples — this was before YouTube, kids, when music videos were exclusively on cable TV! — and both the girl and guy groups each had their rabid fans.
But then everything changed. Most of the powerhouse girl groups disbanded or derailed, and no serious replacements emerged (we said "serious," Danity Kane). Meanwhile, new boy bands like the Jonas Brothers and One Direction raced to fill in the teeny-bopper gap as the older groups fell out of fashion.
Today, the boy band universe is ruled by the K-pop juggernaut BTS, who in 2019 became the first band since The Beatles to land three albums at No. 1 on the U.S. pop charts in the same year. And the video for their hit single "Boy With Luv" set a new record for the most YouTube views in a single day at 74.6 million.
But where are the girl supergroups of yesteryear? Female stars like Beyoncé, Ariana Grande and Taylor Swift are crushing it solo, but gone is the collective "girl power" vibe. It's easy to blame shifting musical tastes for the demise of the girl group, but there may be deeper societal forces at play — the same forces that have undercut the success of girl groups for decades.
Where the Boys Are
The steady appeal of boy bands is pretty straightforward. Starting with the Beatles in the 1960s, every generation of young girls have employed boy bands as safe crushes to test drive their emerging sexuality. When boy bands are created, each member is marketed as having a distinct personality — the bad boy, the shy one, the funny guy — and pre-teen fans can gauge their attraction to each of these male templates.
Over at NPR, music journalist Jason King broke down what separates a boy band from a "man band": members are usually in their late teens/early 20s; their material appeals to teen and preteen girls; there's usually a manager who puts the group together, as opposed to it arising organically. "He's responsible for the sound and the look and the casting of the band. The band often has interchangeable members so there's a lot of turnover." Also, members rarely play instruments or write their own songs.
"Boy band fandom has served as an easily accessible identity-building exercise among teen girls for decades," wrote Sasha Geffen in Fader. "There is no equivalent for straight teen boys, who may identify with male musicians but are not expected or encouraged to empathize with women in any way."
Girls Up Front
Some girl groups like the Spice Girls were also put together by a Svengali-type manager. But for music journalist Evelyn McDonnell, girl groups have always carried a different, but no less powerful appeal for young female fans finding their voice and place in the world.
"Rather than having crushes on the members, they see [girl groups] as speaking to their own experiences and someone they could be onstage with," says McDonnell, an English professor and director of the journalism program at Loyola Marymount University. "They project themselves onto the stage with the girl groups, as opposed to projecting themselves into the bedroom."
McDonnell's own list of favorite all-girl bands includes the Runaways, a bonafide "girl group" from the 1970s assembled by producer/promoter Kim Fowler that included a teenage Joan Jett in its lineup.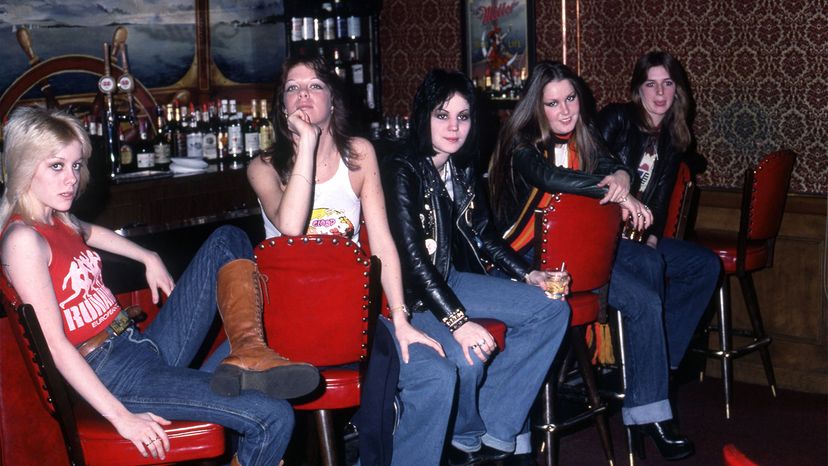 The Runaways (L-R Cherie Currie, Jackie Fox, Joan Jett, Lita Ford and Sandy West) pose for a portrait in a bar before performing at Cobo Hall on Feb. 10, 1977 in Detroit, Michigan.
Michael Marks/Getty Images
Girl Power as a Threat
The Runaways made a splash with the raucous teenage anthem "Cherry Bomb," but the band's run didn't last very long. McDonnell wrote a book about the Runaways, who she believes fell victim to sexist personal attacks and outside pressures not experienced by all-male groups.
"They were treated horrifically by the press, called 'bitches' in reviews, accused of not being able to play their instruments," says McDonnell. "That doesn't encourage groups to stay together."
McDonnell believes that one of the biggest reasons why girl groups have not achieved the same levels of success as boy bands is that both male fans and male music industry executives are inherently threatened by a bunch of women in a position of power.
She points to the golden era of girl groups in the 1960s, when the Supremes were recording as many No.1 songs as the Beatles. One of the reasons girl groups were allowed to flourish in the 1960s is that the artists were subservient to their male producers, who dictated what they wore and the words they sang.
"Those women really had to toe the line in terms of decorum and style, and appear very non-threatening and groomed," says McConnell. "They were literally groomed."
New Flavor of Feminism?
Sasha Geffen at Fader has another explanation for the disappearance of girl groups since the heyday of the 1990s. Back then, the "girl power" rallying cry felt fresh and young fans were drawn to onstage sisterhoods that celebrated this form of feel-good feminism.
Geffen thinks that 20 years down the line, the girl power message has lost some of its relevance, replaced instead by what she calls "a more individualistic pop feminism."
"The posse has lost its power, and the female executive has risen in its place," wrote Geffen in 2018. "Sheryl Sandberg's 'Lean In' philosophy informs mainstream imaginings of the woman in a man's world. Wonder Woman only becomes a superhero once she leaves her Sapphic utopia to fight alongside men; and immensely powerful female singers command historic numbers on the Billboard charts, if sporadically."
For McDonnell, who edited the anthology "Women Who Rock" — which chronicles the influence and impact of female musicians from Bessie Smith to Beyoncé — there will always be a special draw to all-female musical acts, whether it's a classic R&B girl group like TLC or bands from the Riot Grrrl scene of the 1990s.
"I love seeing women making art together and supporting each other," says McDonnell. "I know that my girlfriends and I have incredible power together and I love to see that presented in our culture as well."