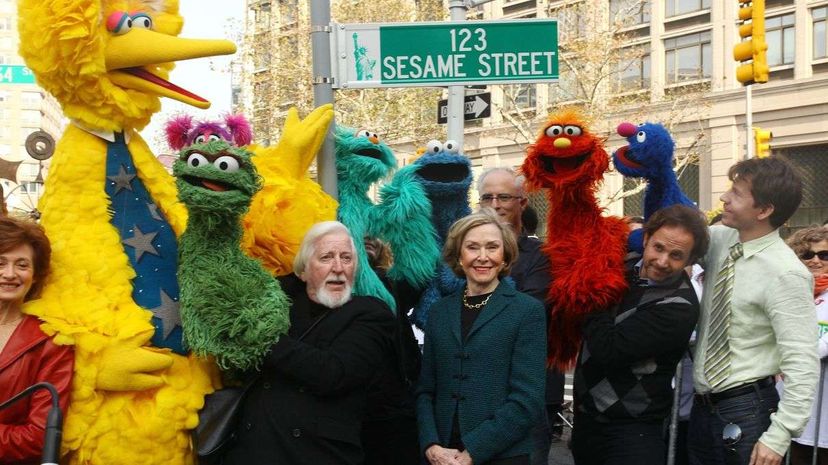 At a dinner party in 1966, Lloyd Morrisett, a vice president of the Carnegie Foundation, told his fellow guests how mesmerized his young daughter was by TV — to the point of watching the test pattern. The party's host, documentary producer Joan Ganz Cooney, discussed with Morrisett ways they could use that addictive quality of television for good. How about educating preschoolers while entertaining them? Cooney went on to co-found Sesame Workshop, which produces "Sesame Street."  In 1969, after a few years of research and grants from Carnegie, other foundations, and the U.S. government, "Sesame Street" aired on PBS for the first time. The show is still going strong 50 years later, and here are five surprising facts you may not know about "Sesame Street."
1. Some Early Episodes Are Labeled "Adults Only"
In a 2009 NPR interview, Dale Hrabi, then-online editorial director of The Week publication, mentioned that early episodes of "Sesame Street" featured Cookie Monster smoking a pipe and a not-yet-blue Grover learning about civil disobedience from a hippie. "And it just sort of reflected its times, but those episodes now, when you buy them on a DVD, are labeled adults only," he said. "I mean there is a certain awareness that from the point of view of today when, you know, these things are monitored so strictly, these episodes might strike children oddly."
2. The Set was Based on Real Sections of New York City
Originally, the show was going to be called "123 Avenue B," but that title was ditched as being too specific to New York. However, the designer Charles Rosen based the set on streets in Harlem, the Bronx and the Upper West Side. Cooney wanted the show to appeal to inner-city preschoolers. The brownstone where characters Maria and Luis live at 123 Sesame St., was based on a sketch Rosen did of a Columbus Avenue brownstone.
3. Many Muppets Were Created for Specific Reasons
A turning point in the show's popularity came when the creators decided to have the human actors interact with the Muppets (although psychologists had fretted that children would be confused by this). The original Muppets were Big Bird, Kermit, Oscar the Grouch, Grover, Cookie Monster and Bert and Ernie, all developed by Jim Henson. "Some of them were created or used to respond to curriculum needs," Cooney remembered in an interview. "One of the academic advisors had said it would be good to see a child being very smart and topping adults in some way. And I thought, 'That would be politically incorrect. Parents would not wish to see this behavior modeled... Bert and Ernie appear to be peers but if you think of Ernie as the very clever child topping a very serious adult... they came out of this idea that there should be a child who was smarter than the adults around them."
After Henson died in 1990, it took a decade for "Sesame Street" to acquire the rights to the Muppets. The phenomenal success of the Tickle-Me-Elmo doll, based on the Muppet Elmo, made millions for the show and allowed it to buy the rights to the other characters.
4. "Rubber Duckie" Hit No. 16 on the Billboard Charts in 1970
Yes, a piece of cloth can make it big in music. This catchy ode to a rubber duck who made bath time lots of fun was sung by the Muppet Ernie, who was voiced by Jim Henson. The song was written by Jeff Moss, who also wrote the show's memorable tunes "I Love Trash," "Bein' Green," "People in Your Neighborhood" and "One of These Things." "Rubber Duckie" sold more than a million copies as a single. A German-language version sold 1.8 million copies in 1996.
5. Bob, Luis and Gordon Were Let Go After 45 Years
Many of the show's adults had been with the show since 1969. (Although three different people had played the character named Gordon, Bob McGrath played Bob for 45 years). Sonia Manzano who played Luis' wife Maria for 44 years, retired in 2015. The characters' on-air wedding in the 1980s is one of the best-remembered episodes of "Sesame Street."
But starting in 2014, the roles for the human actors became smaller until they were totally phased out in 2015. Around this time the show made a deal with HBO, where original episodes would first air on that network before being shown on PBS. Although Sesame Workshop, not HBO, made the decision to fire these well-loved characters, fans blamed the cable network. Sesame Workshop said in a statement that the actors were "a beloved part of the Sesame family and continue to represent us at public events." 
Originally Published: Nov 10, 2016