Soccer Leagues and Championship Cups
Most soccer playing nations have a domestic league in which teams associated with their home cities vie against each other for the league championship. Players from all over the world can sign on to these teams, although some leagues have rules requiring a minimum number of players from the league's home country per team. Many domestic leagues emulate the system used in England.
The English Premier League, by some estimates the most successful and popular sports league in the world, is the highest tier of professional football in that country. Below it is the Coca Cola Championship League; also know as the First Division. There are also second and third division teams, as well as regional leagues. The key to the whole system is the concept of promotion and relegation. At the end of the season, the bottom three teams in any division are 'relegated,' or sent down to the next lowest division, where they will compete next season. The top three teams of a division (except for the Premier League) are 'promoted' into the next higher division. Usually, the top two teams are automatically promoted while the next four teams compete in a playoff for the remaining promotion spot. Being promoted to a higher division means a major boost in television coverage and the resulting revenue.
Club teams from domestic leagues in Europe also compete against each other in various cup competitions, such as the Champions League and the Union of European Football Associations (UEFA) Cup. These prestigious tournaments pit the best teams from various domestic leagues each year. South American club teams have a similar tournament, Copa Libertadores de América. The major club competition in the United States is the Lamar Hunt U.S. Open Cup.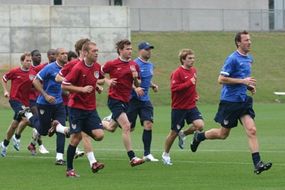 Each soccer-playing nation also has a national team, made up of the best players who are citizens of that country. All national teams are part of FIFA, and they are also part of a regional division. For example, UEFA is FIFA's European division. Confederation of North, Central American and Caribbean Association Football (CONCACAF) is the division for that region. National teams compete within their division in a series of matches to determine rankings. They also compete in national cups, such as the CONCACAF Gold Cup and the UEFA European Football Championship. These competitions, along with a long series of qualifying matches, set up world rankings to determine which teams are eligible to enter the biggest international tournament of all: the World Cup. Held every four years (the last one was held in 2006), the World Cup is a massive event on par with the Olympics. The winners go down in history as one of the greatest football teams to ever play.