Designing an Olympic Torch
The torch begins its journey long before the Olympic games commence. It starts out as an idea in the mind of a designer or group of designers. Several design teams submit proposals to the Olympic Committee for the opportunity to create and build the torch. The team that wins the assignment will design a torch that is both aesthetically pleasing and functional. A technical or engineering team handles the functional aspect, making sure that the torch can not only stay lit across the distance, but also make it through sometimes grueling conditions.
The first torch used in the modern Olympics (the 1936 Berlin Games) was made of a thin steel rod topped with a circular piece from which the flame rose. It was inscribed with a dedication to the runners.
The look of the modern Olympic torch originated with John Hench, a Disney artist who designed the torch for the 1960 Winter Olympics in Squaw Valley, California. His design provided the basis for all future torches. Since then, designers have tried to create a torch that represents the host country and the theme for that Olympic Games.
A torch can take a year or two to design and build. And once the torch has been built, it must be tested rigorously in all kinds of weather conditions. The torch must then be replicated ... and replicated. It's not just one torch making the journey to the Olympic stadium; it's thousands. Anywhere from 10,000 to 15,000 torches are constructed to accommodate the thousands of runners who carry them through each leg of the Olympic relay. Each runner has the opportunity to purchase his torch at the end of his leg of the relay.
Although torch design and construction vary from year to year, the torch must always contain the same basic elements:
fuel to create the flame
a fuel delivery system to get the flame out of the top of the torch
an aerodynamic design that is both lightweight and safe for the runner to carry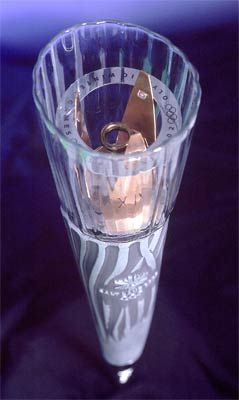 Let's take a look at the fuel that is used to create the flame.