Animating Actors
According to Rob Letterman, one of the movie's three directors, the uncanny resemblance between the fish and the performers "was one of the style choices, to capture their look and feel in the conceptual art. The animators studied their movies and performances and watched them in some of the recording sessions. They would study how they moved and their facial expressions." Smith's videos proved to be a great research tool. "They studied all his dance moves."
Smith was cast first, "and the other actors came on board as we went along. We got everyone on our wish list," says Letterman, noting that a presentation was made to each that included a character sketch. As in any caricature, certain details were exaggerated -- Smith's ears, Martin Scorsese's eyebrows, Angelina Jolie's lips. "Robert De Niro has a very specific mouth shape, with the corners turned down. We tried to use that," adds Fabio Lignini, one of five supervising animators on the project.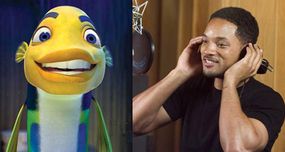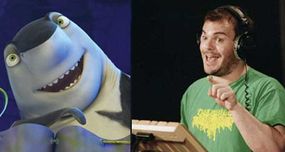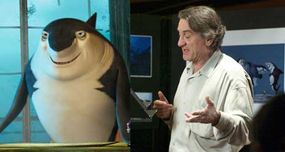 Don Lino and Robert De Niro
Great care was taken to find actual fish that best matched the characters. First, all of the filmmakers, including the designers and animators, watched documentaries, visited the Long Beach Aquarium and studied reference books. The cleaner wrasse, a fish that cleans other fish and its environment, was the logical model for Smith's character Oscar, a Whale Wash worker. The good-hearted Angie, voiced by Zellweger, became an angelfish, and femme fatale Lola, Jolie's character, was conceived as a lionfish/dragonfish mix. Appropriately, lionfish are poisonous.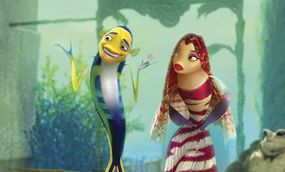 Oscar (Will Smith, left) and Lola (Angelina Jolie)
But fish do not naturally possess the physical traits that humans use to convey emotions. So the next step is providing fish with the necessary characteristics to reflect their performers' expressions.