The History and Music of 'Schoolhouse Rock!'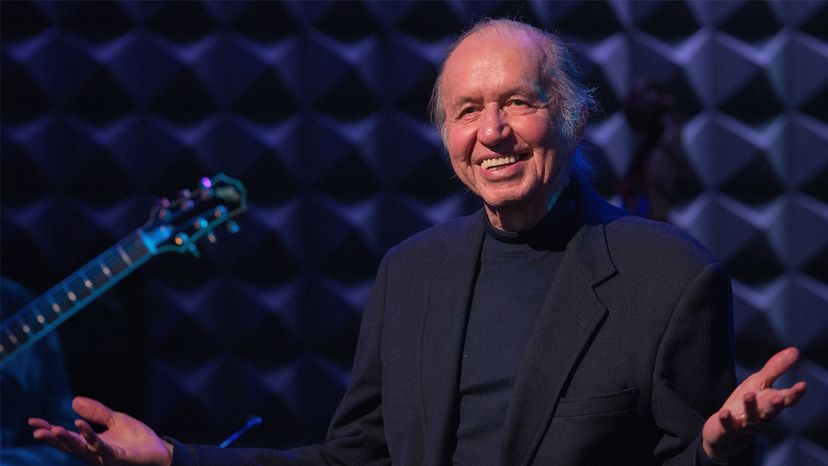 Jazz pianist Bob Dorough was instrumental in the show's creation and wrote much of the songs and music.
Kevin Yatarola/Getty Images
Schoolhouse Rock! debuted on ABC Saturday morning television over the weekend of Jan. 6 and 7, 1973. To celebrate, Newall and his wife, Boni, hosted a Saturday morning premiere party in their Manhattan apartment for everyone involved [source: Newall and Yohe].
Before the idea grew into an animated short series, McCall's original concept was an album called "Multiplication Rock," so that became the theme of the show's inaugural season. The first four songs to air were "My Hero, Zero," "Elementary, My Dear," "The Four-Legged Zoo" and "Three Is a Magic Number," all written and performed by Dorough.
The creators decided that each number should get its own song, but Dorough learned this after he'd already combined 4, 6 and 8 into one song. He was trying to figure out how to separate them out when he took a hiking trip with his daughter, Aralee, and her friend, Lisa. It was there that he got the idea for "The Four-Legged Zoo," which follows a class trip to the zoo. Dorough's voice is accompanied by a chorus of kids, including Aralee and Lisa, on the song's final recording.
Dorough, who quickly became the show's musical director, wrote all songs on the "Multiplication Rock" season and sang on all but two. He asked fellow jazz singers Grady Tate and Blossom Dearie to sing on "Naughty Number Nine" and "Figure Eight," respectively [source: Newall and Yohe].
Every song on the "Multiplication Rock" season, from "My Hero, Zero," to "Little Twelvetoes," was made into an album. It garnered Dorough a Grammy nomination in 1974, but "Sesame Street Live" took home the statue that year [source: GRAMMYs]. "Schoolhouse Rock!" itself had eight Daytime Emmy Awards nominations between 1974 and 1997 and won four times [sources: Newall and Yohe, IMDB].
The second season of "Schoolhouse Rock!," themed "Grammar Rock," aired between 1973 and 1974. It includes one of the most popular and widely recognized "Schoolhouse Rock" songs of all time, "Conjunction Junction," which was written by Dorough and performed by Merv Griffin's former trumpet player, Jack Sheldon. Newall came up with the visual concept of the rail cars hooking together.
In this season, Lynn Ahrens made the switch from copy department secretary at McCaffrey & McCall to full-time songwriter after Newall overheard her playing guitar during her lunch break at the agency and asked to her contribute. The result was "A Noun Is a Person, Place or Thing." Ahrens went on to write 15 more songs for "Schoolhouse Rock," including "A Victim of Gravity," "Interplanet Janet" and "Interjections" [source: Newall and Yohe].
Speaking of which, the little girl who says, "Darn! That's the End!" at the close of "Interjections" was Lauren, Yohe's 6-year-old daughter [source: Newall and Yohe].
In keeping with the bicentennial excitement of the mid-1970s, the show's creators themed the third season "America Rock." Also called "History Rock," the season covers emancipation from British rule ("No More Kings), the Revolutionary War ("The Shot Heard 'Round the World"), early inventors ("Mother Necessity") and governmental check and balances in "Three-Ring Government," which didn't air until 1979 because of concern over offending politicians. My, how times have changed.
But the most popular song from that season was "I'm Just a Bill," which was performed by Sheldon and written by jazz composer and performer Dave Frishberg. It covers the long, exhausting process of a bill becoming law and was recorded the same day as "Conjunction Junction" with the same band, including Frishberg on piano and Sheldon on trumpet [source: Newall and Yohe].
If you remember seeing a cartoon Isaac Newton getting hit on the head with an apple, that's "A Victim of Gravity" from the "Science Rock" season, which aired between 1978 and 1979. This 50's-style song was written by Ahrens and performed by The Tokens, whose hit "The Lion Sleeps Tonight" came out in 1961. In this season, Ahrens also penned "Interplanet Janet," who's "a solar system Ms. from a future world," and a song about the nervous system called "Telegraph Line" [source: Newall and Yohe].
From the beginning of the show through the end of the "Science Rock" season in 1979, songwriters pitched ideas to the creative team. If accepted, most songs were written within a two- to four-week period. Once Dorough signed off, the lyrics were vetted by a consultant at the Bank Street School of Education. After that, ABC would take a look as well. Once everything was approved, the features were animated by hand [source: Nobleman].
But during the "Scooter Computer & Mr. Chips" season, which aired from 1983 to 1984, things were a bit different. ABC program executive Squire Rushnell commissioned the theme based on the idea that children were afraid of computers. This time, the creative team assigned subjects to songwriters, including Frishberg, Ahrens and Dorough, featuring recurring characters Scooter Computer (a skateboarding kid) and Mr. Chips (a roller skating computer) [source: Newall and Yohe].
This final season of "Schoolhouse Rock's" original run isn't as beloved as those that came before it. There's a significant amount of confusion over song titles (for example, "Software" is also called "Software and Hardware") and the fact that Scooter Computer is a boy, not a computer. The songs, which included references to BASIC language, bytes and data processing, quickly became outdated [source: Newall and Yohe].
"Schoolhouse Rock" rocked along until 1985, when its timeslot was replaced with "ABC Funfit" starring Olympic gymnast Mary Lou Retton. It was only then that the creators started to understand how much of an impact the show had on its young viewers. It had become a generational touchstone for the Saturday morning cartoon crowd. And the viewers missed it when it was gone [source: Newall and Yohe].
In the late '80s, a student at the University of Connecticut started a petition asking ABC to bring "Schoolhouse Rock" back into the Saturday morning rotation. ABC took notice and resurrected the show in 1993, re-running all the favorites and adding two new "Grammar Rock" songs — "Busy Prepositions" by Bob Dorough and "The Tale of Mr. Morton" by Lynn Ahrens. A new season called "Money Rock" featured songs like "$7.50 Once a Week" by Dave Frishberg and "Tyrannosaurus Debt" by Tom Yohe. It aired from the fall of 1994 through 1996 [source: Newall and Yohe].