How 'Schoolhouse Rock!' Began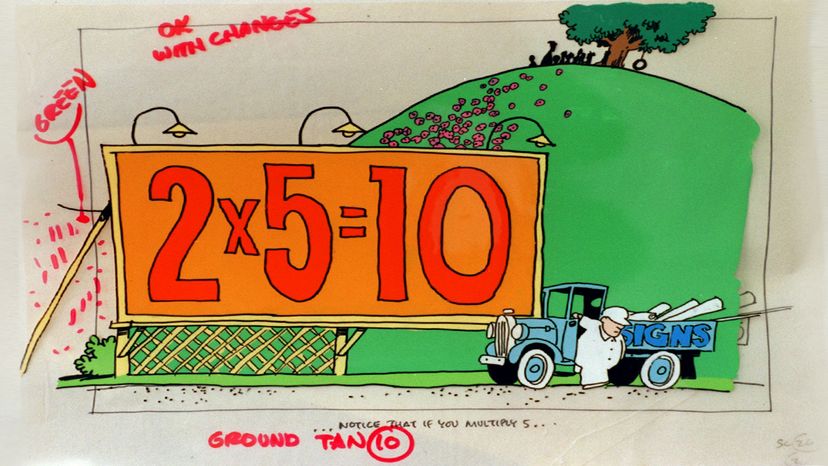 An original painted production cell of "Ready or Not" from the Multiplication Rock series counting by fives was part of a 1997 exhibit at Cal State Fullerton.
Kari Rene Hall/Los Angeles Times via Getty Images
In the early 1970s, David McCall, co-owner of New York ad agency McCaffrey & McCall, took his family on vacation to a dude ranch in Wyoming. Along the way, it struck him that his son, who was having trouble memorizing multiplication tables in school, knew every word of the Rolling Stones songs on the radio. Was there a way to combine math and the sounds of the '70s [source: Nobleman]?
Back at the office, McCall ran the idea by George Newall, who was then a co-creative director at the agency. Newall thought the idea had legs, so McCall asked one of the agency's jingle writers to create a song. What came back didn't feel quite right, so Newall, who was also a jazz pianist, reached out to Bob Dorough, another jazz pianist and composer who'd written engaging songs about everyday items like mattress tags [source: Newall and Yohe].
"I don't know how I lucked out," the 93-year-old Dorough says. "Apparently [McCall] tried other songwriters but most of them wrote down to kids. When I met McCall, he said, 'Here's my idea. Give it a try. But don't write down to the kids.' When he said that, I got a chill. I have a high opinion of children."
Dorough went home and spent some time with his daughter's textbooks. He returned a few weeks later with "Three is a Magic Number," an insanely addictive ditty that covered everything from the symbolism of threes (faith, hope, charity; heart, mind, body) to shapes, addition and multiplication that ran less than three minutes. Everyone at McCaffrey & McCall was completely blown away [source: Newall and Yohe].
McCall, who was on the board at the Bank Street College of Education in New York, asked the organization to try out "Three Is a Magic Number," which was still just a song at this point, in multiple school districts in and outside the city. The feedback from teachers and students reinforced his hunch: They had something really special on their hands [source: Newall and Yohe].
"Three Is a Magic Number" inspired Tom Yohe, an art director at McCaffrey & McCall, to start storyboarding. With the help of Radford Stone, who was the agency's senior V.P. account supervisor for ABC, McCall, Newall, Dorough and Yohe pitched the song-storyboard package to Michael Eisner, who was then the vice president for children's programming at ABC. Eisner invited one more person to the meeting: animator Chuck Jones, who created Road Runner, Wile E. Coyote, Pepe le Pew and many other iconic cartoon characters. He also produced, directed and wrote the screenplay for Dr. Seuss' "How the Grinch Stole Christmas" [source: Newall and Yohe].
"We played Bob's demo tape and presented our storyboard, frame by frame," Newall and Yohe write in "Schoolhouse Rock!: The Official Guide." "At the song's end, Mike turned to Chuck and said, 'What do you think?' Chuck's reply: 'Buy it!'" [source: Newall and Yohe].
And just like that, a bunch of ad agency execs and a jazz musician were headed straight into Saturday morning television.