The Lego Group Today
A commonly-cited statistic is that there are 102,981,500 possible combinations of 6-sided, 8-stud bricks. But that number only works if the final product is a tower that's six bricks tall. A computer program has helped reveal a more accurate number -- there are 915,103,765 possible 6-brick combinations.
Although Lego has introduced several theme sets over the years, including House, Farm and Pirates, the company didn't create any licensed products until 1999. That's when Lego introduced "Star Wars" and "Winnie-the-Pooh" sets. But the decision to make licensed products wasn't an easy one for the company. Producing a set of elements that had a set purpose rather than being open-ended was completely contrary to the philosophy of open-ended building play. However, the "Star Wars sets quickly became the best-selling new product line in company history. The company's philosophy now is that these sets add storytelling to building play.
The current Lego product lines include licensed sets that portray characters and scenes from "Star Wars," D.C. Comics (including Batman), "Bob the Builder," "Thomas the Tank Engine" and Nick Jr. television shows like "Spongebob Squarepants." There are also numerous themed sets on the market as well as larger QUATRO and DUPLO bricks for infants and toddlers. But in spite of the popularity of all these product lines, the last few years haven't been easy for the Lego Group.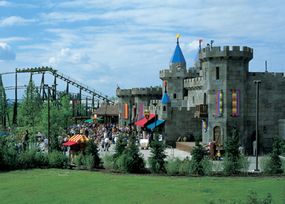 The Lego Group's profits peaked in the mid-1990s. In 1998, the company reported a pre-tax loss. It had its first large-scale layoff in 1999, and in 2000 it lost about a billion Danish Kroner (about $120 million). Most analysts theorize that the new prevalence of electronic devices marketed to children, like MP3 players and video game systems, has caused part of the drop in sales. In addition, the Lego Group's major patents have expired, so competitors like Mega Bloks have been able to produce less-expensive sets that are compatible with Lego bricks. The introduction of the Friends line gave the company a significant boost in sales, but it came with a hefty dose of criticism that the sets reinforced sexist stereotypes.
To try to streamline the company, the Lego Group decided to re-focus its efforts on becoming profitable, and it sold some of its businesses, including the sale of LegoLAND Parks to Merlin Entertainments Group in 1995. The company also moved much of its more labor-intensive manufacturing processes to Klando, Czech Republic, to reduce costs. After its restructuring and sale of businesses, the Lego Group reported a profit again in 2005.
Check out the links below for lots more information about Lego construction and related topics.
Lego FAQ
What are Lego pieces?
Most Lego pieces have two basic components — studs on top and tubes on the inside. A brick's studs are slightly bigger than the space between the tubes and the walls. When you press the bricks together, the studs push the walls out and the tubes in.
Is Lego City a real place?
No, Lego City is a realistic world for kids to have fun and explore their creativity. https://www.lego.com/en-ca/themes/city
Is Lego a big company?
The Lego Group is now the fourth largest toy manufacturer in the world.
Are Lego sets still being made?
Yes, about 150 designers of 18 nationalities design and plan the elements for all the different Lego sets. These sets are sold in more than 130 countries.
Why is Lego so famous?
The Lego Group's
mission and vision
is "To inspire children to explore and challenge their own creative potential". A computer program has helped reveal there are 915,103,765 possible 6-brick combinations, giving kids endless options to be creative and have fun.
Related Articles
More Great Links
Sources
Austen, Ian. "Building a Legal Case, Block by Block." New York Times, February 2, 2005.

"China Reins as the World's Toy Maker." Plastics News, December 19, 2005.

Fishman, Charles. "Why Can't Lego Click?" Fast Company. September 2001. http://www.fastcompany.com/magazine/50/lego.html

Knudsen, Jonathan. "Lego Mindstorms: Lego and MIT." O'Reilly Network. 1/31/2000. http://www.oreillynet.com/pub/a/network/2000/01/31/mindstorms/index1b.html

"How Lego Bricks are Made." Lego. http://www.lego.com/eng/info/default.asp?page=bricks

"Lego Design School." Lego. http://www.lego.com/eng/create/designschool/lesson.asp?id=1_a

Martin, Fred G. "The Art of Lego Design." March 15, 1995.

Terdiman, Daniel. "Hacking's a Snap in Legoland." Cnet, September 15, 2005. http://news.com.com/Hackings+a+snap+in+Legoland/2100-1046_3-5865751.html?tag=nefd.top

Lego 2006 Products. The Lego Group.

Lego Company Toy Safety. The Lego Group.

Lego Group 2005 Annual Report. The Lego Group.

Lego Group Company Profile 2005. The Lego Group.

Lego Mindstorms Milestones. The Lego Group.

Lego Mindstorms NXT Fact Sheet. The Lego Group.

Lego Play Materials and the Environment. The Lego Group.