In the crowded summer movie marketplace, a great gimmick can make a film stand out, provide­d it's done well and fits the story. As the first live-action flick shot in digital 3-D, "Journey to the Center of the Earth" scores big on both counts. This latest adaptation of Jules Verne's 1864 novel is an eye-popping thrill ride thanks to the illusion of depth created by the 3-D process.
Under the direction of first-time feature director Eric Brevig, who served as visual effects supervisor on such films as "Pearl Harbor," "Men in Black," and "Total Recall" -- for which he won an Oscar -- "Journey" significantly improves on the old-style 3-D experience that required paper glasses with blue and red colored lenses. Here, you quite realistically get flying piranhas and a T-Rex snapping at -- and drooling on -- you as the underground adventure unfolds.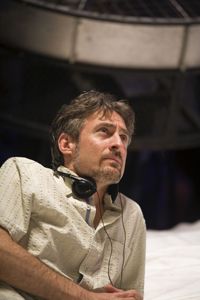 In this re-imagination of the tale first adapted as a Pat Boone feature in 1959 and subsequently in several made-for-TV versions, Brendan Fraser plays Trevor, a seismologist and professor whose scientist brother Max disappeared on an expedition years before. When Max's visiting teenage son (Josh Hutcherson) shows him an annotated copy of the Verne novel bearing directions to an underground portal in Iceland, uncle and nephew jet off to investigate, with the aid of a local guide (Anita Briem).
The Verne novel serves as a jumping off point rather than a template for the screenplay by Michael Weiss, Jennifer Flackett and Mark Levin, because as visionary as the tale was in the 19th century, "it's way out of date for today's audiences," Brevig explains. "Half the journey was just getting to Iceland, and they walk for months to the center of the earth. The fantastic part is when they're down there. So we kept the spirit of it but modernized it."
According to Brevig, who'd replaced another director on the project when it went 3-D, the story and characters evolved significantly before filming began in Montreal in June 2006. Post-production took more than a year due to pervasive CG elements, around 750 shots split between four visual effects houses. Those posed their own set of challenges, but with a shooting schedule of a mere 48 days, getting the complicated movie completed was equally difficult. Brevig explains why in the following sections, with additional input from actor Hutcherson and visual effects editor Ed Marsh.
­