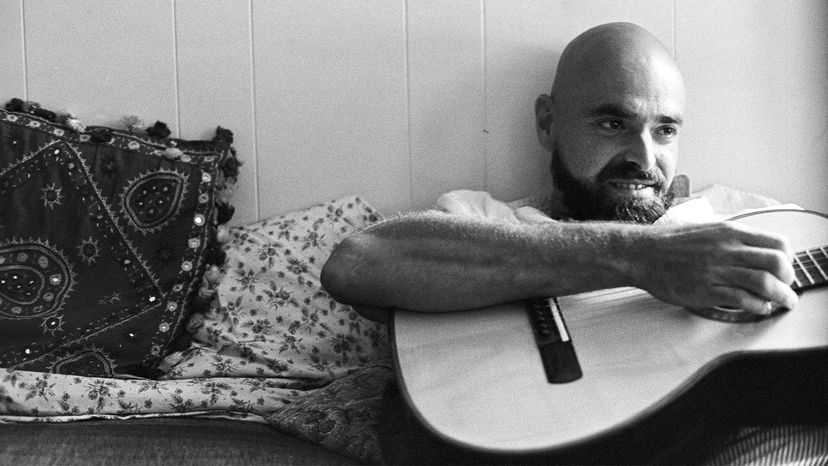 Shel Silverstein's books have sold more than 20 million copies and been translated into more than 30 languages. He is shown here in 1968.
Alice Ochs/Getty Images
In the evenings, around closing time, a man with a very bald head and a very dark beard used to come sloping into the Mysterious Bookshop in New York City, his shoulders hunched as though warding off a perpetual cold wind. The proprietor, Otto Penzler, had come to expect these visits. Indeed, he looked forward to them. He closed up the shop and guided the man back to his inner sanctum, a book-lined study with floor-to-ceiling shelves.
There, the bearded man would deliver a sheaf of papers containing a new, freshly penned mystery story to be added to the anthology that Penzler was publishing. The writer refused to take any money for his efforts, even though Penzler was paying well. He craved a different compensation. His eyes gleamed as Penzler slid his payment across the desk between them. It was a stack of used books containing dozens of stories written in the mystery genre. Later that night, he would devour them one by one.
Then Penzler and the bearded man would talk. And talk. They talked about books, about life. Otto Penzler was just recovering from a devastating breakup and so they spoke about that at length. In a recent phone interview for this article, Penzler remembered that at a certain juncture, his guest said something so piercingly insightful and eloquent about the breakup that it took his breath away. "I wish," says Penzler, "that I could remember what he said, but I failed to write it down. What I do remember is that when I expressed my amazement at his facility with words, he just shrugged and said, 'I guess that's why they call me a poet.'"
He could have added, "among many other things," because Shel Silverstein, famously bald and bearded, was a true Renaissance man. Of course, many of us, maybe most of us, know him as the author and illustrator of "The Giving Tree," "A Light in the Attic" and "Where the Sidewalk Ends" among many of the other wildly successful books he wrote and drew for children. But that's only the tip of the proverbial iceberg. Silverstein also drew cartoons and wrote plays for adults and penned numerous songs, especially Country songs. In fact, he won two Grammys for his songwriting, one of them for the Johnny Cash hit, "A Boy Named Sue."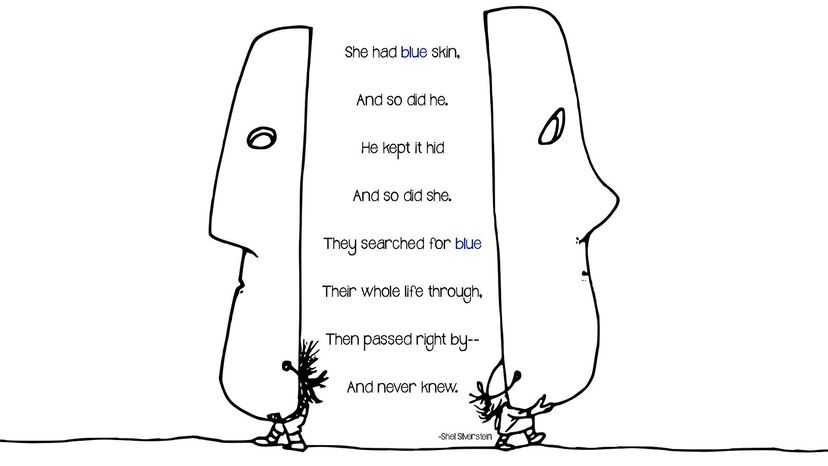 Shel Silverstein's deceptively simple cartoons carried profound messages that inspired generations of children and adults alike.
Silverstein's Beginnings
Sheldon Allan "Shel" Silverstein was born into a Jewish family in Chicago in 1930. His father ran a bakery, which only began to thrive in the wake of the Great Depression. After high school, he spent some time studying at the Art Institute of Chicago and later at Roosevelt University, but was drafted into the U.S. Army. Serving in Korea and Japan, Silverstein began working for the military periodical The Stars and Stripes, and it was there that he began regularly publishing his idiosyncratic cartoons. After his military service, Silverstein got a job as a cartoonist for the fledgling magazine, Playboy. For his Playboy gig, he traveled the world, sending cartoon dispatches from far and wide.
In 1963, Silverstein met book editor Ursula Nordstrom, who prodded him into writing books for children, and that same year he wrote "The Giving Tree," a book about the nature of altruism and selfishness, that would become his most famous and popular work. His sense of the absurd, and the whimsical cartoon line drawings that illustrated this and all of his books, would become his hallmarks. His famously looping signature is known worldwide. In deceptively simple language, his exploration of the innocence and imagination of childhood made him one of the most celebrated and widely read authors for generations of children and adults alike.
Otto Penzler recalls Silverstein telling him that he spent a year living at the Playboy mansion as a guest of Hugh Hefner. It was there that he met Susan Hastings with whom he had a daughter named Shoshanna in 1970. Tragically, Susan died in 1975, and Shoshanna passed away unexpectedly after suffering a cerebral aneurysm in 1982. By many accounts, her death utterly devastated Silverstein. In 1984, he had a son named Matthew with Sarah Spencer.
According to Penzler, Silverstein was a deeply eccentric man. "For instance, it wasn't unusual for him to be having dinner in a restaurant with a group of friends, and then suddenly announce that he was done, get up, take a taxi to the airport and fly to Chicago, or Los Angeles or Florida or wherever he felt like going on the spur of the moment."
Shel Silverstein died of a heart-attack in 1999 at the age of 68. In story, song and image, he left behind a remarkably prolific artistic record. It's hard to think of anyone who rivals him for the sheer variety and success of his creative output.
Originally Published: Feb 11, 2020