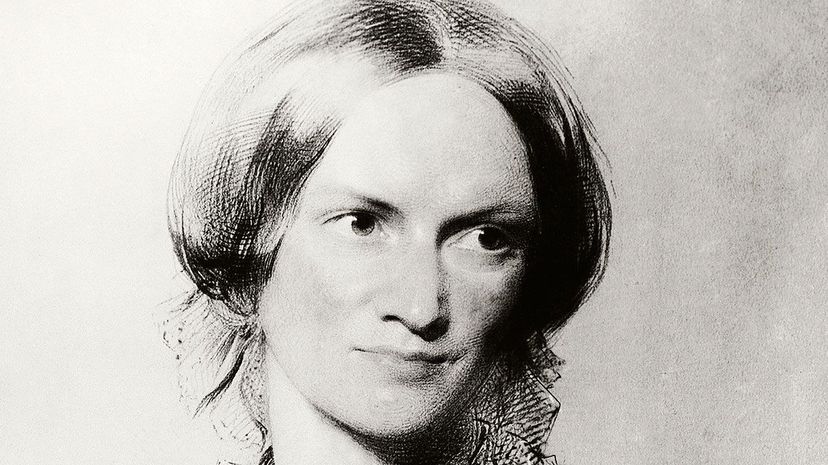 A portrait of Charlotte Bronte, author of the much-loved "Jane Eyre" novel.
De Agostini Picture Library/Getty Images
Writer of the literary masterpiece "Jane Eyre," sister to Emily, Anne and Branwell, and mistress of the Yorkshire moors, Charlotte Brontë (and the rest of her family) are sources of strange fascination to the general public, as well as to many writers and filmmakers. Much of people's perceptions of Charlotte as a shy invalid were gathered from an 1857 biography written by her friend Elizabeth Gaskell, and now historians realize the portrayal was incomplete and incorrect. Here are five things that may change your impression of Charlotte Brontë.
1. She Hated Kids
Brontë came from an impoverished clergyman's family and was forced to earn a living with only a few options available to her. Unfortunately, two of them — teacher and governess — involved working with children, whom she loathed. While a teacher at Roe Head School, she wrote in her journal, "I had been toiling for nearly an hour. I sat sinking from irritation and weariness into a kind of lethargy. The thought came over me: Am I to spend all the best part of my life in this wretched bondage, forcibly suppressing my rage at the idleness, the apathy and the hyperbolic and most asinine stupidity of these fat headed oafs and on compulsion assuming an air of kindness, patience and assiduity? .... Just then a dolt came up with a lesson. I thought I should have vomited."
2. She Lost Many Teeth
This was not an uncommon condition in those days, but Brontë apparently made an impression. Gaskell described Brontë to a friend this way in a letter: "She is underdeveloped, thin and more than half a head shorter than I ... [with] a reddish face, large mouth and many teeth gone; altogether plain." Two years after "Jane Eyre" was published, Brontë wrote to her friend Ellen Nussey in 1849, "I find I really must go to Mr. Atkinson the dentist [in Leeds] and ask him if he can do anything for my teeth."
3. She Had a Beef With Jane Austen
You might have thought the two Victorian lady novelists would have had something in common. But Brontë was not impressed by the suggestion that she could learn from Jane Austen. Though esteemed literary critic George Henry Lewes wrote a favorable review of "Jane Eyre," he thought it had moments of melodrama and praised Austen for her more naturalistic style. After seeing the notice, Brontë decided to read "Pride and Prejudice."
She wrote to Lewes,
"Why do you like Miss Austen so very much? I am puzzled on that point. What induced you to say you would rather have written 'Pride and Prejudice' or 'Tom Jones' than any of the Waverly Novels? I had not seen 'Pride and Prejudice' till I read that sentence of yours, and then I got the book and studied it. And what did I find? An accurate daguerrotyped portrait of a common-place face; a carefully-fenced, highly cultivated garden with near borders and delicate flowers— but no glance of a bright vivid physiognomy — no open country — no fresh air — no blue hill — no bonny beck. I should hardly like to live with her ladies and gentlemen in their elegant but confined houses." 
Perhaps the way Lewes seemed to pit the two novelists against each other contributed to Brontë's dislike. Not to mention that the two women approached the subject of love from very different points of view.
4. She Had a Passionate Marriage
Brontë received four marriage proposals, the last two from Arthur Nicholls, her father's curate who had been in love with her for years. Brontë did not love Nicholls and so turned him down the first time. Her father also violently opposed the proposal. Brontë wrote to her friend Ellen Nussey, "Agitation and anger disproportionate to the occasion ensued; if I had loved Mr. Nicholls, and had heard such epithets applied to him as were used [by her father], it would have transported me past my patience; as it was, my blood boiled with a sense of injustice." Two years later, her father gave his permission and the two were married in 1854. In a short time, she was referring to her husband as "my dear Arthur" in letters and noting that "every day makes my attachment to him stronger." But their happiness was brief.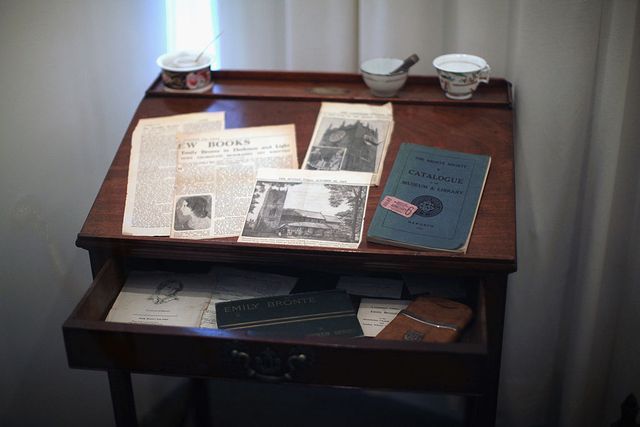 Charlotte Bronte's writing desk on display at the Bronte Parsonage Museum on Feb. 8, 2012 in Haworth, England.
Christopher Furlong/Getty Images
5. Her Death Has Been a Source of Mystery
Just nine months after her marriage, Charlotte Brontë died at age 39. Her death certificate listed the cause as "phthisis" or tuberculosis, which had killed her sisters Emily and Anne earlier. Her biographer Elizabeth Gaskell wrote that she had symptoms of "perpetual nausea and ever-recurring faintness." This has led to speculation that she could have died from typhoid (which a servant had died from earlier) or pneumonia (she caught a cold after a walk in the rain). But the most interesting theory is that she was pregnant at the time and suffered from hyperemesis gravidarum, or "runaway morning sickness" (which is what the Duchess of Cambridge also experienced when pregnant). Others dispute this, noting that tuberculosis could fully explain her symptoms and her doctor never mentioned she was pregnant.
Originally Published: Apr 21, 2017