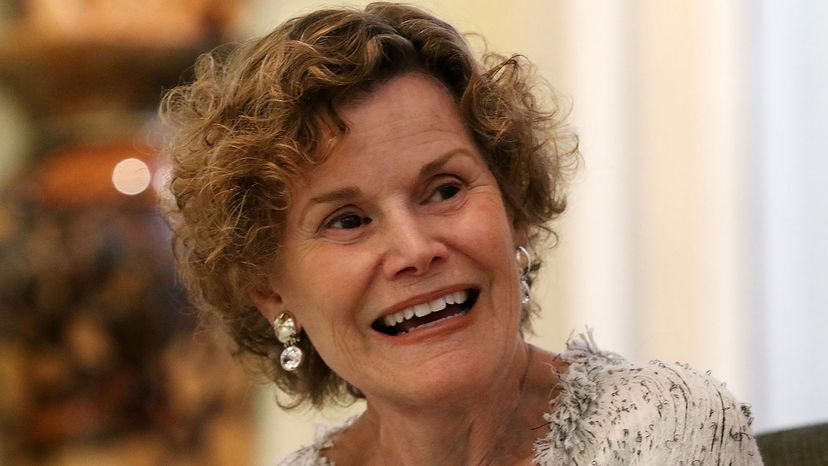 Judy Blume, author of "Are You There God? It's Me Margaret," was photographed in conversation with WLRN's Alicia Zuckerman at Temple Judea on June 15, 2015 in Miami.
Aaron Davidson/Getty Images
For more than four decades, the Judy Blume novel "Are You There God? It's Me, Margaret" has helped girls understand such "taboo" topics as getting your period or buying your first bra. And for almost as long, Blume has turned down requests from producers to turn the beloved novel into a movie.
But all that changed with the announcement in October 2018 that Blume had granted the film rights to producer James L. Brooks' Gracie Films and to Kelly Fremon Craig who wrote and directed the teen-oriented film "The Edge of Seventeen."
"[We've] spent much time together talking about 'Are You There God? It's Me, Margaret' and [I'm] so looking forward to seeing their combined visions of 'Margaret' on the screen," Blume told us in an emailed statement.
From Movie to Book
So what makes this novel so special? Published in 1970, it tells the story of an 11-year-old girl named Margaret Simon who's the daughter of a Jewish father and a Christian mother. Raised without any particular faith, she talks to God throughout the book as she navigates growing up (particularly getting her period) and tries to figure out which religion she should join.
"As far as I'm aware, it was the first novel written for young adolescent girls that accurately, thoroughly, and non-judgmentally described puberty. It treated the ordinary experiences common to basically every young teen girl as something important enough to write a book about," says young adult author and former Viking Children's Books editor Leila Sales in an email interview.
That approached resonated well with preteen girls. "My mom didn't tell me squat about puberty and other than a pamphlet my sister brought home from a health class at school (which was AWFUL), I had Judy Blume as my only guide," says Ellen Mangold in Thompson's Station, Tennessee, in an email. "I remember feeling like she had captured all my crazy thoughts on paper. I was so glad to know that I wasn't the only person who worried about all that stuff."
While just about everyone remembers many of the more-gimmicky aspects of the book (like the group chant "We must, we must, we must increase our bust!") "Are You There, God?" also opened a lot of young eyes to religious differences and options. "I think it was the first time that I saw religion presented as a choice, rather than something you were just born into," explains Courtney Hood, who works for an Atlanta-based publishing house.
Although the book is largely fiction, author Blume drew on personal experience to develop the religious aspect, writing on her website that like Margaret, she "had a very personal relationship with God that had little to do with organized religion. God was my friend and confidant."
Courting Controversy
The book wasn't without its detractors, however. Despite Blume's good intentions, the story's perceived sexual and "anti-Christian" subject matter caused much controversy. As a result, the presence of the book was fought in plenty of libraries around the country, although only removed from those in Gilbert, Arizona, elementary schools. Other schools opted to require a written note of approval from parents for checkout.
Despite these roadblocks, however, "Are You There God?" became a societal turning point that resonates with mothers and daughters around the world even today. "I remember how it made me feel: normal and heard and like it was going to be OK. And I remember thinking Judy Blume was the only grownup on Earth who remembered what it was like to be a young girl," adds Michelle Brownlee of Spring Hill, Tennessee. "She normalized things that were not discussed at home and only whispered about among friends."
Sales offers another reason why the novel has remained so popular. "It is a genuinely good read. The writing is terrific, the characters are nuanced and complex, there are little lines and observations that are so true or funny that they never leave you."
Not much is currently known about how the film will shake out. "I wonder if they'll do it in a 1970 setting or if they'll modernize it," Sales says. "I could see it working either way... [T]he book has remained in the collective consciousness because it remains relevant. The experiences and feelings that it depicts are still true for 12-year-old girls today."