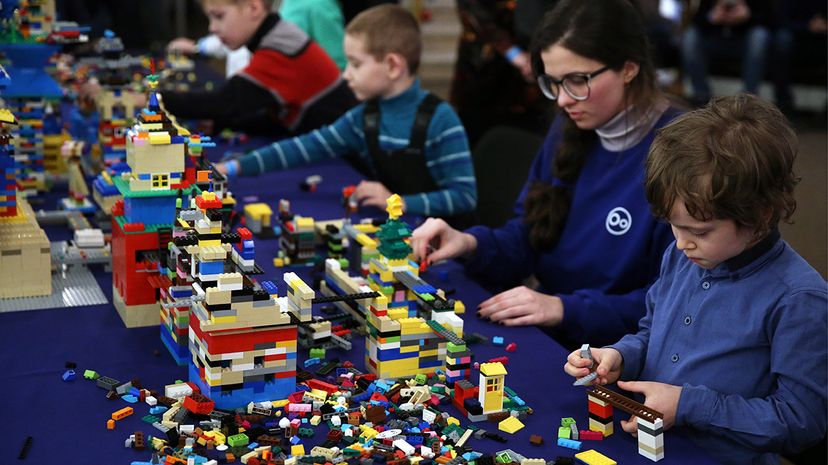 A science-themed New Year party for children titled 'Wow! How?' at the Russian Academy of Sciences featured Lego bricks.
Anton Novoderezhkin/TASS via Getty Images
For anyone coming of age in the last 60 years, Lego has been a constant companion. The tiny plastic bricks that fit snugly together have provided immense pleasure for generations of budding engineers, scientists, architects, carpenters, bricklayers — and yes — writers. Lego, which celebrates its 60th anniversary on Jan. 28, 2018, (from the patent date of the Lego brick) has sold more 485 billion pieces of the interlocking pieces, and today it's one of the most iconic brands on the planet.
Still, building a Batmobile, treehouse, bridge, a police mobile command center or the Eiffel Tower out of Lego bricks is more than just child's play. Research has shown that building with Lego bricks allows children to hone their motor, spatial and language skills. It helps children on the autism spectrum as well as wannabe scientists solve problems and manipulate 3-D information in their heads. When children play with Lego bricks, they analyze what parts make up the whole and how each block relates to one another.
Not bad for a humble toy that had its beginnings in a non-descript hamlet named Billund in southern Denmark. That's where a carpenter named Ole Christiansen, who left high school when he was only 14, lived. When the Great Depression hit in the 1930s, Christiansen's shop suffered as people built fewer homes and less furniture. The one thing people did seem to scrape up enough money for, Christiansen noticed, were toys.
Lego's Beginnings
By 1936, Christiansen became a toymaker, producing more than 40 different toys carved from wood. Christiansen even created his own brand name, leg godt, a Danish term that in English translated into "play well." The name later morphed into Lego. By 1949, Christiansen's company began producing tiny plastic building bricks that children seemed to love. Nine years later in 1958, the Lego brick took shape and was awarded a patent. Each brick had interlocking tubes that offered children unlimited ability to build anything their imagination could conjure.
That's exactly what Godfred Christiansen, Ole's son, had envisioned for the company. In 1963, according to writer Lee Slater in his book, "LEGO Manufacturers," Godfred challenged the company to incorporate 10 characteristics in each Lego product, including unlimited play potential, and the ability to help children become more creative and imaginative. It was a recipe that worked. Through the 1960s and 1970s, the Lego line rapidly expanded. In 1977, for example, the company launched its Expert Builder Series, models with motors and gears. A year later, the company introduced its first yellow-faced Lego men.
Lego also kept pace with technology. Through the 1980s, Lego sets began to include electric lights and sound-making devices. The company also branched out into the hospitality field, opening LEGOLAND theme parks around the world. But by 2003, Lego, which was still based in Billund, was on the verge of bankruptcy as the firm dealt with changing play habits. Kids, it seemed, were more interested in playing video games and logging on to the internet than they were playing with Lego bricks. The sales of new products, such as Star Wars and Harry Potter sets, waxed and waned depending on when the movies were released.
Lego Future Lab
The company's new management had to do something. Like the children who played with the bricks, executives used their imagination and within 10 years Lego was once again flourishing. Much of its success was due to its Future Lab. The lab was staffed by 50 or so researchers, scientists and designers. Their jobs were to invent new play experiences for children. To that end the company partnered with universities and others in the hopes of finding out what kids wanted. They researched popular movies, fashion trends, magazines and websites. The research paid off. In 2017, according to Forbes magazine, Lego was worth $7.9 billion, and ranked as the 76th most valuable brand in the world.
Unlike other toys, Lego's products work together as one system of play, whether it's Lego Duplo, for preschool children, the highly advanced Lego Technic or classic Lego.
"From the youngest builders to the savviest teen and adults, we have a Lego solution for every builder of any age, building skill and interest for any play occasion," Amanda Madore, senior manager, brand relations at Lego Systems, Inc., says in an email. "We are focused on what the brand means to children — both physically and digitally — and we continue to serve their needs, so we believe that our business potential is as limitless as our play material."
Lego and Cognitive Play
Although Lego bricks have always been fun to play with, research has shown they can be central to a child's education and cognitive acuity. Specifically, Lego bricks are an important tool that can help children on the autism spectrum. Dr. Dan Legoff, a clinical neuropsychologist in Philadelphia, has incorporated so-called Lego-based therapy into his research. He has found that children on the spectrum become more social and communicative while playing with the bricks in group settings.
Part of the reason is that Lego is a highly-structured toy that requires children to divide labor, communicate, set rules, make decisions and interact with others. Researchers have also learned to use Lego robots to help health professionals measure the cognitive ability of children with severe disabilities who cannot be measured through traditional testing.
In addition, there's a good chance the scientists of tomorrow are currently playing Lego bricks. Amy Shelton, a cognitive psychologist at Johns Hopkins Center for Talented Youth, has studied the impact playing with building blocks including Lego, has on young children. She says children who play with theses toy sharpen their spatial reasoning abilities.
"These skills not only have a relationship to academics, but to the fields you might gravitate to, and where you're going," she said in a statement. "If you want to build future STEM enthusiasts, you need to start with fundamental skills and they need to come early. Something as simple as making sure kids have exposure to block play would set them up for a future where they can build the right kinds of skills for whatever field they want to go into and they won't be restricted because of their lack of early experience."