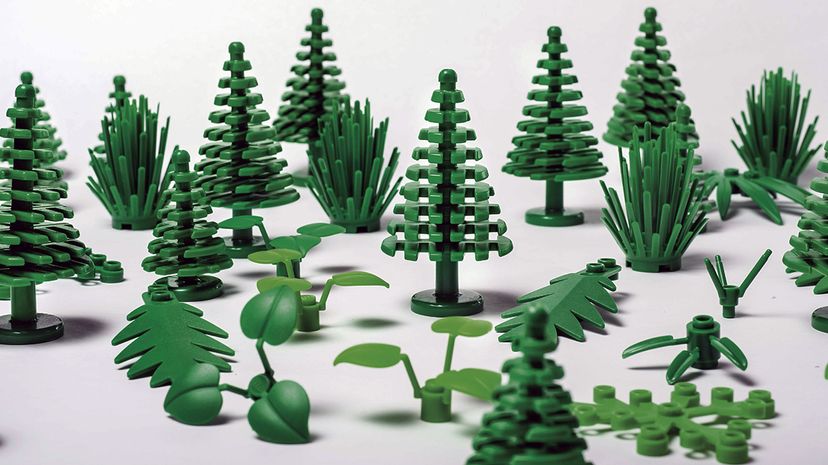 One of our favorite toys just got way cooler. Lego announced on March 1, 2018 that the plastic plants and other leafy pieces will now actually be made of plants. That's right. Lego trees, leaves and all of those fun green elements will now all be made from a sugarcane-based plastic. The botanical Legos are just the first from the Nordic company that will be made from the sustainable material. Lego has said it is committed to making all of its bricks and packaging from sustainably sourced materials by 2030.
The new eco-friendly plastic is technically a polyethylene, which is softer and more flexible than conventional plastic. It's also the most widely used plastic in the world, and though switching to a petroleum-free bioplastic could make a big impact, you won't see any change — and the trees, plants and flowers will still be ideal for landscaping around your Lego castle.
"Children and parents will not notice any difference in the quality or appearance of the new elements, because plant-based polyethylene has the same properties as conventional polyethylene," Tim Brooks, vice president of environmental responsibility at the Lego Group, said in a press release.
A hallmark of Lego's production is consistency. A brick made in the middle of the 20th century will still fit together with a brick made yesterday. Switching to this greener plastic won't change that fact.
But it doesn't mean the Lego company isn't changing with the times. In addition to its commitment to using only sustainably sourced materials by 2030, Lego also is working with the World Wildlife Fund to make sure the raw materials for the new plastic are sourced in an ethical, environmentally friendly way.
Lego also has pledged to achieve zero waste in its operations by 2030. In the meantime, the energy used to create all those pointy little bricks and bioplastic trees is already offset by the company's investment in wind power.