Sinead O'Connor performs live around the time of her Grammy nominations for "Nothing Compares 2 U."
Mick Hutson/Redferns/Getty Images
For most creative artists, receiving a Grammy, Academy Award or other coveted industry prize is a high honor that validates their talent and hard work. For others, the red carpet interviews and envelope-opening suspense of annual award shows are just self-congratulatory nonsense.
Woody Allen famously excused himself from all Oscars ceremonies claiming they conflicted with a standing clarinet gig at a local pub. (Allen presented once at the Academy Awards in 2002 to honor New York City films after 9/11.) And Katherine Hepburn, despite winning four Oscars, never collected her awards in person, but neither Hepburn nor Allen rejected their awards outright.
The list of actors and musicians who have taken the bold step of refusing a major industry award or nomination is short, but it's full of people taking stands for injustice or simply rejecting the very idea of creative awards outright.
1. Sinead O'Connor
In 1990, the moody ballad "Nothing Compares 2 U" was a breakout hit for the Irish singer Sinead O'Connor. For the 33rd annual Grammy Awards ceremony held in February 1991, O'Connor was nominated in four categories: Best Alternative Music Performance, Record of the Year, Best Pop Vocal Performance (Female) and Best Music Video - Short Form.
Just days before O'Connor was scheduled to perform live at the Grammys, though, the politically conscious musician announced she was boycotting the Grammys and all other awards shows to protest the "false and destructive materialistic values" of the music industry.
O'Connor was no stranger to controversy; she had once refused to have the U.S. National Anthem played before one of her concerts and later tore up a photo of Pope John Paul II on live TV.
In a statement, O'Connor said that the industry-sponsored Grammys "acknowledge mostly the commercial side of art. They respect mostly material gain, since that is the main reason for their existence. And they have created a great respect among artists for material gain — by honoring us and exalting us when we achieve it, ignoring for the most part those of us who have not."
O'Connor ended up winning the Grammy for Best Alternative Music Performance, but refused it, becoming the first and still only Grammy winner to reject the award.
2. Three Grammy Nominees for Best Children's Music Album
For the 2021 Grammy Awards, three of the five musical acts nominated in the Best Children's Music Album category asked to be removed from consideration because all five of the nominees selected by the Recording Academy were white.
"After this year, to have an all-white slate of nominees seemed really tone-deaf," musician and nominee Alastair Moock told NPR. Moock's latest album, "Be a Pain," includes songs dedicated to civil rights leaders and social activists, and although he would love to get a Grammy one day, "I don't want it like this," he said, "where the playing field's not even."
In a year rocked by the killings of George Floyd, Breonna Taylor and other Black Americans at the hands of police, and the widespread Black Lives Matter protests that followed, Moock and two other nominees — the Okee Dokee Brothers and Dog on Fleas — felt it was wrong to compete in an all-white category.
The Grammy was given to Joanie Leeds, whose album "All the Ladies" is dedicated to empowering women. In 2022, five artists of color were nominated in this category.
3. Marlon Brando
The 1973 Academy Awards were the first to be televised internationally via satellite and actor Marlon Brando saw an opportunity to draw global media attention to the plight of Native Americans, particularly the protestors occupying Wounded Knee, South Dakota.
So instead of attending the Oscars himself, Brando sent a young Apache actor and activist named Sacheen Littlefeather. When Brando won Best Actor for "The Godfather," Littlefeather made her way to the stage dressed in traditional Native American clothing.
When one of the presenters, Roger Moore of James Bond fame, reached out to hand the Oscar statuette to Littlefeather, she politely motioned her refusal, then addressed the audience of Hollywood and entertainment industry elites. After introducing herself, she explained why she was there.
"I am representing Marlon Brando this evening," said Littlefeather in a calm voice, "and he has asked me to tell you... that he very regretfully cannot accept this very generous award, and the reasons for this being the treatment of American Indians today by the film industry."
At that point, some in the audience started booing, but they were quickly drowned out by supportive applause. Littlefeather finished her short statement and later met with the press to read a 15-page letter written by Brando.
As a result of her very public stand, Littlefeather says she was blacklisted (or "redlisted" in her words) from ever working in Hollywood again, although her appearance later inspired actors like Jada Pinkett Smith and Will Smith to boycott attending the 2016 Oscars in which all 20 nominees in the acting categories were white for the second year in a row.
4. George C. Scott
Months before the 1971 Academy Awards ceremony, actor George C. Scott sent a telegram to the Academy of Motion Pictures Arts and Sciences informing the show's producers that he would reject any nomination for his portrayal of General George S. Patton in the 1970 film "Patton."
Scott had been saying for years that he had no interest in awards or award shows and had even asked the Academy to withdraw his name from a previous Best Supporting Actor nomination for "The Hustler" in 1962.
"The ceremonies are a two-hour meat parade," said Scott, "a public display with contrived suspense for economic reasons."
But the Academy went against Scott's wishes and nominated him for Best Actor in 1971 on the sheer strength of his performance. When actor Goldie Hawn giddily opened the envelope and announced Scott as the winner, Scott was reportedly asleep at home in New York. As promised, he refused the award, which was collected at the ceremony by the film's producer.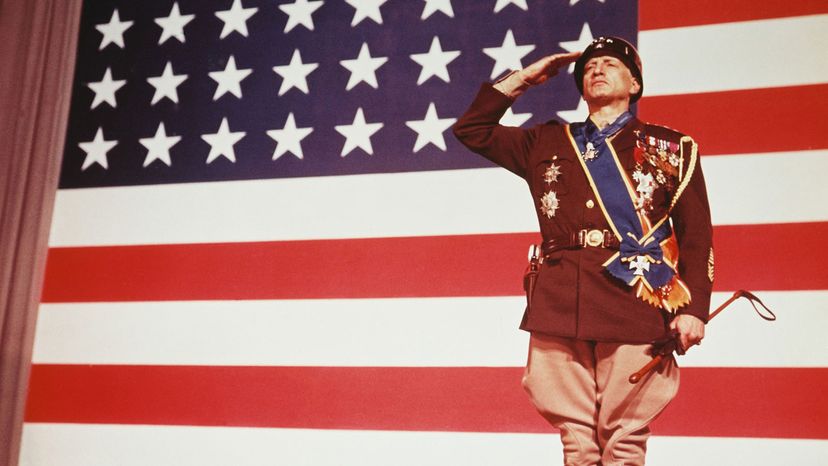 George C Scott salutes in this publicity still for the 1970 film "Patton." Scott played World War II hero General George Patton.
Silver Screen Collection/Getty Images
Two years later, Scott let it be known that he would not oppose an Oscar nomination for his directoral debut "Rage." He didn't get one.
5. Dudley Nichols
The very first person to refuse to accept an Academy Award was screenwriter Dudley Nichols way back in 1936. It was only the eighth Academy Awards ceremony and Nichols had written the screenplay for "The Informer," a critical hit about the Irish war for independence that nearly swept the Oscars, winning for Best Director, Best Actor, Best Score and for Nichols, Best Screenplay.
But Nichols, an ardent unionist, had a gripe with the Academy, which had taken sides with the big studios in heated labor negotiations with actors and writers. In those days, the Oscar winners were announced before the ceremony, so Nichols decided to take a stand for his fellow writers and send a very public message to the studios by refusing to accept the award or attend the ceremony.
The Academy tried to deliver the Oscar statuette to Nichols twice, but he sent it back both times. The following year, the Screen Writers Guild elected Nichols the union president in recognition of his loyalty. In 1938, Nichols extended an olive branch to the Academy by belatedly accepting the Oscar.
Originally Published: Jan 28, 2021