Spell it Kalooki, Kaloochi, Kalougi, Caloochi, or Kalogghi, this double-deck Rummy card game has been a longtime club favorite in America and Great Britain. Here's how to play:
Number of players: Two to six. Best with two, three, or four
Object: To be the first player to go out, that is, to get rid of all the cards in your hand by creating melds.
The cards: Two regular 52-card decks plus their four jokers are used. Jokers can be used to stand for any other card (the popular card term to descrribe this property is "wild").
To play: With two to four players, deal 15 cards each. With five players, deal 13 each, and with six, deal 11 each. Then turn one card up to start the discard pile. The remaining cards form the stock.
A player cannot take the upcard until he or she has made an initial meld or can use the upcard immediately in a meld. Your first meld must total at least 51 points
(see "Value of Cards in Melding"), which can include cards you lay off on other players' melds, keeping in mind that, by the end of the game, you have to table at least one meld of your own.
Melds are three or more cards of the same rank (no repeated suits), or three or more cards of the same suit in sequence. Aces can be high or low, but not both. For example, Q-K-A and A-2-3 are valid melds, but K-A-2 is not.
Before your initial meld, when it is your turn, either take the upcard if you can meld it or else take the top card from stock, meld if able, and discard. After your initial meld, you are entitled to pick the card showing and discard from your hand without melding. Whenever you meld, you may also meld off cards on your own and other players' melds.





Scoring: Each losing player pays the winner 1 point per card left in hand and 2 points per joker left in hand.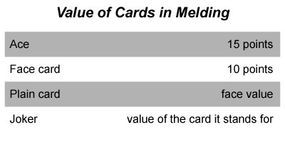 Tips: It usually doesn't take many rounds for someone to go out, so there's no real advantage to delaying your initial meld. Jokers are valuable. While they can be melded as a group for 15 points each, they are put to much better use individually.
Variations: In scoring, an alternate practice is to penalize players for the face value of the cards remaining in their hand, with jokers counting 25 points each. One version of Kaluki counts aces as 11, not 15, so agree among the players about this beforehand. A player who goes out on a single play goes Kaluki and collects double from every player.
©Publications International, Ltd.