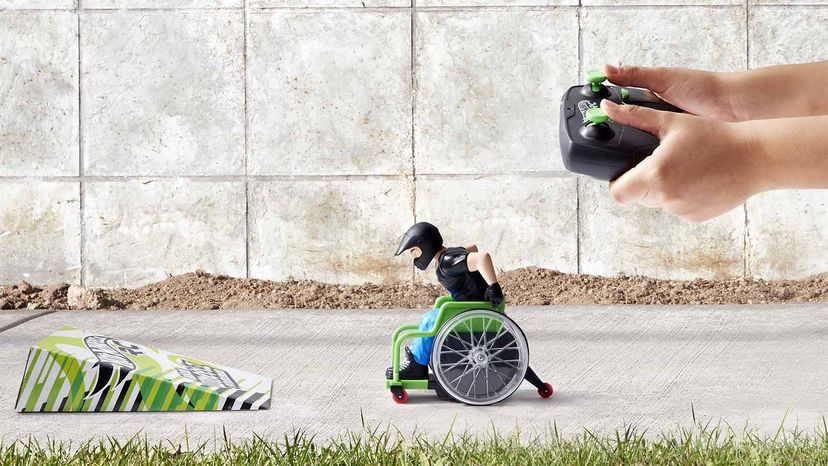 Let's talk the value of toys, and we don't mean price. Toys are not just cars and dolls our kids play with as they grow up, they're also effective tools that teach about the world around them. That's why it is critical for children to see themselves represented in their toys; it sends them a powerful message.
Throughout history, children with disabilities have rarely had that opportunity. But that is changing. And one of the newest inclusive toys to hit the market is from Mattel, the maker of Hot Wheels.
Hot Wheels partnered with five-time Wheelchair Motocross World Champion and Paralympic athlete Aaron Wheelz Fotherington, to create its first remote-controlled wheelchair action figure, the Aaron Wheelz Wheelie Chair.
Fotherington, who goes by "Wheelz," was born in 1991 with spina bifida and has used a wheelchair since he was 8 years old. But that's never held him back. He performed the first wheelchair flair/backflip 180 and was the runner-up on the premiere season of America's Got Talent: Extreme.
And now kids can do the same with his remote-controlled version, which is available on Amazon. The coolest part of the Aaron Wheelz Wheelie Chair is that it really can land epic jumps and stunts. That's because it has a ramp and "wheelie boost" that gives the chair the extra speed it needs to fly and land a full flip. Plus it can reach speeds of more than 6 miles per hour (10 kilometers per hour). Cool, right?
"Growing up, I didn't have anything like this," Fotherington told CNN. He said he saw kids, including those using wheelchairs, having fun at the toy's launch event. "You could kind of see their faces light up."
While this is the first remote-controlled wheelchair toy for Mattel, it's certainly not its only inclusive toy for children with disabilities. Mattel's Barbie Fashionistas line includes Ken and Barbie dolls with hearing aids, vitiligo, prosthetic limbs and wheelchairs. If your littles ones aren't quite old enough for Ken and Barbie, Lakeshore Learning has a set of "soft and safe" children with differing abilities that is designed for ages 6 months and up.