Great Moments in Grammy History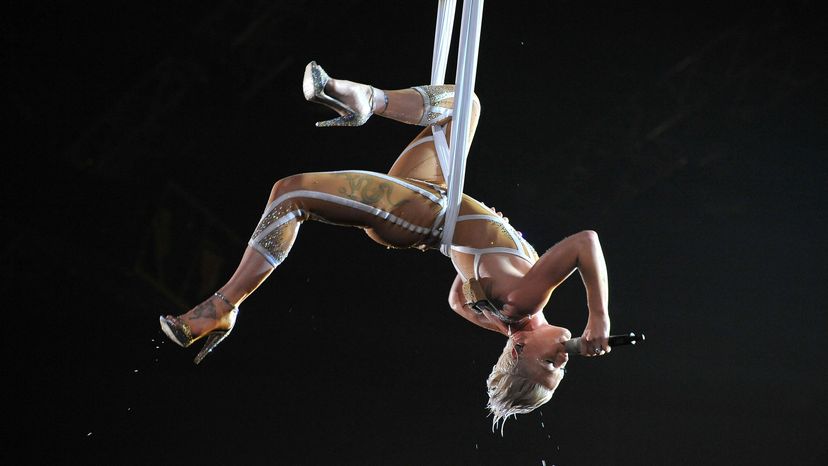 Pink sings while doing an amazing trapeze act at the 52nd Grammy Awards in Los Angeles, Jan. 31, 2010.
ROBYN BECK/AFP/Getty Images
It isn't all nitpicking and complaining, fortunately. The Grammys have also seen some pretty cool, moving and socially relevant moments. Here's just a small sampling:
1983 was Michael Jackson's banner year. He brought along "dates" Brooke Shields and pint-sized Emmanuel Lewis, and collected a record eight separate Grammys for his monster album "Thriller," including record of the year and album of the year.
Eric Clapton won three major awards at the 1993Grammys for his song "Tears in Heaven," written after his young son died tragically in an accident. His performance of the single left nary a dry eye in the house, effectively transforming him from '70s rocker to living legend [source: Jang and Haar].
In 2000 Jennifer Lopez showed up in a dress so hot that she actually inspired web giant Google to develop an "image search" function, since demand for photos online the next day was so great.
Rapper Eminem spent 2001 being heavily criticized for lyrics that some considered homophobic on his hit album "The Marshall Mathers LP." He countered the controversy by doing a surprise duet performance with music icon Elton John, himself an openly gay man. The two maintained a friendship, and the rapper even credits John with helping him through his drug addiction [sources: Jang and Haar; Silverman].
Wearing a barely there body suit, Pink sang upside down while performing a trapeze act at the 2010 Grammys. The performance was so stunning she went on to do other aerial acts, while singing live, at later Grammy shows.
Macklemore and Ryan Lewis used their positions as societal influencers to promote love and marriage equality during the 2014 Awards ceremony. Thirty-three gay and straight couples were married on live television by no other than Queen Latifah while the duo performed their anthem, "Same Love." Madonna then added to the energy by performing her classic hit, "Open Your Heart" [source: Emery].
In 2017 Queen Bey (or Beyoncé, as most people know her) gave a truly groundbreaking visual performance — wearing a gold dress and a crown she seemed to be hovering in her chair above her dancers. Oh, and she did it while pregnant with twins. Girl has chops [source: Seemayer].
Related Articles
More Great Links
Sources
Coscarelli, Joe. "The Boycott Before: Rap and Resentment at the 1989 Grammys." New York Times. Feb. 10, 2016 (Jan. 12, 2018) https://www.nytimes.com/2016/02/11/arts/music/the-boycott-before-rap-and-resentment-at-the-1989-Grammys.html

Emery, Debbie. "The music giants joined forces to promote marriage equality as both gay and straight couples were married at the same time." Hollywood Reporter. Jan. 26, 2014 (Jan. 12, 2018) https://www.hollywoodreporter.com/news/macklemore-madonna-perform-same-love-674168

GRAMMY. "1st Annual GRAMMY Awards (1958)." 2018 (Jan. 12, 2018) https://www.Grammy.com/Grammys/awards/1st-annual-Grammy-awards

GRAMMY. "About the Recording Academy." 2018 (Jan. 12, 2018) https://www.Grammy.com/recording-academy/about

GRAMMY. "Grammy Awards Voting Process." 2018 (Jan. 12, 2018) https://www.Grammy.com/Grammys/awards/voting-process

GRAMMY. "Voting Process Frequently Asked Questions." 2018 (Jan. 12, 2018) https://www.Grammy.com/Grammys/awards/voting-process/voting-process-frequently-asked-questions

IFPI. "Key Statistics." 2018 (Jan. 12, 2018) http://www.ifpi.org/global-statistics.php

Jang, Meena and Kara Haar. "Whitney Houston to Madonna: 15 Memorable Grammy Performances." Hollywood Reporter. Feb. 6, 2017 (Jan. 12, 2018) https://www.hollywoodreporter.com/lists/Grammys-15-memorable-performances-whitney-houston-madonna-972451/item/Grammy-performances-michael-jackson-972435

Los Angeles Times staff. "Grammy history and winners through the years." Los Angeles Times. Jan. 28, 2015 (Jan. 12, 2018) http://timelines.latimes.com/Grammy-awards/

Seemayer, Zach. "2017 Grammy Awards: The Best, Worst and Weirdest Moments." ET Online. Feb. 12, 2017 (Jan. 12, 2018) http://www.etonline.com/awards/Grammys/210286_2017_Grammy_awards_the_best_worst_and_weirdest_moments

Silverman, Stephen. "Elton John Says He's Helping Eminem Fight Drug Use." People. Jan. 2, 2010 (Jan. 12, 2018) http://people.com/celebrity/elton-john-says-hes-helping-eminem-fight-drug-use/

TIME. "Jethro Tull Out-rocks Metallica." 2018 (Jan. 12, 2018) http://content.time.com/time/specials/packages/article/0,28804,1877498_1877438_1877489,00.html

Whittaker, Francis. "Worst ever Grammy decisions and controversies." MSN. 2018 (Jan. 12, 2018) https://www.msn.com/en-au/entertainment/music/worst-ever-Grammy-decisions-and-controversies/ss-BBpx1od#image=13

Yardbarker. "The 20 best and worst Grammy moments." MSN.com. Jan. 16, 2017 (Jan. 12, 2018) https://www.msn.com/en-us/music/Grammy/the-20-best-and-worst-Grammy-moments/ss-AAlVcnp#image=10